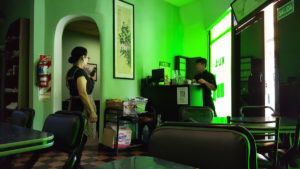 KU:L, Av. Carabobo 1107, Flores – Apparently open for quite some time, I'd not noticed it before. Turns out that's probably because the only lunchtime they're open is on Sundays (and then dinnertime every night except Tuesday), and second, that the front is basically a dark green plastic with no indication that it's a restaurant, unless you happen to be looking for it, and of course, that for the last several years I've avoided Koreatown. Convenient location compared to other Koreatown restaurants, just a short two block walk from the E line's Medalla Milagrosa station.
In fact, we thought it was closed up when we approached, the gate was shut, though the door inside was just slightly ajar. While we were musing, the chef came to the door and let us in. The room is suffused with green light from those plastic covered windows, giving everything a slightly sallow tinge. The place is clean, but worn down. The chef and a couple of assistants, at least at lunch, seem to do everything, from wait tables and handle the bills to the cooking.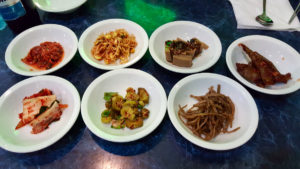 A smaller selection, perhaps, of ban chan than many of the big grill places seem to offer, but really well selected, delicious, spicy, and with somethings we haven't seen at other spots. An auspicious start!
A kimchi and shellfish pancake. It practically glows red, the chef says he laces the batter with Korean chili powder, the same powder that goes into making gochujang paste. I liked it a lot, albeit quite different from the more usual scallion and seafood pancakes. It could have used more variety of seafood – as best we could tell it was all calamari, which isn't a favorite for Steven, so he wasn't as enamored of it as I was.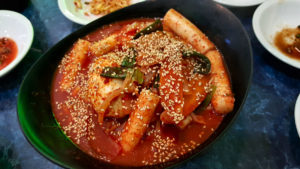 A steaming, relatively picante bowl of tok boki, the rice thick rice cakes in chili sauce. We both liked it quite a bit. Particularly that it had a good lacing of vegetables in addition to the rice cakes, which several versions I've had in the past were limited to.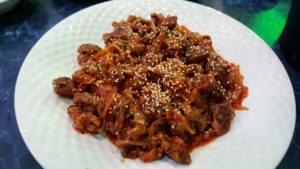 And, an unusual one, tong jip (or dakdongjib), a stir fry of chicken giblets in a spicy sweet sesame sauce. The chef asked, when taking the order, if we really wanted it, as it was "very spicy". We did. He was right. No joke. Seriously. Easily the spiciest dish we've tried on this quest in Koreatown. And, it was my favorite of the day, and one I'd happily eat again, anytime, maybe slightly toned down on the spice if that's available, though even if not, hey, just bring me another beer and some extra paper napkins to mop the sweat.
It was a lot of food, and although it was nice to have three different dishes to sample from, it would have been nice to be warned that it was quite as much as it was. Still, we split up the dishes and took them home for later dinner. All three dishes (all main courses), plus large bottles of water and beer – 840 pesos with tip – a well worth it $50-55 for two.
Second visit, a week later…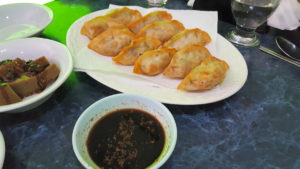 An order of fried dumplings, guk mandu, because, well, it should be obvious by now… dumplings. And fried (also available steamed or boiled according to our waiter, though that wasn't noted on the menu). Delicious. Some of the best we've had, at either Korean, Chinese, or Japanese restaurants in town. Perfectly fried too. Nice dipping sauce of soy and Korean chili pepper.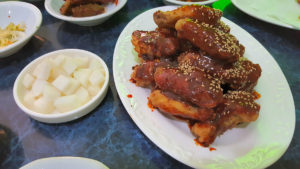 And, hey, Korean fried chicken. All wings. The sauce here a bit thicker, gooier, stickier than at the other two places we've tried, maybe a touch sweeter, but also a touch spicier, so it all balanced out. And instead of a thick batter crust on the chicken, the wings are simply floured and fried, so they don't feel heavy to eat.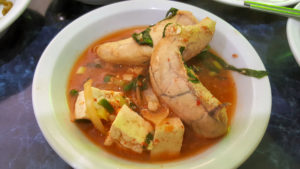 And, a soup, too, because… soup. The most interesting sounding one on the menu was listed as a spicy soup with fish eggs, clams, vegetables, and tofu. Medium spicy, absolutely delicious. Mostly fish roe and tofu, some veg, only one clam. It would have been nice to have more than one, even if out of the shell (the one in the soup was in a whole, opened shell). Give me that and a bowl of rice for lunch and I'm a happy… clam?
Overall, as the title says, one cool Korean. Great food, easily the best traditional style Korean food I've had to date here in Buenos Aires. Nothing fancy, no modern touches (I'd put it on equal quality with Una Canción Coreana, but there it's more expensive and more "upscale", with a much more limited menu). This is seriously good food and if you're in town and like Korean food, this should be your next destination.