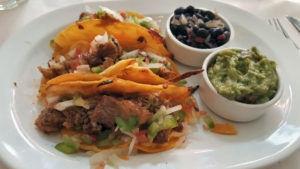 Mercadito Latino, Carlos Calvo 488, San Telmo – A relatively new spot, and yet another of those offering up "Latin American street food". Here, however, although with a menu of tacos, burritos, arepas, salads, etc., much like some of the others I've checked out recently, the pricing is a bit more "restaurant", though the space is completely casual. Most main courses run over 200 pesos. Even a plate of tacos, a bit smaller than most, comes in at 160. And, while they're decent tacos, they're nothing out of the ordinary – a glowing orange, crisp and chewy taco shell with a choice of chicken, beef, or pork (no combos allowed), with a little chopped onion and bell pepper, and a lot of very salty grated cheddar. Okay guacamole on the side, and a little unseasoned bean salad. They only offer one house hot sauce and it's pretty mild, didn't even break a sweat despite dousing the tacos in it. Adding insult to the bill, for a casual little spot like this, they tack on a 15 peso cubierto, for which you receive a little ramekin of broken commercial corn chips with some bland mashed beans as a dip. The food's good, it's just over-priced (a lunch of tacos and lemonade, with tip, came out to 260 pesos!), and service is, while friendly, pretty inattentive. (Considering having just tried Elote, where you get two bigger, better, and more creative tacos for 100 pesos, and more interesting and creative drinks for 40 pesos, I know where I'd go back to.)
---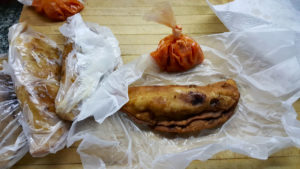 As long as we're momentarily on the theme of tacos… Marcos is a young man from the state of Cholula, Mexico, who can be found most weekends at the Recoleta fair, offering up tacos and quesadillas. We hadn't tried them, but were in the mood one recent Sunday afternoon for a snack. 30 pesos apiece or 4 for 100 pesos. The tacos are folded over and almost sealed, like an empanada. They're a wheat flour tortilla, and they've been fried rather than griddled. The filling is chicken and potato, and excellent. They're a little soggy after steaming in their individual plastic wraps – I'm not sure how else he could approach it to keep them in his thermo-box, but grab them early in the day. He includes a little bag of salsa del diablo which packs some decent heat.
---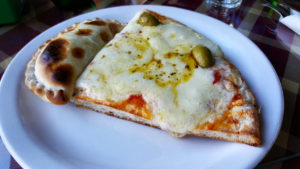 La Nueva Moconá, Av. Hipólito Yrigoyen 6090, Remedios de Escalada – I was on a road trip with my friend Raquel. We'd gone to the Saturday only farmers' market casually referred to as the Feria de 1610, because it's on Calle 1610 in La Capilla. It's run by a group of 17 families that share responsibility for growing and producing organic vegetables and other products on a large parcel of land. They run the fair on Saturdays, and there's a line of local neighbors buying vegetables for the week, and then they also, once or twice a month, participate in the producers' fair here in town in Agronomía. Now, on the map, and based on what she'd been told, we had this idea that our trip was going to take about 45-50 minutes each way, after all, it's closer than La Plata. But, it's also all on smaller roads that pass through various towns, whereas La Plata has an expressway connecting it to BA. It takes about two hours to get there, which makes it a pretty long road trip to buy some organic vegetables. Still, it was nice to see the farm and meet some of the people, and we spent a bit of time talking with the guy who's nominally in charge of the group. And they have some great products – I'll just go with the trip to Agronomía in the future. Needless to say, we ended up hungry, but it was mid-afternoon and most places had already closed up. We spotted this pizzeria open and dropped in. It was, well, pizza. And an empanada. Here, a little bit of the farm and fair: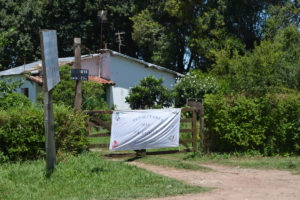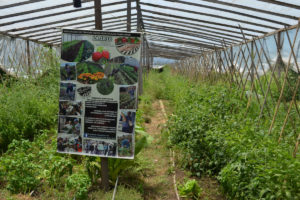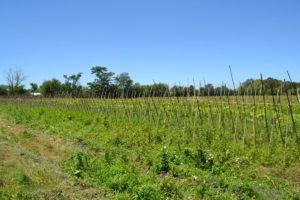 ---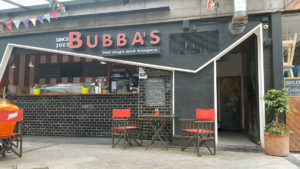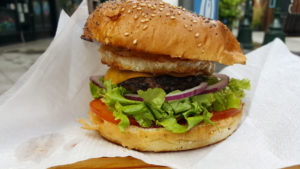 Bubba's, Paseo del Sol, Arenales 3335, Palermo – Nestled into the outdoor plaza on the side of the Alto Palermo shopping center, this place has been, apparently, serving up hot dogs and burgers for going on 13 years. During the day, it's a place where shoppers and casual strollers drop in and grab a bite to eat. Apparently at night, along with the opening of several bars and clubs on the plaza, it's a place for "drunken kids" to gather sustenance in the midst of their revelries, staying open until either 2 or 4 a.m., depending on the night of the week. I ordered up the "Deluxe", though asked them to hold the "sweet Jack BBQ" – I've never been a big fan of sweet barbecue sauce on burgers, and of their six burger selections, four of them have it – and especially because the burger also comes with aioli.
The rundown on the burger? First, obviously, the bun is huge in comparison – the patty is kind of lost – but that seems to be because three of those six burgers are "double beef" and rather than use two patties, they make a double sized patty that does fill the bun. The toppings, lettuce, tomato, red onion were nice and fresh. The egg yolk was still a little gooey in the center, not hard cooked. The bacon was missing in action completely, which I didn't notice until about halfway through. Lots of cheese – both mozzarella and cheddar. And, a lot of mayo – if that was aioli, they forgot the garlic in it – plus ketchup, which wasn't on the list of things on the burger, but I suppose they put it there to make up for the no bbq sauce request. The burger itself – decent quality meat, but basically unseasoned, and fairly dense – ground too fine and not enough fat. Overall, it's an okay burger, but not one I'd make an effort to return for.
---
Well that was a disappointingly mediocre Bite Marks….