As I've maintained many a time before, pizza is Nature's Most Perfect Food. Maybe it's just because my first real restaurant job was a an Italian restaurant and pizzeria. I'm leaving aside the season spent manning a hotdog cart at U of Michigan stadium with one of my best friends, it wasn't a restaurant, it didn't involve cooking, it just involved throwing frozen hotdogs in a tank of hot water and letting them float about until someone ordered one. I've always loved pizza, and pretty much in any form, from paper thin Roman or grilled style to the thickest deep dish that Chicago can pony up, and everything in between. I'm still not always sold on Argentine style pizza – I'm not a naysayer, but, I just, in the deepest recesses of my stomach, feel that pizza has to consist of more than dough and cheese with only a not towards toppings and sauce. That doesn't mean dough and cheese can't be a perfectly satisfying snack, I mean, I'll eat a grilled cheese sandwich any day (though even then, my preference is with tomatoes…), but too often local pizzerias fall short producing the glory of what pizza can be.
Now that I've freed myself from the constraints of the 92 bus route, the whole city and surrounds is open to sampling the pies on offer. Expect an onslaught not unlike the X Factor judges taking on the audition days.
A Slice of Boredom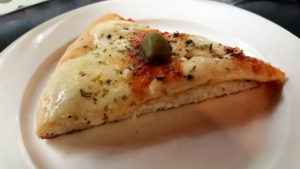 Toro Bravo, Paraguay 3721, Palermo – This one is sort of the epitome of the type of Argentine pizza I don't like. It's really bready, the dough being about 3/4 of an inch thick, and tasting of nothing much more than white bread. A glob of melted, cheap quality mozzarella that was already hardening into a plastic, shiny mass coated in oil. The merest whisper of some tomato sauce in a small band across the middle, and a dab at the point. Old dried oregano, a tasteless olive with pit. It's just a yawn. The place only offered the plain mozzarella by the slice, but then, pizza at its most basic gives you nowhere to hide and is often a great test of whether it's worth trying more. Primarily for takeout and delivery, there are just a couple of stools at a window counter.
Directing Pizza Traffic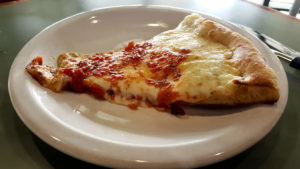 Pizzardone, Soler 3999, corner  of Salguero, Palermo – I find myself wondering if the owners of this place actually know what the name of their restaurant means, or if they just liked the sound of it because it seems to have the word pizza in it. Pizzardone is slang in modern Roman dialect for a traffic cop, and has nothing to do with pizzas, but rather from the shape of their double pointed hats, deriving from the word pizzo, which means a beak. Back to the pizza slice, here, much more a style of local pizza that I like – the crust not as thick, and beautifully browned in a wood burning oven, the cheese, good quality, and, for me, importantly, a delicious, zesty, fresh tomato sauce spread over it. Was it a great slice of pizza? No. But quite good, and worth another look some time.
In the Middle of Pizza Love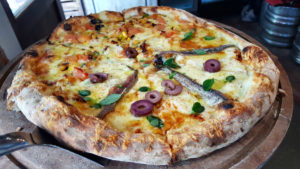 Central de Pizza, Andrés Arguibel 2813, Las Cañitas – Okay, I just want to move in with this pizza. There. Done.
Okay, a little more – first off, an amazing crust, clearly made with unbleached flour rather than the ubiquitous white flour. And the pie cooked until it's browned all around in a fiery hot wood burning oven. Second, fresh tomato sauce that has a mountain of flavor. Great quality cheese, bubbly and golden. On its own, a plain mozzarella pie would have made me happy as the proverbial clam. But on offer are dozens and dozens of specialty pizzas. Here, half anchovy with pitted and sliced black olives, and fresh oregano leaves; and half Azteca – a spicy concoction of sliced ají limo chilies, green onions, diced tomatoes, corn (okay, could have done without the corn, but it was okay), garlic, and cracked black pepper. All pies available in small (this one), which I managed to finish off, and large. They also have an individual sized, but only available for a limited selection of standards – I don't get that, though it's common here – if your pizzas aren't made in advance, why limit which ones are available in certain sizes? You're making them in the moment, why not offer your whole range in whichever size people order? This is a place to return to regularly!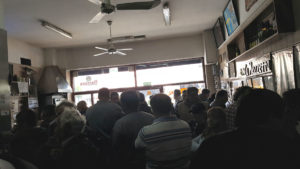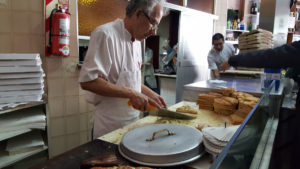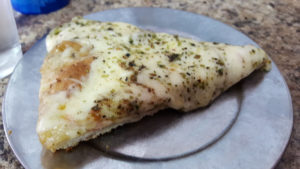 La Mezzetta, Av. Álvarez Thomas 1321, Villa Ortuzar – Now and again, I've heard recommendations for this place "to really understand Argentine pizza", almost always from locals, which is usually a bit of a warning flag. Not that they don't have good taste, but there's almost always this sort of heart-strings, nostalgia, it's the place we went to every week when I was a kid and I remember it as the best. We all have those place from when we grew up. So we approached this one with a little trepidation. On arrival, we found a small pizzeria with cars, taxis, motorcycles, and trucks parked haphazardly on the street in front, and inside, jam packed with people, half of them spread out around the small counters lining the walls, rapidly gobbling down slices of pizza, fainá, and empanadas, and washing it down with glasses or bottles of seltzer water. The other half were lined up in a snaking queue to the cash register. We got in line, it moves fast – despite their being about twenty people in front of us, it took no more than about five minutes. You order, you pay, you get a slip of paper, the guy next to the cashier hands you your drink (almost everyone gets seltzer, with a smattering of sodas and beers), and then you move down the counter to pick up your food – hand over your ticket and tell them to go or to stay, and in seconds it's in your hands.
I have to admit, if there's a place that could be the the poster boy for Argentine style pizza, this has got to be it. Thick crust, the merest blush of sauce seemingly just brushed on it, and gobs and gobs of cheese. We've seen it too many times. But you know what, they do it right at La Mezzetta – the crust is smoky, charred, and has a good crunch, the cheese is gooey, and while it could use a little more browning, it's tasty, and the sauce adds just an elusive hint of tomato to it all. Would I run back there for more? No, though that's more a function of how far away it is. But if someone wanted to know where to go to really try local style pizza, I think this is where I'd take them. Plus, hell, it's such a true local experience.
[Edit] A return visit a week later with a friend who wanted to try the place based on my description….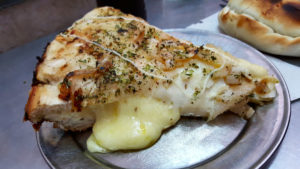 Since I'd tried the plain cheese slice, I thought I'd give a couple of different ones a shot. An anchovy slice was quite good – the tomato sauce really shines when there's enough of it, and it's not masked under gobs of cheese. On the other hand, the fugazzeta was an oily yawn. First, they do a double crust pizza and sandwich an extra layer of cheese between the two crusts – plus the usual quantity on top – it was just way too much dough and oily cheese. And, the onions weren't caramelized, they were borderline raw, and fairly scarce at that – it was almost like they'd just scattered a small handful on top of the parbaked pie (they precook all their pizzas as plain cheese ones on prebaked dough, and then add toppings to order), and just warmed it up. Disappointing. [End Edit]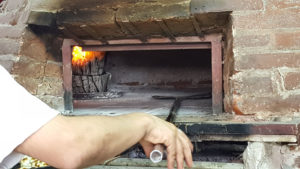 Leños de Quebracho, Av. Álvarez Thomas 1637, Villa Ortuzar – Now, our plan was, since we were out in this far flung barrio, to hit La Mezzetta, and then wander down the few blocks along the avenue to Don Chicho, a place I reviewed a decade ago because of its hand-rolled, in the moment pasta, and had gone back to numerous times back then, in, say, 2006-7, but hadn't been since – time for a re-review. For some reason, it never occurred to me to check if it still existed, but hey, we were on an adventure, and if not, we'd do something else. Halfway there, we spotted this little takeout shop and were drawn in by the glowing embers in the brick beehive oven. We're splitting slices, and headed for noodles, we can manage another. Friendly folk, nice little place. Hmmm, but the pizza. You know, in one of those wood burning ovens like this, the temperatures get so high that a pizza should brown and crisp and all that good stuff – but they put the pies in as far away from the wood as you could possibly put them – the dough barely cooks, the cheese just melts a bit, the sauce is relatively tasteless, the only real plus, the olive is pitted, such a rarity here. So much potential, not delivered.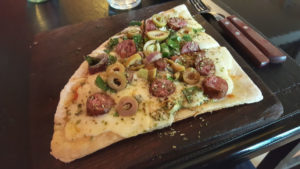 El Majo, Juramento 2781, Belgrano – We continued the next couple of blocks, only to find Don Chicho shuttered, and the sign on the awning washed away – not sure if it's gone or just not maintained [turns out it's still there but apparently only open at dinnertime now, or something, it's not clear, but it is there]. We realize that Villa Ortuzar is not as far flung as we thought, and we're in easy walking distance of Chinatown, and decide to head that way for a bit of eating and shopping. Enroute, I realize we're going to pass by a spot that's been on my list for eons, one of the few places around serving pizza a la parrilla, grilled pizzas. We decide to give it a shot. It's a cavernous space, it's heated to near sauna temperatures, and the waitstaff are listless and a touch surly. We order. It takes almost forty minutes to get to the table, despite their being only a dozen people in the place.
Now, instant visual analysis – it's a quarter of a large round pie, which means one of two things – either they par cook the bases and then cut them in 1/4, 1/2, or leave them whole, and top those with what you order (we ordered with sausage and green onion), or, they wait until they have enough orders to cover a whole pizza, and then make it, each quarter or half different, which might explain why it took so long. My guess though is the former, because the crust is the consistency of hardtack, it's not remotely browned, it's never been near anything that could charitably be called a grill, it's baked – maybe reheated on a griddle. And when I say hardtack, I mean it – they provide steak knives to cut it, and we couldn't – and it wasn't any easier to bite through. The crust tastes like raw flour, the sauce is non-existent, the cheese is oozing oil and flavorless, the sausage tastes rancid. After a couple of bites we push it away, call for the check, pay, and leave. Easily one of the worst pizzas either of us has had in Buenos Aires.
And thus ends this round.