All meat, all the time. Well, at least for this post.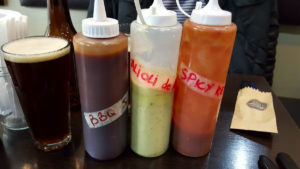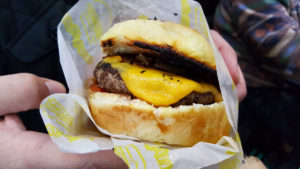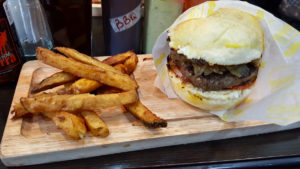 La Birra, Avenida San Juan 4359, Boedo – Teeny little place (a tightly packed 20ish seats) on a busy commercial strip, bordering on Parque Chacabuco. Not the sort of place you look to find a fun little cafe where, well, you know how sometimes you just know that the people running a place are charged up with passion and love what they're doing? That's this place. It doesn't cater to tourists, in fact, most of the folk in there the day we went seemed to be neighborhood locals, many of them there just having a casual lunch, the daily special, or a cup of coffee. But we were there for the rumored killer burgers. And, that's what they offer. A dozen or more combos, and, just damned delicious. The "Premium" is my pick of the two we had. Great bun, great, well seasoned burgers, all offered medium rare unless you demand otherwise, and actually cooked that way, really good fries and onion rings. Housemade condiments – the "spicy" ketchup, while not really that spicy, has a faint kick to it, but more importantly, it just tastes so much better than commercial ketchup; and the barbecue sauce isn't so sweet you feel like it should be served with dessert, and has a haunting smokiness to it, along with a bourbon kick; the basil aioli is what a mayonnaise ought to be. Craft beers – not on tap, but a couple of local breweries – we tried two of the me echó la Burra beers, a red and a blond ale, both really good matches with the burgers. [Me echó la Burra, a South American, particularly Chilean, expression, literally means "the donkey threw me", but idiomatically means, "I got sidetracked and didn't finish what I started". Doesn't seem like a good name for a brewery, but so be it.] We'll be back. Many times. Put this one in the top five in and around BA.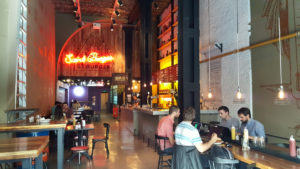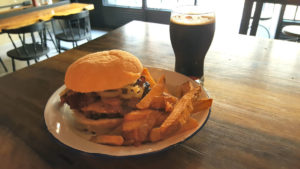 Saint Burger, Avenida de Mayo 852, Monserrat – It's about time that the area near to the Casa Rosada had a really good burger place. Government functionaries might just be happier and more willing to help the average citizen if they've got a full belly of good food. Or at least that's my theory. Big space, with tables a bit spread out. For workers, there's a long, low table at the front with computer and phone charging stations and high speed internet. Seven different burger combos (plus some sandwiches, salads, and even a veggie burger). I have to admit, none of them grabbed me right off the bat, I wanted to dress them up a bit – and Saint Burger happily is organized that way – the combos are basic starting points, they don't even include basics like lettuce, tomato, or onion, but those are all available, along with bacon, cheese, and more, for upcharges. At first that seems cheeky, but they've kept the base prices low, so even if you load on the upsell toppings, you won't pay anymore than you would at most gourmet burgers spots these days. I got the Eva, a simple bacon cheeseburger, but I'd noted that on a chorizo sandwich they had the availability of pickled peppers. I think it shocked them a little that I wanted those, but after a bit of discussion, they put them on at the same charge as lettuce. I can live with that. Good, solid bun, well packed meat – I thought it was a little underseasoned, just a touch more salt would have been appreciated in the mix, but good quality. Crispy bacon, okay cheese (Argentines have got to get over this obsession with American cheese singles slices and use some good cheese on a burger, and also stop calling American cheese, "cheddar".) Decent fries (also unsalted, I guess they leave it all to you). Beer limited to Gambrinus Pale Ale and Stout, and Isenbeck, on tap, and Warsteiner, Grolsch, and Corona by the bottle, and they were out of the Pale Ale, but at least it's not the ubiquitous Quilmes and Stella duo of so many places here. Not great overall, but certainly above average, and I haven't had a better burger in that general neighborhood.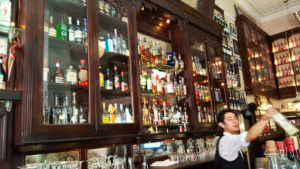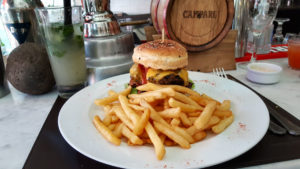 Club Social Deluxe, Av. Caseros 442, Barracas – Situated just off Parque Lezama, down the street from the Museo Histórico Nacional, and literally on the border with San Telmo (across the avenue), this spot is part of the strip of trendy, bordering on hipster, hangouts that makeup the one real restaurant section of the neighborhood. Not surprisingly on a Sunday afternoon it was jammed with people, though I was able to get a seat at the bar (oddly, despite there being people waiting for seating, the owner and four of his friends were hanging at the bar, taking up five of the eight seats, and not eating or drinking anything but water for at least 45 minutes while I was there – then again, maybe the folk waiting only wanted table seating). Campari is the theme here, with little replica casks around the bar, waiters' shirts emblazoned with logos, free shots of different Campari drinks being given as apertifs, and, you can just see to the right on the bar photo above, an entire wall of bottles of the stuff stretches across one end. Four burgers on offer – two lamb, two beef. I went with the "I Love New York" burger, I couldn't tell you what makes it NY related. The burger itself, cooked well past medium on a request for rare, though well seasoned. Decent bun, and they smartly put the lettuce and tomato below the patty, the lettuce helping protect the bun from the juices, there was a single large crispy onion ring on there, a couple of sweet pickles, lots of melted cheese, and way, way, way too much ketchup, like, 1/4 of a cup of ketchup doused over the top and dripping everywhere. The bun didn't make it very long with all that, and by about 2/3 of the way through I gave up and switched to knife and fork. Fries, good, actually crispy, though they come out unsalted, and the only condiments available are those little packets – this place has put a lot of thought into all the drinks, and the menu, and the design, you'd think they'd do something more than condiments in packets. Focus on cocktails, the beer available – Stella Artois on tap, nothing else. The iced tea that I decided to go with instead, seemed more like lemonade, there was no tea in it as best I could tell. All around, decent burger, better than average, just maybe ask for that ketchup on the side.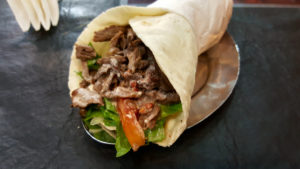 Al Basha, Tucumán 938, Microcentro – Taking over the spot that was La Mil y Un Noches, which I reviewed last year, except not really. Same owners, just different cook (thankfully, the schlub is gone, and along with him, the place is spruced up, clean, and doesn't look like you should exit immediately and head virtually right across the street to Shawarma Dubai). Menu exactly the same as best I can recall. And, pretty much the same assessment of the shawarma – it's well packed with lightly charred meat, there's a decent amount of lettuce and tomato, but a really watery yogurt sauce – enough that the little plate was filled with liquid by the time I finished it. No hair (see the linked review). That's a big plus. But still, no better, no worse, than its predecessor, and, personally, I'd head elsewhere for shawarma, or if I was stuck in the neighborhood, eat something else.