Coffee, pizza, and more…. What else do you need?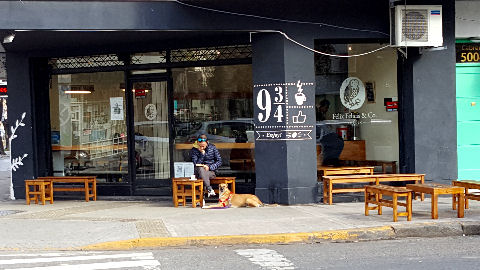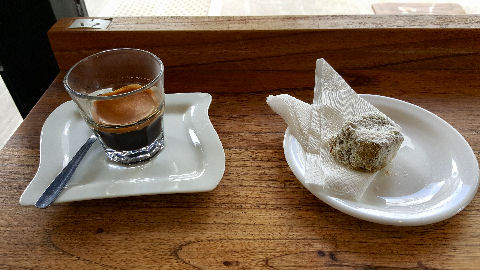 Might as well start with a little coffee at the apparently well-known within the Harry Potter world fan-base, Félix Felices & Co., Cabrera 5002 in Palermo, which I stumbled across one day. It took me about 10 seconds of thinking to click why the big "9¾" meant something, and then the owl picture and all that connected (given the propensity for soccer memorabilia covering walls of cafes and restaurants here, they should do the same with quidditch memorabilia…). Great coffee, really great coffee. And nice little pastries, each with a name that sounds like something right out of the novels (or maybe they actually are names right out of the novels). The fustuca is a lovely, gooey bite of sweet pistachio paste that I'd happily eat every day. Wish this place was near to home, we need a more boutique coffeeshop here in the 'hood.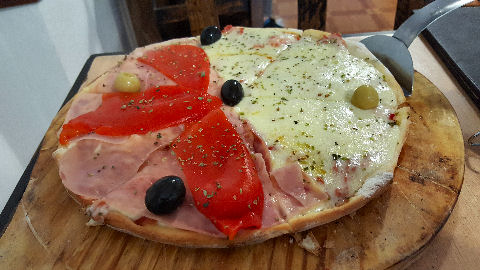 (71) Let's toss off another few on the 92 Bus Pizza Trek. This place wasn't around when I started the trek 3½ years ago (but hey, that makes two places that opened since I started, and two have closed, so all is well in the dream world count), having opened just this last December – La Gambeta, Av. Ángel Gallardo 271 right across from Parque Centenario. Lots of futbol themed decor – la gambeta, in local slang, if I understand correctly, is that sort of move that soccer players do when they do a quick crossing of the legs to wind up for a goal kick. Comes from the in the air crossed leg move of ballerinas, also called la gambeta. Decent pizza – good crust with a nice light char underneath. Little to no sauce, but what there was was fresh and zingy. Pretty good quality mozzarella, and overall nicely seasoned. A midrange pie, more or less in the average category, but towards the upper end of that.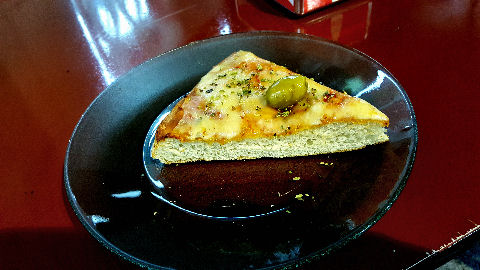 (72) There used to be a Pizza Bum!! a block away from us here in Recoleta, the space is now one of those "25 hours" (a day? a week?) kiosks plus a fruit and vegetable stand. They're scattered all over the city. The one that was here was pretty good – not great, but a good place to get a late night individual sized pie and a beer. I gather they're all franchised, and have some leeway in what they offer, as the one at Av. Rivadavia 8100 in Floresta is vastly different – huge counter, just a few tables, surly service, and really, really, mediocre pizza that isn't even a bit like the pizza that the one by us served. Doughy, undercooked, greasy, tasteless – it could have been a piece of styrofoam with oil on top.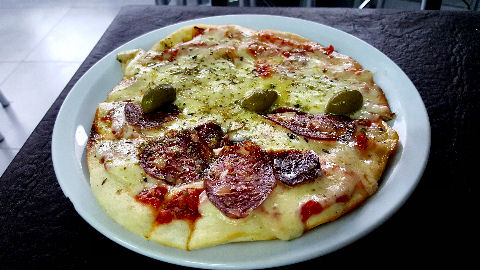 (73) It really shouldn't be odd to find a place that's offering up middle eastern fare and pizzas, after all, the original pizza was created in southern Italy after Roman soldiers brought back flatbreads from campaigns in the middle east. And at Alhambra, Av. Rivadavia 8626 in Velez Sarsfield, the two have come together in harmony. My slightly elderly waiter kept calling me querido (dear), and flirting with me, such is the life of an itinerant foodie. They only offer small and large pies, not individual sized, but this one's well worth digging into. Beautifully browned, tasty crust, excellent, zippy sauce, a bit too much mozzarella, but of good quality, and on the "calabresa"  half, a really good spicy sausage.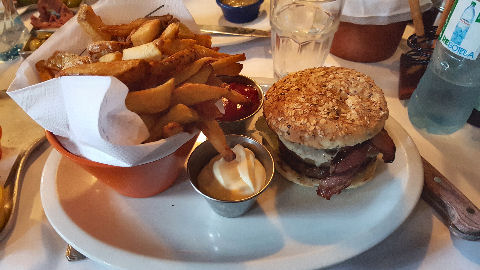 Knocking off another burger on yet another quest, at some point or another, I knew I was going to have to hit another of the high end spots. This time, La Cabrera Norte, Cabrera 5127 in Palermo. I'm going to assume for my wallet's sake that the burger served at La Cabrera (original, at Cabrera 5099, a few doors away). They've taken their #19 spot on the Latin America's 50-best (inexplicable in itself, they're not even the best steakhouse in BA, but, so be it) to heart, or more accurately, to the bank, with appetizers running 2-300 pesos apiece these days, and steaks that run from 400 to over 1000 pesos. Even the burger, a double patty wagyu construct with crispy bacon and melted cheese on a quite good multigrain bun, comes in at 229 pesos ($15). Admittedly, that's far, far less than Cabaña Las Lilas is charging for their wagyu burger, but it doesn't sting any less. Worse, this is a pretty average burger. Ordered rare, it came out medium well, both patties. It's extremely salty, dripping with fat (one of the problems of a wagyu burger, it's just too high of a fat content for a good burger) and has an odd, slightly rubbery texture to it (though that may have been the over-cooking). The fries are soggy. Really, the only thing I liked about this was the bun and bacon, and La Cabrera Norte serves, even with just a burger, a selection of their famed condiments and sides, so I ended up piling this with a ramekin's worth of roasted garlic cloves, just for flavor. Highly disappointing given how good their steaks are, and not made better by the nose in the air service – something I've not experienced at either of their locations before – more fallout from their "win"?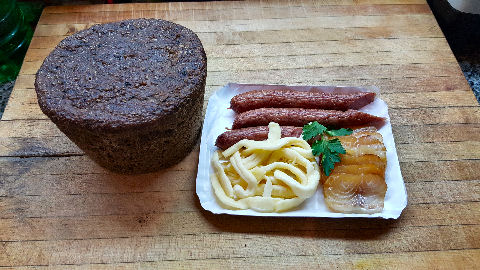 I've heard rumors of this little Russian takeout spot in Belgrano, and one day recently I was nearby doing some shopping and thought I'd pop in and pick up something to take home. La Comidería, Olazábal 2734, is not much more than a kitchen with a counter attached. Based on a chat with the lovely young woman at the latter, the food on offer changes week to week, depending on whim. I decided to grab a little "plate" of smoked goods – homemade (some by them, some by their friends) sausage, cheese, and salmón blanco. The best was the last, rivalling a good smoked sable from back in New York, and I'd pop in just for a big fillet of that to use at brunch one day, along with the excellent black bread (which I'm still nibbling on over my morning coffee a few days later). A definite spot to pick things up in passing when you're in a little Moscow mood.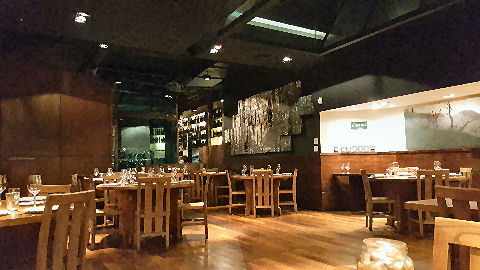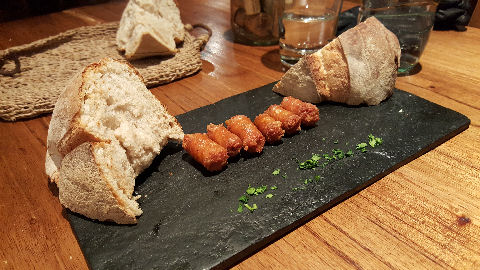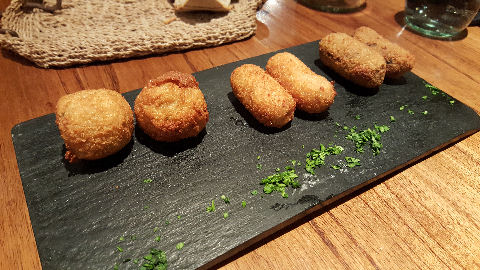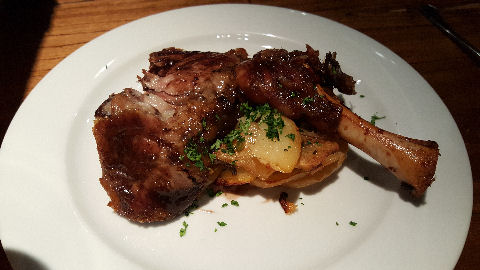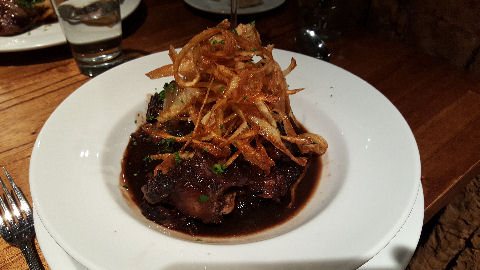 We'll finish off this round with a visit to Sagardi, Humberto Primo 319 in San Telmo. Dinner with a friend who was in the mood for lamb, and I'd heard that the one on offer at this Basque spot was excellent. At the front, a huge tapas bar, mostly loaded with over-sized bruschetta-ish things, a sort of odd selection, and everything very far apart. Entering the dining room, much the same – tables are so far apart that the place doesn't feel warm and inviting, and on a night when one might have thought they'd be busy, we were the only ones in the dining room until two others arrived just about when we left. Maybe 7-8 people were in the tapas bar the whole time as well. The menu is almost as big as the place, and seems to go on, page after page, although each only has a couple of things on it – strange design. We had four different waiters over the course of our time there, and we weren't sure that they'd spoken to each other, it was like starting over each time.
Gift of the house – a little plate of sausages that are made for them down in Tandil, in BA province – good ones. The bread served had great flavor but was undercooked and still almost raw in the center. We couldn't decided between their various croquettes to start the meal, and one of the waiters offered to bring us two each of the three varieties – mushroom, cod, iberico ham. They were nice and crunchy, but inside not much more than mashed potato with a little bit of, respectively, each addition, and at 200 pesos, way overpriced. The much touted lamb was braised to falling apart tender, but served sans any kind of sauce, not even the braising juices, so was just sort of dry strings of meat over potatoes. The oxtail fared far better, being unctuous and swimming in its braising liquid – so I shared, spooning my excess sauce over my companions lamb. A bit stiff on the pricing here too, coming in at 375 and 310 pesos, and Sagardi is one of those places hanging on to the outdated cubierto charge, another 60 pesos per person tacked on to each table's bill. All told, with two glasses of their own house wine, and tip, 1350 pesos, a shade over $90, and no real draw to return.