I don't know whether it's that burgers are the new black, or the new pink, or if someone decided that the sequel to the Field was Grill of Dreams and that if you char a meat patty they will come, but "gourmet burgers" are appearing like the proverbial mushrooms after the rainstorm. It's like sushi seemed a few years ago. Everyone, and their mother, their brother, and that weird cousin that no one talks about was serving up sushi. Sometimes it seemed like you could get sushi at the corner coffee shop. Then it was Peruvian fusion. And fused with anything and everything, not just Nikkei fusings with Japanese, but mashups with Chinese and Cajun and Caribbean and various dots around the Mediterranean.
This year, it's burgers (and craft beer, but that's another whole riff). I'm used to setting out on these quests and having the list of possible spots dwindle rapidly. I did those original "hamburguesa roundups" years ago, and then basically ignored burgers, other than the occasional one that popped on the radar, because, no one was making anything new. Now, the list is getting longer and I can't remotely keep up – I heard about four new spots that opened just this week. Before this post, the ones reviewed had climbed to a whopping 68 burgers, well over half of which have been tried in the last six months, from places that have been open no longer than that. And the trend has been noticed – the high end players are getting into the act – last time around I reviewed one from a Michelin starred chef who opened up a spot in La Plata. More this time, and more next, no doubt. I've been talking with chef friends as I run into them, and every one of them seems to be at least contemplating adding a burger to the menu.
Burger in the Corner Pocket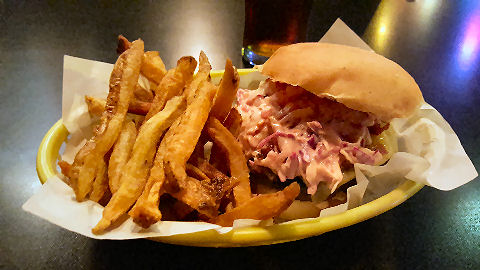 Back in New York City, it was generally received wisdom, until the gourmet burger craze took hold, that the best burger in town was at Corner Bistro (not all of us agreed, but it was certainly up there in the top five). So is La Esquina ("The Corner"), Gorriti 5608 in Palermo (at Fitz Roy), trying to cash in on the cachet? Probably not, it's just a corner location. It's been being touted as the game changer to Burger Joint, which was king of the hill when it opened, but that was only because no one else was doing gourmet burgers yet. They were long ago toppled from that lofty peak. Still, La Esquina is in that same dive bar style of spot. It kind of would have been nice if, after I took a table, one of the guys at the bar or the busboy/runner circulating the room, had said, "hey, you gotta go up to the bar to see a menu and order", but they just ignored my existence (why do you have a stack of menus if everyone has to come to the bar to order – one would be enough). I finally did head to the bar, at which time the two guys there actually looked up from their cellphones long enough to take an order.
Half a dozen options available if you include things like a veggie burger. Lots of props out there for the "Fat Mike" with its craft beer based barbecue sauce and cheddar, but I don't like the former on burgers, and what passes for the latter here is pretty much the equivalent of what we'd call an "american cheese slice" back in the States. Besides, as I've said in the past, if you're going to name something on your menu after yourselves, that gets my attention, so I went with the "La Esquina" burger – coleslaw, bacon, crispy onions, house dressing, fontina cheese. Ordered rare to medium rare, of course. The runner does actually bring it to your table when its ready. Verdict? A really good burger, well seasoned, nicely packed, though definitely cooked into the medium range. Toppings, abundant and tasty. The bun, very commercial, pasty, fell apart within a minute or so – actually, the bottom of the bun was pretty much goo by the time I even picked it up. Really good fries. Craft beer on tap (Siete Colores). Around 200 pesos for the works. Four Napkins.
Surf's Up!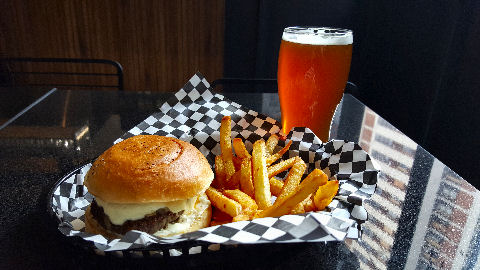 This one may almost be unfair. My friend Wayne, who lives down here a couple of months each year, spotted this place more or less as they were taking the wraps off it, as it's around the corner from his apartment. In fact, they're in "pre-opening" phase. But it's worth a mention, and is another spot with a player at the helm, the chef from Unik has entered the gourmet burger fray with Big Sur, Cerviño 3596 in Palermo (near the corner of Scalabrini Ortiz). Inspired, he says, by his favorite gourmet burger spots along Mission Street in San Francisco (the last time I was in SF, I'm pretty sure Mission Street didn't have gourmet burger spots, but then, nobody did), he's offering up a trio of options during this open but not quite open stretch (along with a fried chicken sandwich, a hotdog, and an oddball single appetizer, vegetable pakoras, "because they're my favorite street food").
The Mission Burger offers up toppings of "Lincoln" cheese, which is sort of like Swiss cheese without holes, caramelized onions, "alioli" (it's aïoli, or garlic mayo, but for some reason here, lots of folk seem to think it's alioli – I assume they're thinking aglio e olio in sound, but that's garlic infused olive oil that's used for spaghetti), and capers. Optional fried eggs, bacon, and more. Verdict? Delicious burger, perfectly cooked to medium rare, perhaps a touch saltier than I would have liked. Major, major points for an in the moment fried egg with the yolk still runny (I did have to go back up to the counter to get it added to my burger, as they hadn't put it on). The onions could use being caramelized more than just being soft. There weren't any capers on it, though I decided not to go back up again and ask for them. The bun managed to stay put together through most of the time, another big plus. Excellent fries, and a selection of condiments including a reasonably good hot sauce available. Craft beer from Bierhaus on tap (excellent Scottish Red!). 160 pesos with fries and a beer (140 with soft drink) included. For the moment, I'm giving it Four Napkins, but verging on Five – to be revisited once they're fully open and have the full menu and their rhythms down.
The Melted Wallet Burger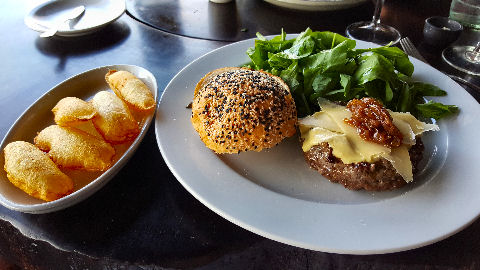 I have now eaten the most expensive burger of my life, and it wasn't the best burger of my life. I'd kind of been holding this one in abeyance because I knew it was going to be pricey. I took myself out to lunch to Cabaña Las Lilas, the very hyped, very touristy, very expensive steakhouse at Av. Alicia Moreau de Justo 516 in Puerto Madero, for their wagyu burger. Now, even with just a burger being ordered, you still get the whole array of nibbles at the beginning, so I noshed my way through poached salmon and caprese salad, and a bit more, though I did pass on the ample selection of breads. No craft beer, major commercial brands like Quilmes and Stella Artois (really? come on, you're one of the most expensive restaurants in Latin America, put some thought into the beer selection).
Verdict? A very good burger, but not one that wowed me. Not surprisingly being wagyu beef, it's loaded with soft fatty goodness. It was seasoned well. It was cooked to a perfect medium rare. A little small, and for some inexplicable reason, you have to put it on the bun yourself, which is served separately on the side. The onions were well caramelized. The bearnaise sauce was spot on. The reggianito cheese (more or less parmigiano, but not quite) was a nice touch. The bun was good and held up. The souffle potatoes were admittedly perfect, though a rather skimpy portion. The mass of arugula was a bit much. It just didn't wow me. And coming in at 431 pesos (it's 326 on the menu, but there's a 105 peso service charge per person, so as far as I'm concerned, that gets added in), or just over $30 for a burger and fries, and tacking on 160 pesos for a glass of wine (that costs the same for a bottle retail) and another 56 for water ($4 for a bottle of water?!), brought a burger lunch in, with tip, at 700 pesos, or $50. Still, I'll give them Four Napkins for quality, just be forewarned.
Bambi in Smoke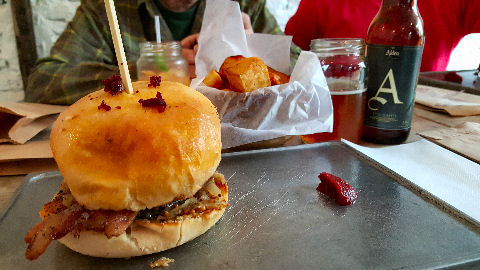 Just over a week ago I reviewed Söder, Honduras 5799 in Palermo, the new Nordic cuisine spot that's getting a range of reviews. On Saturday and Sunday lunch, the only daytimes they're open, all that fru-fru stuff goes out the window and they offer up four brunch options – a combo plate that includes a variety of things like smoked salmon, and perfectly poached eggs in a crust, and waffles with bacon, and a huge dessert that combined some of the elements from the desserts at dinner into something more substantial, and a cocktail, all inclusive for 250 pesos; or, three sandwich options, the only one of which that interests us here is the venison burger (the others are a lamb sandwich and a portobello sandwich). [Closed in August 2016, with hints of a future reopening in another location.]
The burger arrived in short order, cooked just right to a medium rare (one of my lunch companions ordered his well done, he's porteño, what can you do? it came out well done. the others ordered the brunch), and comes topped with all sorts of goodies, like crisp, thick-cut bacon, pickled cucumbers and radishes, beautifully caramelized onions, that lovely coarse grain mustard (and this time I ate it all, but then, it was on the burger already), beet crystals, and beet ketchup. It was seasoned well, the brioche bun held up well, albeit for me, that, with all the beet and sweet pickled stuff, made the whole thing a little on the sweet side for me. Weird potatoes – cut in really thick blocks, ostensibly triple fried to get a crisp exterior and leave a creamy soft interior, but still soft on the outside and noticeably undercooked in the center, the thicker ones bordering on raw. And they're cooked in "smoked chili oil" which gave them an interesting, though odd flavor. I also wondered how he got the texture of the burger not to be dry, given that venison is very lean, turns out he blends in "smoked veal fat", a nice touch. Craft beer from Aldea by the bottle (I went for another bottle of that lovely smoked ale). 165 pesos for the burger, 90 for the beer. Another Four Napkin burger for this round.
Federal Crimes Against Burgers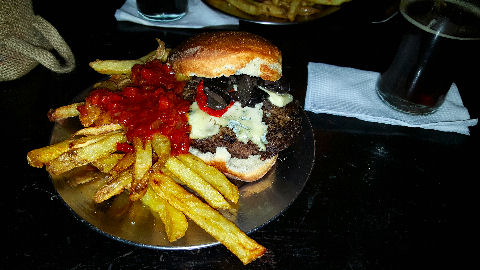 They can't all be Four Napkins, can they? No, they can't (okay, they could be, but they weren't). Toddled off with another friend to Federal Cervecería Independiente, República de Eslovenia 1831 in Las Cañitas, a microbrewery with food. Let's just put it out there… whoever you were that recommended this place to me as the best craft brewery and burgers in the city, just go hang your head in shame and never speak to me again. De-friend me on Facebook. The burgers, both ordered rare, arrived so charred on the outside you could have mixed them into a pile of charcoal briquets and played Where's Waldo? trying to find them in the picture. Needless to say, beyond well done in the center. More or less unseasoned. Insipid blue cheese, jarred black olives, and a not-quite rehydrated sun-dried tomato on top, all of which were as dessicated as the burger – probably left sitting out on a counter somewhere in the heat. The bun was stale.
Amazingly, the fries weren't bad, although the 6 peso option for "picante" fries was basically to ladle a chunky tomato and onion sauce over them that had at best a hint of heat to it (and probably was a jarred pasta sauce). Neither of us made it even halfway through the burgers, and why we went that far is a mystery to me. The beers we tried (their own), a Scottish Red and a Stout, were just good, nothing more. They did give us a 10% discount on the bill after we said something about the burgers when they finally deigned to notice (three waitresses, one bartender, all at the bar pretty much the whole time we were there, on their cellphones and passing them around, clearly sharing photos or whatever, and paying no attention to customers, we had to actually had to keep interrupting them to get service). All around, a fail. One Napkin.