It's been awhile since the last Bite Marks, let's catch up! There are also a couple of full reviews coming up shortly….
Not Quite the Gate of Heaven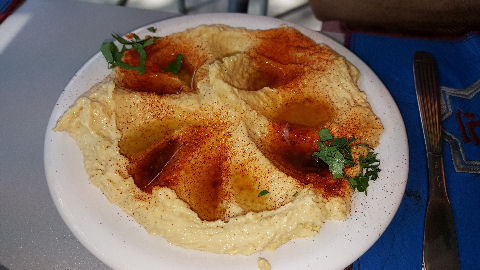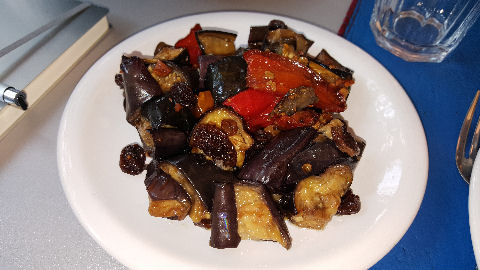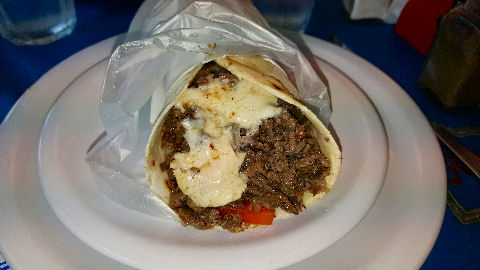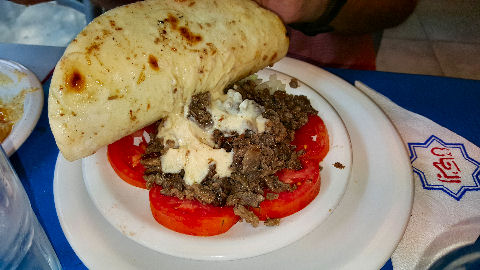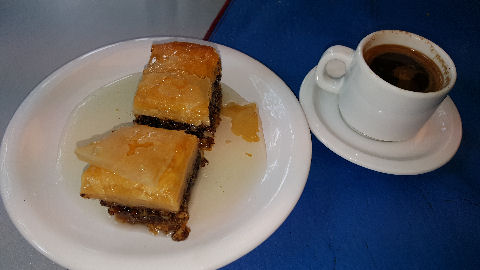 Back in Chronicles of Shawarma – Book X, I reviewed the shawarma, unfavorably, at Al Rayan in Villa Urquiza – there was little to like about it, an overseasoned, poorly made shawarma, and lousy service. So I held my breath when meeting up with a friend at their new Palermo location, Honduras 5638. Actually, given that the website of the original doesn't mention this one, it may be that they're unrelated. Certainly both food and service are.
Friendly, efficient waiter. The space is kind of nondescript – it could be any sort of coffee shop or diner type place. Quite good hummus, and a rather good chilled salad of grilled eggplant, peppers, cashews and raisins. The shawarma, available both as a wrap and platter, has okay flatbread – much like the earlier place, but the meat isn't dried out, nor over-seasoned. It did strike us both as likely sauteed in a pan rather than carved off of one of those rotisserie spits, but was still decent quality. The yogurt sauce was split, but tasty, and, the hot sauce, requested on the side, was fiery and delicious. Excellent bakhlava, and acceptable "arab coffee". Relatively inexpensive. Not bad at all.
I'm Not Taking the Fifth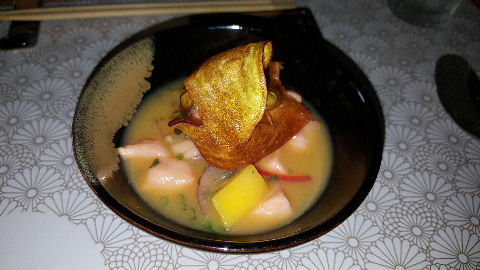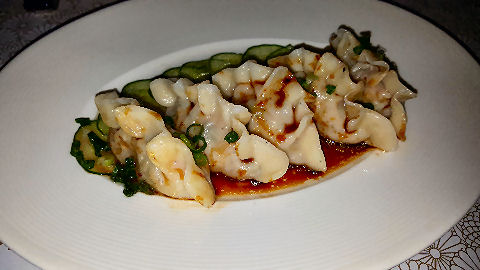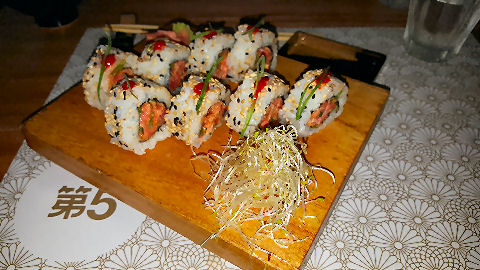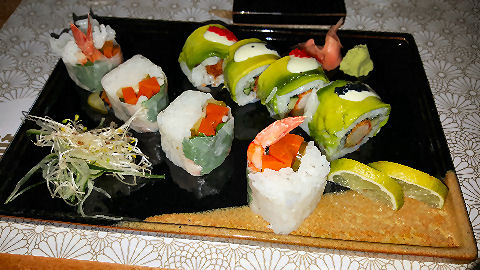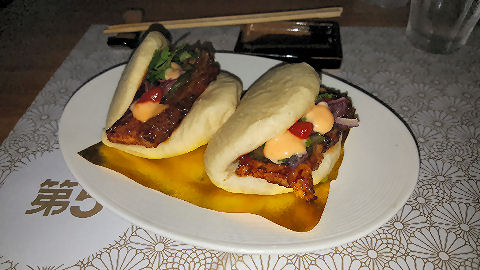 Much ado is being made about El Quinto, Av. Libertador 6248, as the hot new pan-Asian spot, and the first, outside of something rather upscale like BuddhaBA, in the Belgrano area. The name means "The Fifth", and is apparently meant to invoke umami, the fifth taste, though interestingly, the logo for the restaurant, a Chinese character, means "The First" – they use the same base character, but "fifth" needs a modifying one to its right – I guess they're trying to indicate that by putting the roman numeral 5 next to it rather than the Chinese character – can we give them that? Maybe. It's a sleek, modern space, lots of light. Friendly staff. Interesting sounding menu that sounds a bit like pan-Asian lounge food – creative sushi rolls, dumplings, various sharing plates. Let's take a look at some of what we've worked our way through.
Ceviche (okay, not Asian, but a Nikkei style version) – salmon and mango cubes floating about in a mildly citric broth – lacking salt, chili, and, really, anything Asian about it – no soy, miso, nada – meh. The gyoza, nicely done – perfectly cooked, great seasoning inside – the sauce a bit more vinegary than we cared for, but not bad. Sushi – a couple of rounds – turns out you can order the rolls in full or half (not mentioned on the menu that I could see, but the waitress offered so we could sample a couple of things). Spicy tuna roll – made with fresh tuna rather than canned, big plus there – the kick isn't in the roll itself, as it would normally be – typically bound with a togarashi spiked mayo, but rather just a dot of sriracha sauce atop each slice – still, well made and tasty. Dragon roll – fairly typical – fresh, just nothing special. Viet roll – nice creation, nice flavors, with a good hit of aromatic herbs, and I liked the rice paper wrapper.
The gua bao – which are kind of becoming a thing here in BA. Okay, there are now four places you can get these (Fukuro, Cantina Sunae Asiatica, Bao Kitchen, and El Quinto), the taiwanese style steamed buns folded over a filling, usually braised pork it seems, so maybe it's not quite a thing, but it's recent. And despite the references that typically find their way into writeups of these, they weren't invented at Momofuku in NYC, albeit they certainly received a lot of press attention there. The filling on these was great, perhaps a touch sweet with a very candied hoisin sauce – they fell down on the execution of the buns, which were still raw in the middle, probably needed another 5-6 minutes of steaming. Disappointing one other dish we wanted to try, the wings with the tamarind and orange sauces – unavailable not because of lack of wings, but because of lack of tamarind and oranges – come on, you're a block and a half away from Chinatown and have three whole customers in the restaurant – someone should have been sent out hours earlier to buy both. Overall, enjoyed, not wowed, but certainly a worthwhile alternative in the Barrio Chino area – a touch pricey for the 'hood, all of the above coming in at well past the 600 peso mark).
Big Ole Steamed Buns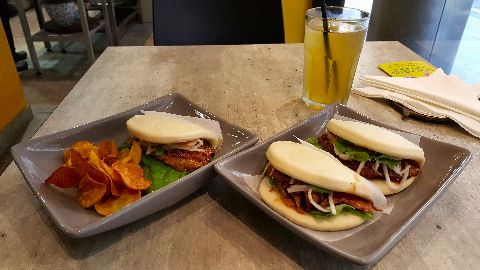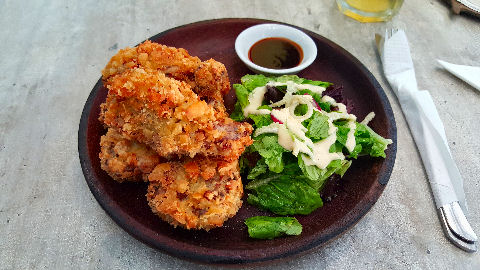 As long as we're talking bao, let's hit up on Bao Kitchen, San Martín 960 in Retiro. Well known folk for the last few years, having shown up at many a street food festival hawking their wares, they now have a brick and mortar spot in the downtown area, across the street from Filo and Dada, popular neighborhood spots. Not surprisingly, the specialty here are the gua bao, which are available in braised pork belly, braised pork shoulder, and braised organic chicken. The steamed buns are noticeably bigger than at the other three spots in town, or really than I've seen anywhere (90 pesos for a plate of two). The fillings are delicious, particularly the chicken. However, I found that with the bigger bun, the filling felt a bit meager in contrast – no complaint about the flavor, but the ratio made it feel very "bready". Fried chicken wings, likewise – these are the biggest wing sections I think I've ever seen. Great coating. The dipping sauce is barely a tablespoon of a sweet, hoisin type syrup, certainly not enough to go around – then again, it may have been intended as dressing for the greens, in which case, the chicken needs something to dip it into.
But I Would Take the Sixth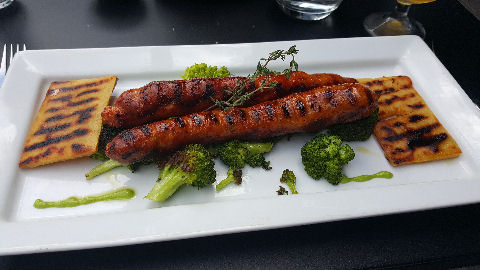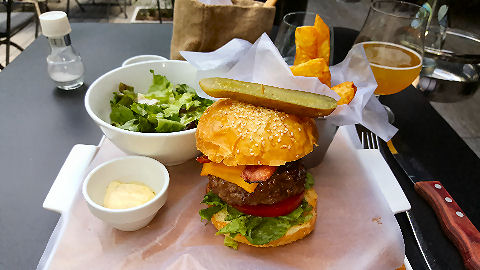 The folk behind the burgeoning empire of two Sottovoces, El Burladero, and Fervor, come back on the radar with a new Palermo based Mediterranean-Argentine proposal, Sexto, Costa Rica 6038, in the Hotel Casa Sur. One visit so far, just to try the burger. Beautiful garden area, and the indoor space is lovely as well, albeit feeling a little tightly packed. Interesting menu. Lovely, elegant and friendly service. I decided to start off with a starter that was described as grilled broccoli with homemade sausage – I have to admit, I was expecting something more vegetable based and just a bit of sausage to give it some flavor, rather than two huge sausages and a scattering of brassica. It's clearly intended to be a shared dish, because it's big enough to be a main course for one. Burger made with dry aged young beef, cooked perfectly medium rare, crispy bacon, lettuce and tomato (kudos for putting the lettuce on the bottom to protect the lower bun from becoming a soggy mess from the juices, sharp cheddar, a real pickle. Damned fine burger (at 238 pesos, it damned well better be). The fries could have used a minute longer in the fryer to get the outside a little crispier, but inside, dead-on. Condiments, for burger, fries, and salad, only brought to the table on request, the one service faux pas for me. Just bring them.
The Way I Like It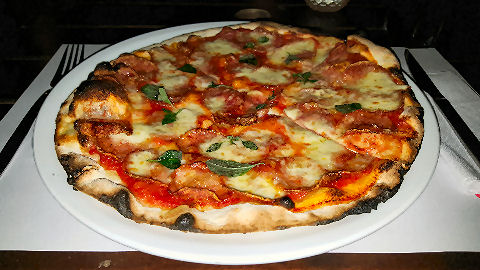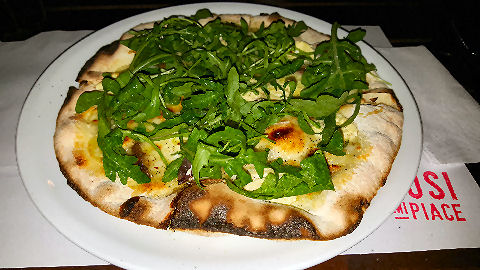 Okay, let me cop to this. I have a preference. We're talking pizza. The best pizza I've ever had in my life was served up at Da Giovanni on the Campo de'Fiori in Rome. And I love that wafer thin, smoky crust that is the hallmark of the city's style. It's closely followed by Neapolitan pizza, ably represented here in BA by Partenope and Siamo nel Forno, and tentatively, San Paolo (I went to a preview night, but I want to wait and return and try it now that it's fully open). Oddly, from there, my choice goes to the far other extreme with a deep dish Chicago or Detroit style pizza.
But when I heard rumors of the opening of a Roman style pizzeria while I was away in Mexico, I headed over promptly after my return. Cosi Mi Piace, El Salvador 4618 (I'm not sure why, but multiple writers who've covered the place in its first three weeks open have repeated the error of addressing it at 4508 – it's not.) The chef/owners behind the scenes are apparently the former culinary team from the long closed high-end Nectarine restaurant in Recoleta. Basically, the name means "As I like it." And I do. Very, very much. I hate to say it, as the owners of the aforementioned Neapolitan style places are all friends of mine, but this place blows all three out of the water. Amazing, smoky crust, zesty, delicious sauce, ample toppings, everything in beautiful harmony. I've tried two – one their classic diablo, with spicy sausage, garlic and chili, and the other, a more or less build it yourself (not officially offered on the menu, but they have "additional" toppings available and I asked if I could put together a "white pizza", i.e., without sauce, and my choice of ingredients – sheep's milk ricotta, arugula, anchovies. They tossed a little mozzarella on to help hold it all together, after first making sure I was okay with it – I was. I couldn't ask for any better. Not inexpensive, with what are basically individual sized pizzas coming in between 150-200 pesos each. A very pleasant setting, both inside, and a lovely outdoor patio in the front. Moves to my #1 position for pizza in town.