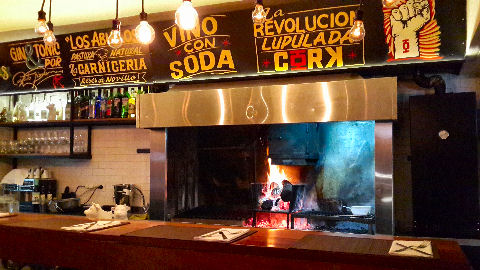 I was going to start this post with a disclaimer about how rarely I eat red meat and this and maybe one or two more might be the exception. And I don't eat a whole lot of it, but I also don't avoid it. Much of it tends to be in the form of my burger and shawarma search kind of projects, or pizzas with sausage or bacon, or similar sorts of things. I guess, it comes down to more, I rarely go out and have a steak. But if I'm going to have red meat, a steak is probably a better choice in terms of quality than either a burger or shawarma. So count me in late for the party at La Carnicería, Thames 2317 in Palermo.
Many electrons have been spilled praising this tiny haven for meat lovers. It's gotten rhapsodic write-ups that are usually reserved for The Second Coming or The World Cup. So if I'm going to dip a toe back into the steak world, what better spot to start?
It's tiny (roughly 25 seats at the few tables, and another 5 at the counter facing the grill). It's hard to get a reservation (see the previous sentence). It's kind of hipster feeling – from the decor to the staff – but without the attitude that is sometimes endemic to such places. Still, it would make a great set for an episode of Portlandia. The menu is limited if you compare it to the typical Argentine parrilla. A half dozen appetizers – all reinterpretations of local classics, and a quartet of listings for main courses – "grill cut", "smoker cut", fish, pork. As best I can tell, little varies (though, the much lauded tongue appetizer has been replaced by grilled prawns).
Also on offer, a couple of different well touted gin and tonics, made with the local mate infused Apostoles gin – the herbal one of the two is a stunner. Is it the best G&T I've had? No, but it's the best I've had in BA. And more, a selection of hot sauces available – they'll bring you a couple from what's on the shelf over to your table, or you can wander over and help yourself – and everything from a mild tabasco type sauce to a fiery habanero one.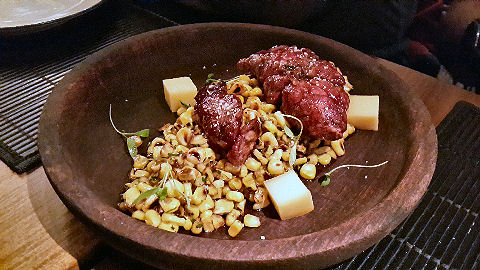 Mostly, I like the sweetbread dish – they're perfectly cooked, they're glazed with a caramelized honey, they're served over lightly charred corn. The menu, oddly, specifies "choclo y maíz" – synonyms for corn, and I don't see any evidence on the plate of more than one type. All well and good, and delicious, other than the little cubes of cold, relatively flavorless cheese that are inexplicably included – I'm guess it's a nod to something like the roasted corn on the cob topped with a slab of cheese that's common in the Andes, but there, it's a flavorful, fresh cheese that practically melts onto the corn. Push the cubes aside.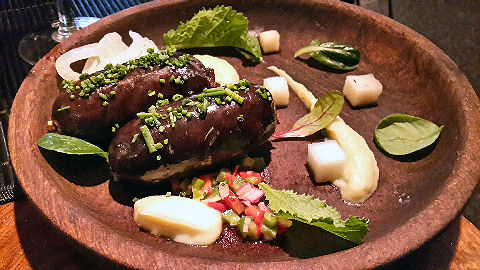 Excellent housemade morcilla sausages with fennel puree and slices, apple cubes, and a salsa criolla. The menu said roasted bell pepper, which would have been lovely, but this all worked as is.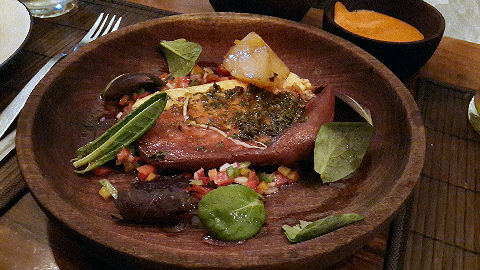 A smoky, really smoky, version of the classic provoleta, with more salsa criolla, cooked pears, and greens. I have to admit I prefer my provoleta sort of oozing and gooey, this was a little stodgy, albeit flavorful, and did I mention it was smoky?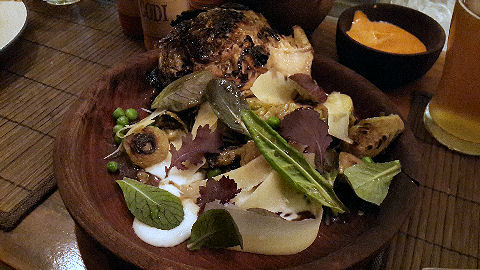 Personal favorite of the four appetizers tried (over two visits, with different friends). A charred, grilled wedge of cabbage, amazingly good brussels sprouts, garlic, yogurt, parmesan. What's not to love? I could just go back, sit at the bar, and eat this with a glass of wine or a pint of locally brewed Cork beer that they offer on tap.
On to the main courses we tried.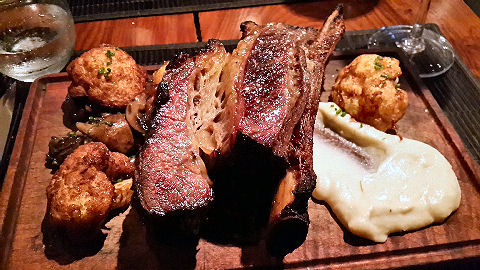 Let's start with the "smoker cut" – a whopping, Flintstones' sized brontosaurus veal rib. Remember the smoked provoleta? It pales in smokiness next to this. I have to admit, that while my friends loved it, I didn't. It's just too smoked – there was no other flavor to it. It was tender, it had a great fat layer in the middle. Just couldn't taste the meat. Did love the roasted cauliflower and onions, not so much the limp mushrooms.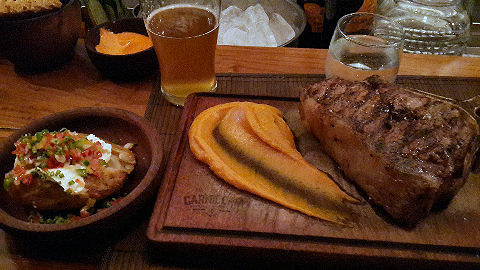 Another huge cut, from the grill now, a bife de chorizo, basically the tenderloin side of a t-bone, or porterhouse. Ordered rare, it arrived more medium rare, surprising, given that it's a massively thick steak, close to 2″, and also a bit bland, and tough to cut. The squash puree was over the top sweet for both of us that evening, though easily pushed to the side as we concentrated on the perfectly baked potato and great chimichurri sauce.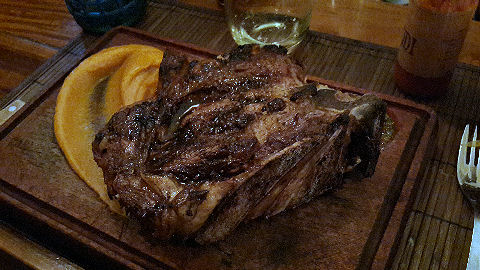 Far, far better, the perfectly rare cooked rib-eye (at just over an inch thick, yet this one came out at the requested doneness), well seasoned, rockingly flavorful, and butter tender. Same comments on the accompaniments, as they're the same, whichever of the two steaks you order. This one easily knocks the reigning champ, Juana M, off its perch.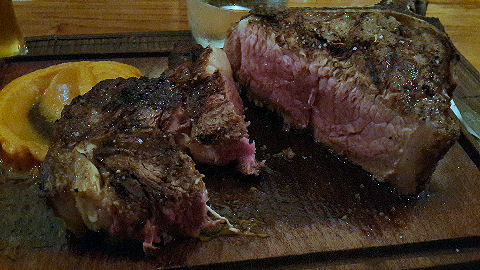 See? Rare on the left, medium rare on the right.
Overall? Love the intimacy and feel of the space. Love that they haven't gone overboard with the menu and have added in some creativity, particularly to the appetizers. Great service – friendly, helpful, competent, cheerful – very boy scouts of them. Pricing is reasonable, particularly given the large portion sizes – appetizers run around 80 pesos each, main courses between 175-190 pesos. [Edit: most recent visit, March 2017, same dishes run roughly 150 and 325-350 pesos.] The food? They need to tone down the smoker a bit, at least for my tastes, but then, my friends disagreed, so maybe it's just me – but as noted, I found the two smoked dishes to be too much so. [Edit: Further visits, the smoke has been much tamer, so it seems to have been a one-off occurrence.] Loved the rib-eye, not as much of a fan of the tenderloin, but I wouldn't turn it down. They have a tendency towards a lot of sweetness in the garnishes of both appetizers and main courses – that could be walked back a bit too, but then, locals do like their sweet. For me? The cabbage or the morcilla to start and a rib-eye steak, and I'm a happy camper. And this place, albeit not traditionally Argentine in feel or style, garners itself a spot on my top steakhouse list.