Oh boy. This is what happens when I take a break to talk about something else. Now I've got two days worth of food (let alone sightseeing) to catch up on. Not that, of course, I'm obligated to post everything, nor you to read everything, but it feels like a sort of shadow handshake contract between us. It's probably just my imagination, but then, some of you keep encouraging me. I should say, several people promised us recommendations for places to dine in Medellin, but no one came through. The cute chef at El Gobernador in Cartagena, Jaime, recommended one spot. So, let the plates parade!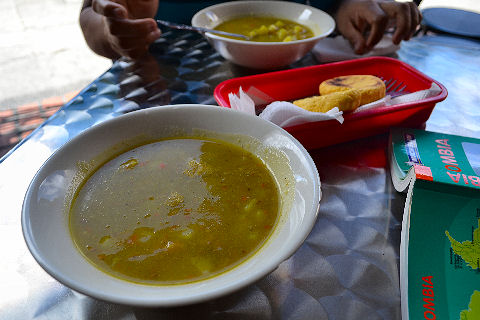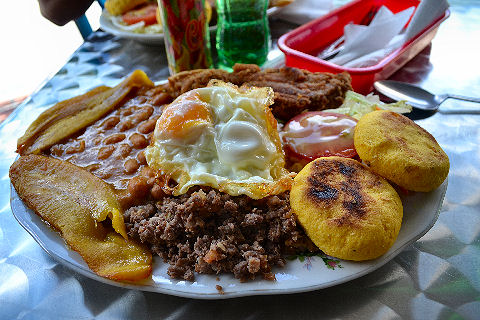 We're taking a hotel break while in Medellin and staying in an apartment. I may even get in one night of cooking rather than dining out. We're in the fancy El Poblado neighborhood, which is pretty much where everyone suggested as the best place to stay, both for little restaurants and cafes, and general security (although we don't feel like we're in danger on the streets, I would say that Medellin is probably the least secure/comfortable feeling place we've been on our various travels over the years). We headed to the Plaza Mayor, the central plaza, figuring that would be a good spot to start our explorations, but it turns out that here, it's more of a city administrative and exposition center, all concrete and steel. Hungry, we plopped down at a little corner restaurant called Genova and ordered a couple of "menus" – a bowl of yuca and potato soup followed by a bandeja paisa. This was slightly modified from the usual b.p., in that Henry asked them to leave off the chorizo and give us extra rice and beans, and for some reason, they didn't give us our avocado. Not that I'm complaining. How can anyone eat a platter like this, and the soup, at one sitting? And all for 30000 pesos (for two menus and tip), or $10.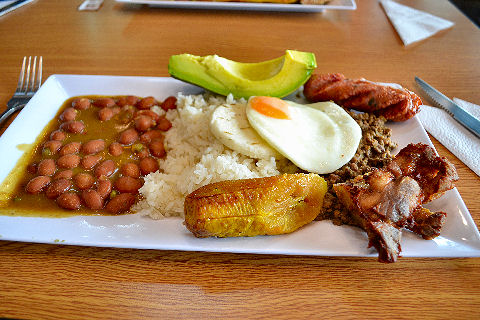 It wasn't actually our first shot at a bandeja paisa – while waiting to fly to Cartagena from Bogotá a few days ago we tried the dish at the airport. Albeit prettied-up, this is more the "standard" for the plate – rice, beans, spiced ground meat, deep fried pork belly, chorizo, fried egg, arepa, avocado, plantain, cabbage or lettuce salad (it's there, under the avocado and egg). And, neither in this case, nor at Genova, did either of us finish the platters.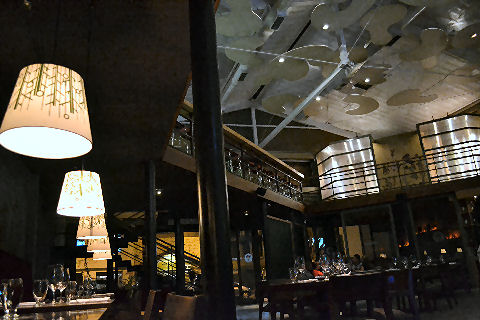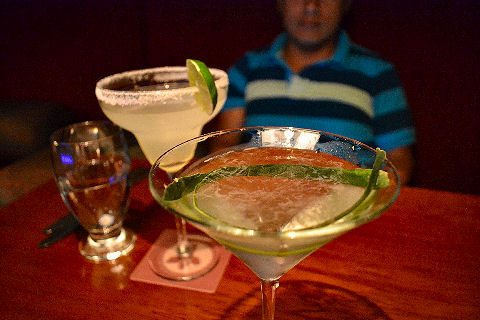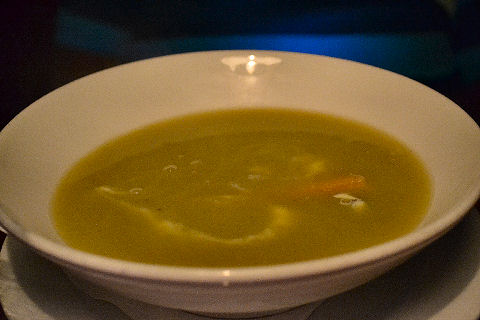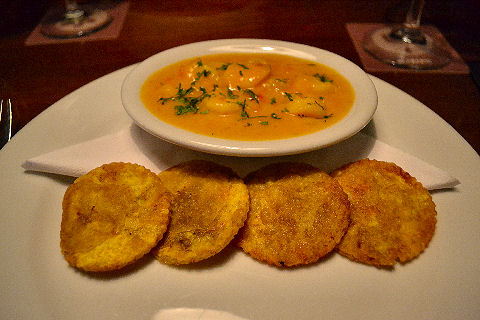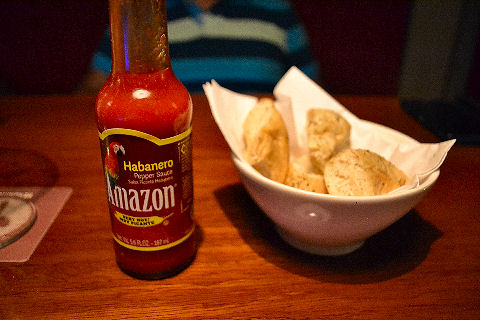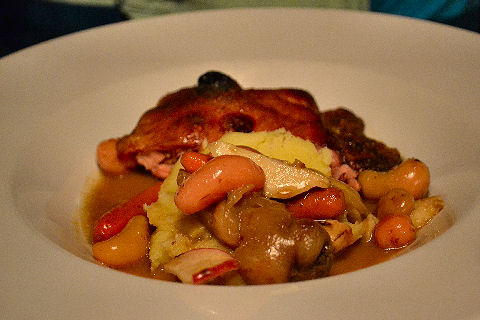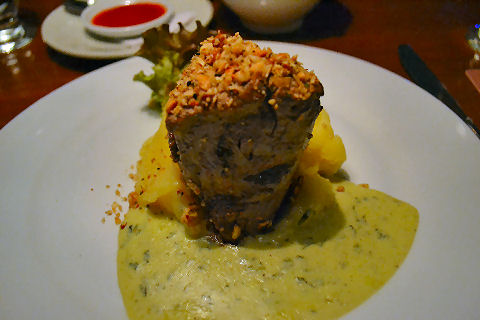 Not feeling up to what sounded like a fancy experience at the one recommended spot, I did a little search of the usual sites for something here in the neighborhood, and found a place called Herbario that sounded up our alley – a focus on local ingredients and particularly herbs and spices – all in a casual setting. Big space, very lounge-y feeling. At best, moderately attentive, though very friendly service. A couple of cocktails – margarita and later a pisco sour for Henry, a Hendrick's cucumber martini and later a beer for me – interestingly, no cocktails using anything local. Good food, well prepared. A "three potato" soup, where the potatoes were pureed into a thick broth, lurking beneath the surface was an ear of baby corn. Shrimp in a coconut, peach palm (chontaduro here, the same thing as pejibaye in Costa Rica) and culantro sauce with plantain chips. Roasted suckling pig with an orange sauce, baby vegetables and corn puree. Beef loin crusted in a mix of seeds, nuts, and cracked peppercorns with potato puree and tarragon sauce. The appetizers definitely more focused on local ingredients than the mains. Bread service strange – we received it between the courses rather than before everything, almost like a palate cleanser. Habanero hot sauce (Henry's first time trying habaneros – perhaps a touch too picante for him). We enjoyed everything! And a tab that only came to 215,500 pesos, or $73.

Our first full day in the city, we decided on the "official" hop-on, hop-off bus tour. Nice overview of different parts of the city, and lots of information, but each stop is 10 minutes (or 70 if you want to wait for the next bus), so just time to snap a few photos and get back on. Mid-morning we grabbed a snack at a stand near the stadium – milo (which turns out to be Nesquick, I didn't know…), and a papa rellena, nothing like the Peruvian version, this a mass of diced potato, onion and meat surrounded by a thin layer of potato and fried. Excellent hot sauce! We ignored the ubiquitous "other" sauce, which popped up regularly in Cartagena too, it's basically Chinese duck sauce – that goopy, sweet, red stuff.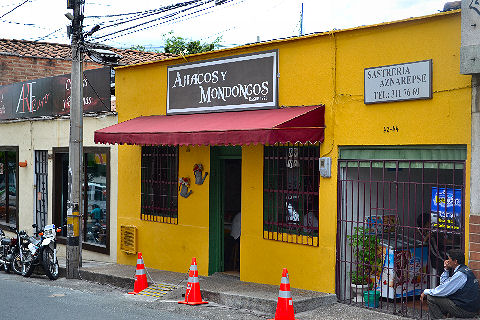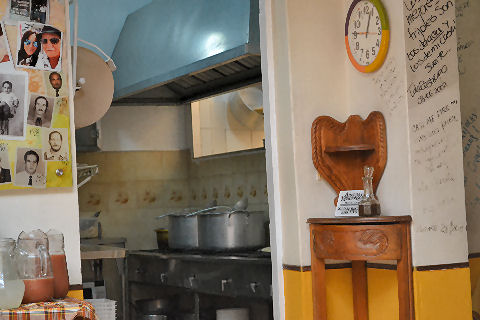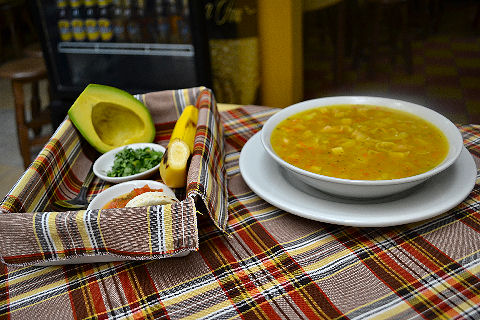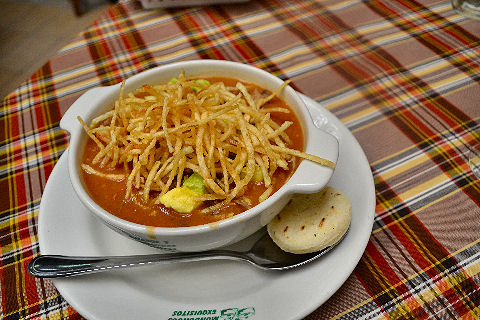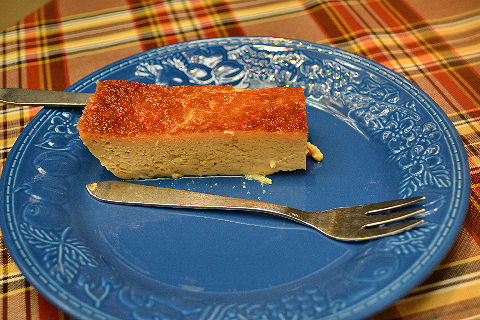 The tour winding down and just a few blocks from the final stop, the bus was going through this little alleyway and two women on the tour asked the bus driver if he'd let them off there because it was next to their hotel. He did, and we just happened to spot this place called Ajiacos y Mondongos, and decided to get off there too and give it a try. Traditional stews of the region and all that, you know? Cute place, friendly, attentive service, packed with locals, small kitchen with big pots simmering away on the stoves. Three items on the menu – ajiaco, cazuela de frijoles, mondongo – nothing more. Henry had a mondongo, tripe stew, that was one of the best he's ever had – I'm not a tripe fan and I liked it (tripe, diced pork, chorizo, potato, carrot, yuca, cilantro). I had the bean stew, which was just plain mouthwateringly amazingly good (red beans, carrot, corn, bacon, beef leg meat, plantain, avocado, potato). As I told the waitress, we've been in Colombia for 13 days and this was the first dish that I flat out wanted the recipe for (well, also those braised oxtails at Tábula in Bogotá). So good in fact that Henry ordered a half portion for himself after he finished his mondongo. A tres leches flan-ish sort of dessert. We may just go back before we leave, it's a short walk from where we're staying. Two and a half plates of food, two beverages, dessert, tip, 83,161 pesos, $28. Bargain!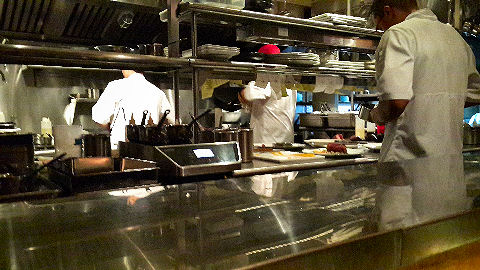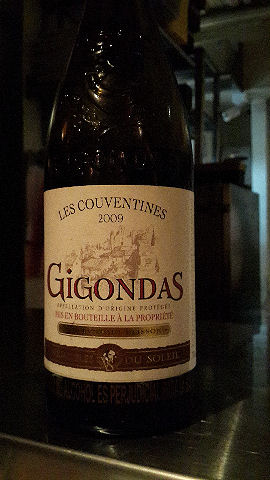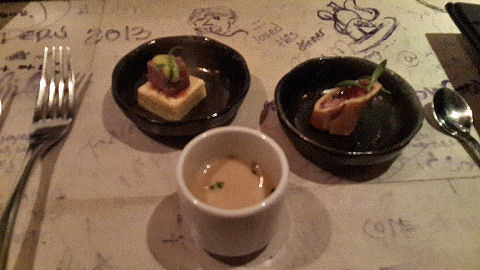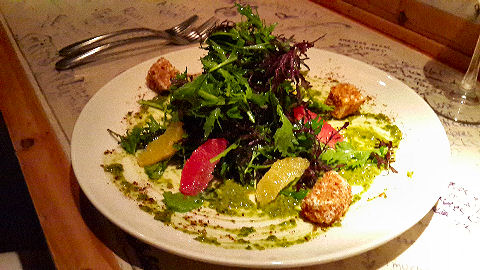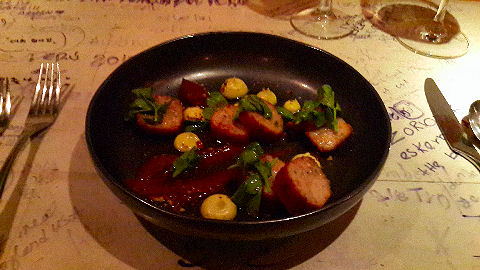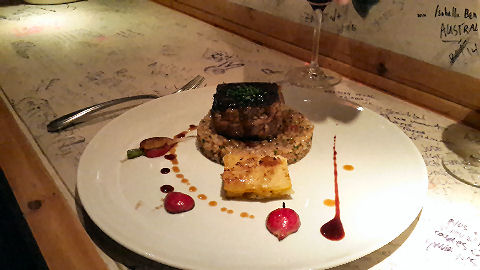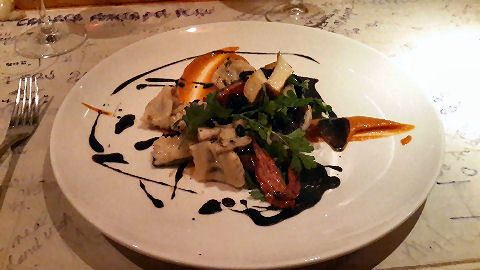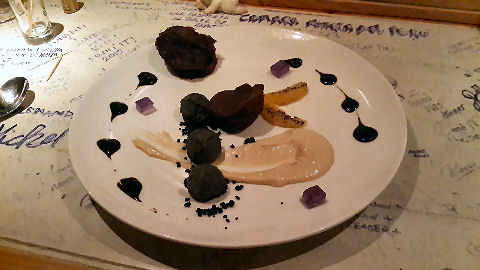 Okay… here goes. The one recommended spot, Carmen. Weird interaction on the phone making the reservation – they didn't have any tables available, but had seats at "the chef's bar". But then the receptionist kept trying to talk me out of sitting there, explaining over and over again how it wasn't like sitting at a table, we'd be facing the kitchen rather than each other, it might be noisy, it might be hot, and maybe we should come a different night. Obviously, we opted to sit at the chef's bar. A little disappointing only in that there was absolutely no acknowledgement of our existence from anyone in the kitchen the entire time, not even a smile or nod or hello – usually at a chef's bar someone from the kitchen will interact a bit with you – and worse, they knew who we were because we told them. The chef himself wasn't there, but even the sous chef never once gave any indication of, bluntly, giving a crap, that we were there. Our waiter was great. The sommelier, not so much (I picked a bottle to go with our meal, he informed me that he had a better choice for us, I suggested that his choice might be too heavy to go with our meal, he said he didn't think so, I asked if we tried it and didn't like it how would he handle it, his reply was basically, you order it, you drink it, so I demurred and went with my choice, he returned with the bottle, stuck it on the counter in front of us and said, your waiter can open that for you, and walked away). We're not feeling the vibe here, you know?
The food – interesting, mostly in a good way. Not really Henry's cup of tea, and given the staff interactions to that point, we almost packed it in and walked out. He had the mixed greens, citrus and goat cheese salad, as something simple that didn't sound like a weird mashup of ingredients. I ordered the shrimp chorizo with a coconut vadouvan (French-Indian spice mixture), "Colombian mole", avocado "pudding" (not sure where that was on the plate, maybe the whitish puree), rehydrated dried chilies and plantain vinegar. A bit complicated and bordering on clashing. For main courses, Henry ordered lamb, which it turned out they didn't have, something our waiter forgot to mention (and they didn't have the beers we ordered at the beginning either, so we went straight to that whole wine interaction). So he went with the arroz con pato, duck with rice, just asking for a substitute of potato for the asparagus, which he doesn't like. For the most part he liked it, though he's not overly fond of the texture of duck confit, especially packed back together into a brick, and he shoved the glazed skin aside – it was candy sweet. My "black fish" was a fillet of grouper crusted with black olives, with potato and black truffle (mmm… no, I don't think so, it was truffle oil) agnolotti, kale, artichoke, tomato, and black truffle (oil again) vinaigrette. Good, but that truffle oil was just a bit… potent.
We weren't going to order dessert, but then there was that one dish on the list that was just so offbeat I had to sample it – helado de aceitunas negras, pudín de arroz & coco, esponjas de mocca, caramelo de café, gelatinas de violetas, naranja – or, black olive gelato, rice and coconut pudding, mocha sponge, coffee caramel, violet gelatin, orange. I'm just going to say, "no".
So overall, intrigued but not overly satisfied with the experience. And, at 349,630 pesos, or $119, a pretty steep price for that.