For the moment, I'm only going to be doing food posts. My current plan in regard to sightseeing is to do up individual city videos for each place we visit the way I did last year in the US. We'll see how that goes… at least you'll know we're eating well.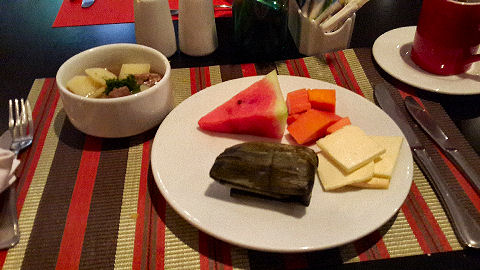 My breakfast in the hotel – a little fresh fruit, cheese, coffee, juice… and a small tamale and a small bowl of beef and potato soup, both traditional local breakfasts.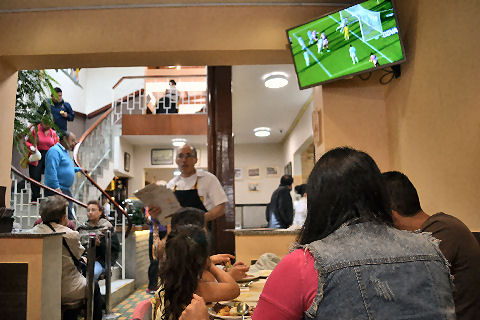 Moving on to lunch time, we met up with a couple of new friends, Jorge and Guillermo, who came to dinner at Casa S just a couple of weeks ago. They run their own puertas cerradas, Castro Cocina, here in Bogotá, unfortunately our timing didn't coincide with one of their dinners. We arranged to meet up for lunch at one of their favorite off the beaten path places, Doña Elvira, that specializes in the traditional dishes and flavors of Bogotá and its immediate surrounds, and bills itself as "anti-fusion". Big place, two levels, seating for over 100. Two lines out the door (no reservations), one for groups of 1-4, the other for groups of 5-6 (though there was a party of 17 in line), and the lines, while appearing moderately long, move pretty quickly. In about 20 minutes we were seated.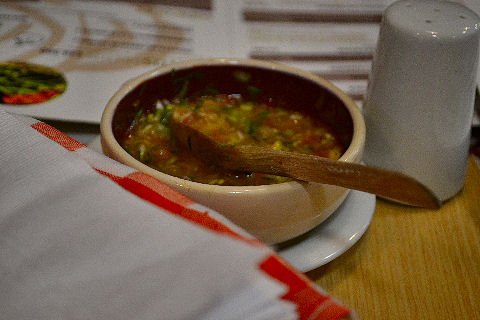 Hot sauce at the ready, with a real kick, and lots of flavor.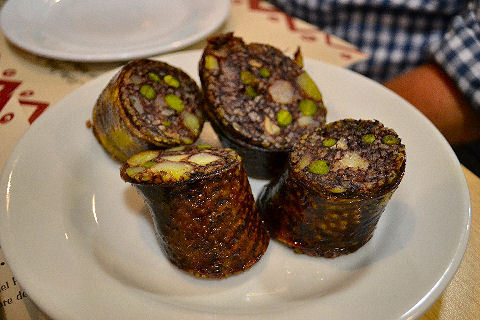 Rellenitas de gallina – chicken neck skins stuffed with the local version of morcilla, blood sausage – more rice than anything else, and delicious.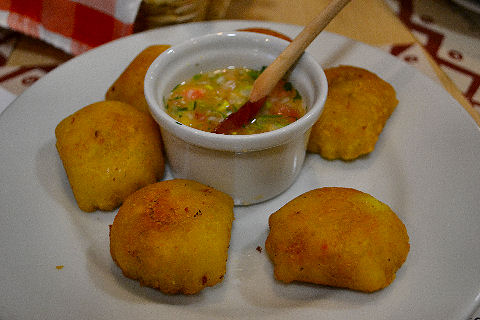 Traditional local empanadas, little two bite puffs with a dough that I think may have been made from yuca, I forgot to ask. More hot sauce, this time toned down by the addition of chopped egg.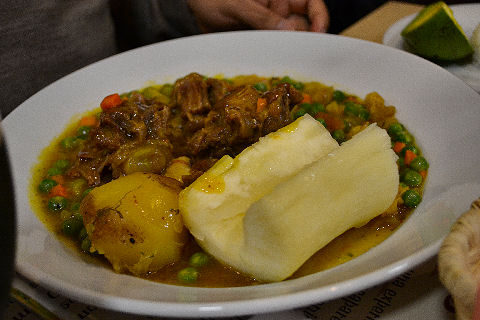 Shared appetizers out of the way, working around the table. An arveja verde con pata, a green pea stew with chicken leg, with the option of the addition of a second meat, he choose a little braised rump steak. Yuca and potato.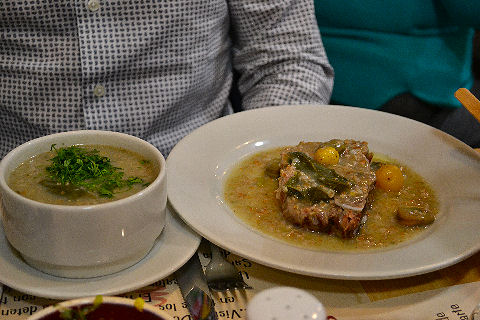 The menu has a page of "always available" dishes, and then for each day of the week, a rotating roster of specials. For Sunday, one of those was cuchuco de trigo con espinazo – a wheat soup with a beef steak cut across the spine, and out of the picture, a mound of rice and a half avocado.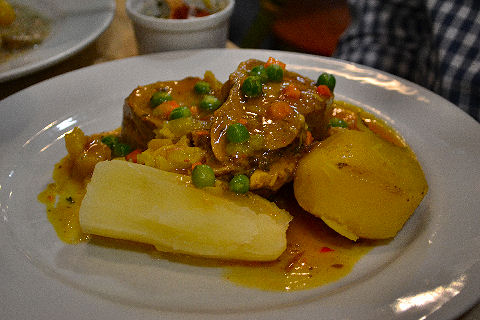 Lengua en salsa – beautifully tender braised veal tongue.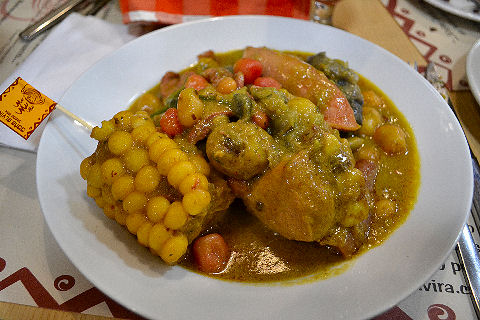 I went for the classic mixed plate of the region, another Sunday special, the cocido boyacense – a stew of various root vegetables, broad beans, two kinds of sausages, pork skin, and chicken, plus an ear of corn. Yum.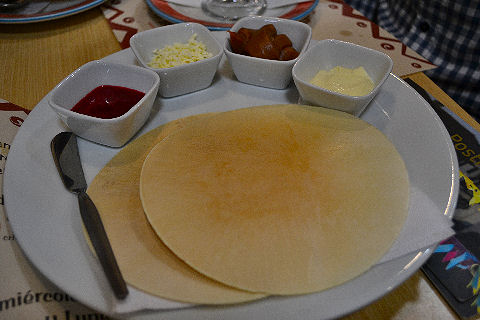 Now, after all that food, we weren't really up for dessert – this is filling, meat and starch laden fare. But, our hosts wanted to introduce us to some local specialties, so we all nibbled around a trio. Matrimonio is a mix of fresh cheese, blackberry jam, and topped with arequipe, the local version of dulce de leche. Torta de almojabana, which looks like a lasagna gone wrong, is basically a bread pudding with a guayaba paste and a cheese that's been browned over the top that seemed a little like slightly salty mozzarella – it's odd, but strangely good. Obleas are very thin round wafers that you spread your choice and quantity of arequipe, jam, a sort of clotted cream, and/or cheese in and then nibble on.
Overall, great fun, delicious if overly filling food, and a good time had by all! And all told, with a round of beers to accompany, and tip, the meal for four of us came in at just under 164,000 pesos, or $56. That's a steal.
In a related performance, the evening meal, we met up with Cody and Danielle, two guests from late last year at Casa S whom we've kept in touch with. They're from the U.S., but living in Bogotá for a few years. They invited us out to Central Cevicheria, their favorite restaurant in town. Given that we were still in a food coma, ceviche didn't sound like a bad way to go, plus the restaurant was just a short distance from the hotel.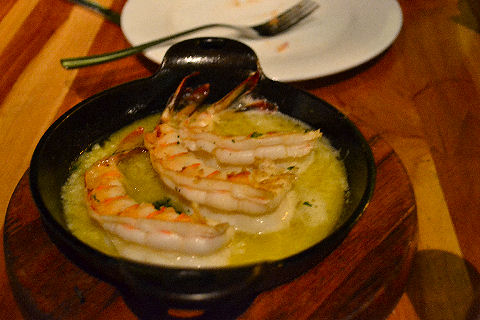 We started with a little sizzling skillet of langostinos al ajillo, their fave appetizer – basically shrimp scampi on steroids. Henry opted out other than tasting a little bit of my prawn.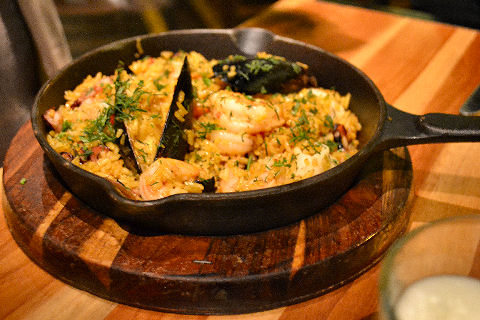 Surprisingly, he went with an arroz con mariscos rather than a ceviche, and one of the best we've ever had, the rice cooked in a very intense shellfish broth. He made it through the shellfish and maybe half the rice.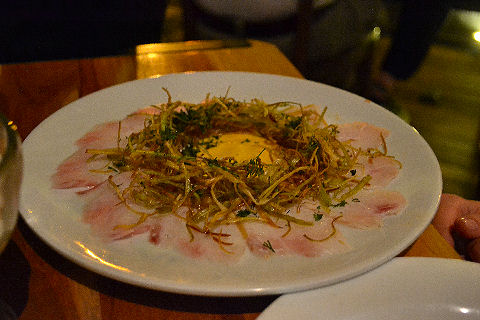 The other three of us basically shared a quartet of plates, though I don't think I did justice to my third of the eating. A tiradito amarillo – oddly, the fish left uncured, just sliced like sashimi, with a yellow chili sauce and fried onions, tasty, but missing that cure of the fish, and a little dry.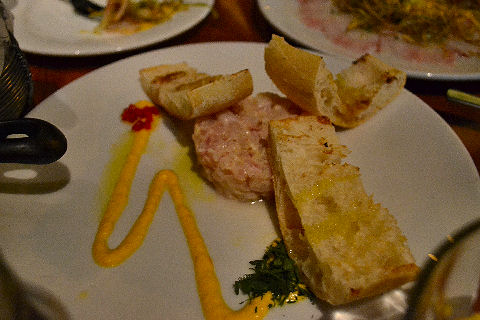 A tartare a lo picante, fresh fish, chopped and mixed with tasty little bits that go into making a great tartare, and with a good solid kick to it.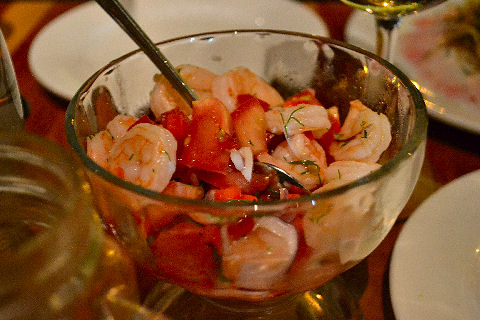 One non-picante ceviche tigre de langostinos, with prawns, lemon, tomato and fresh herbs. It was really good, but a ceviche without picante, to me, seems a little like a seafood salad.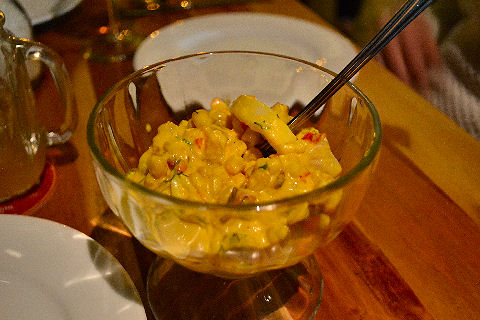 And, the ceviche picoso mixto, a fiery rocoto and mixed fish and shellfish version that hit the spot for me – excellent. It had an interesting creamy texture, almost emulsified, which is more what I'd have expected from the tiradito above, but no complaints. I made it through about 3/4 of it after sampling a little of each of the other three plates.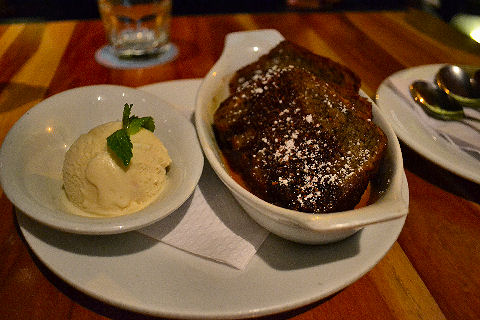 Our new friends decided to share a dessert – I wish I'd had more of an appetite at that point, because the Banana Bread Pudding was amazing – a chocolate and banana bread pudding, butterscotch sauce, and vanilla ice cream. What's not to love? Henry and I managed a bite each.
Great space, with a covered outdoor area where we sat, really friendly and attentive waiters. Tasty, well prepared, and very fresh food (almost all seafood on the menu). Since we were guests, and the online menu is sans prices, I can't tell you exactly what it cost, but recollection is that the plates seemed to be all somewhere between about 25,000 and 35,000 apiece, or respectively between about $9-12 each, plus two rounds of drinks.
On to a brand new, sunshiny day!