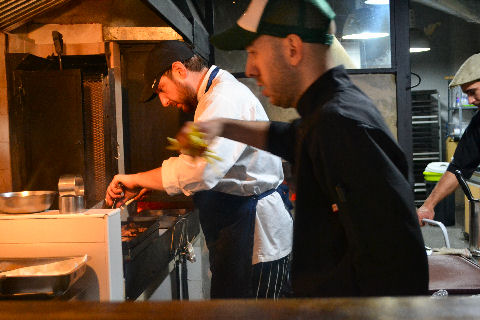 Roughly three months ago I had dinner at Paladar Buenos Aires, one of the other well regarded closed door restaurants here in town. I had a delightful dinner and enjoyed all the food, loved the ambiance… all the good stuff. Pablo and Ivana were warm and welcoming, we were all taken care of well, it was a great experience. Pablo had hinted at a new project in the works, and quite recently, the wraps came off the mystery with the opening of Kon Kon, Ramirez de Velasco 942 in Villa Crespo. Paladar continues – Pablo is running both kitchens, while Ivana is dedicated to the supper club and raising a couple of adorable children who weren't present during the dinner. The name, as a side note, is not related to either the Japanese anime series, nor to the elusive hunter-chief in World of Warcraft's Valley of the Four Winds, nor the species of owl found in Patagonia, but "kon" is the Mapuche word for a sentinel or guardian (which I suppose may relate to the name of the owl), and also gives name to a traditional lamb stew of the Andes.
Here, in what in some ways comes down to a simple sandwich shop, Pablo has lit up like a Chanukah bush and there's a whole element of passion, soul, and fire that shows. It feels like he's found his niche. It's much like Liza from NOLA, who has found her passion, her forte, serving up amazing fried chicken and craft beer.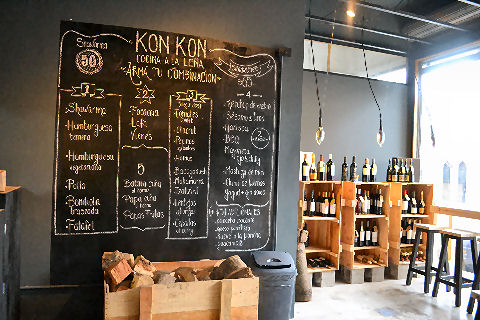 Kon Kon, as I said, is a sandwich shop, but it's not just any sandwich shop. It's the sort of sandwich shop that sandwich people dream about. There are some preset "house combinations" on offer, but the piece de resistance here is the blackboard of choices. You pick your protein – shawarma, burger, pork shoulder, chicken, falafel, veggie burger. Then you pick your bread – a wrap, focaccia, or a sandwich roll. Then a choice of 2 out of 10 vegetable toppings, ranging from pickles to curried onions to a rich red pepper spread. Then on to the condiments, 2 out of 8 – homemade juniper ketchup, fiery harissa, garlic yogurt, and more. A choice of extras for a mere 5 pesos apiece – an egg, crispy bacon, cheese, or guacamole. And finally, a side, french fries, roasted potatoes or roasted sweet potatoes.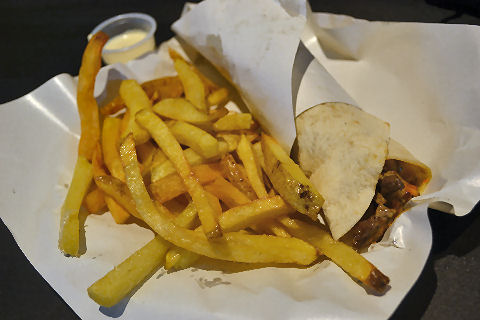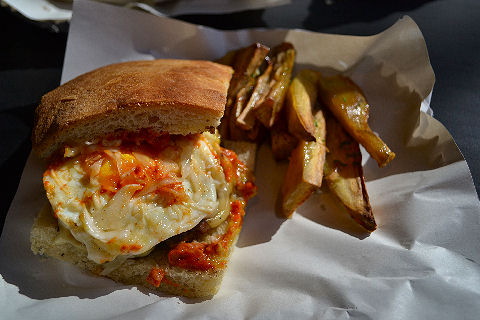 And, it's all delicious. Everything's wood-fired in one way or another. The meats are slow cooked over or in front of a wood fire (Pablo says that Kon Kon's shawarma is the only one in the country cooked a las brasas, in front of a wood fire), and every sandwich, after construction, but before finding its way to your plate, spends a few moments inside the wood-burning oven's attached smoker, picking up those beautiful flavor notes. Between the two visits, once solo, once with a friend, I've tried a shawarma, a falafel, a burger, and a bondiola sandwich. I would put the shawarma and the falafel up there among the best I've had in this city, without question. The bondiola as well, excellent. The burger I'm going to go with "very good" – it's got great smoky flavors, but then so do most burgers cooked over a fire, its one let down is the cooking to a "well done" state, which left it a little less than juicy (likewise, I have to say, the fried egg atop, cooked until the yolk was hard) – but both are things that I imagine you could ask to be less cooked, and elevate the whole sandwich. Good fries, even better baked potatoes and rocking sweet potatoes. Sodas and beers and wines available – it would be great on the cerveza front, given the vibe, if there were some local Argentine microbrews available rather than big commercial brands. With a hit on their hands, Kon Kon is currently only open Monday through Saturday from 10am to 6pm, though I understand evening hours are in the offing.