I've recently been on a bit of a ramen binge. The Japanese community here in BA isn't a huge one, and so far, the obsession with ramen that has swept across the northern hemisphere hasn't really popped up here. I imagine it's partially related to the general Argentine disdain for soup, and for al dente noodles, combined with (other than a bit of a sushi fetish as long as it's salmon with cream cheese) a lack of interest in and familiarity with, Japanese food. While Chinese food, particularly Taiwanese and Cantonese, is ubiquitous, other Asian cuisines haven't really gained a strong grip on local palates, though that's slowly changing.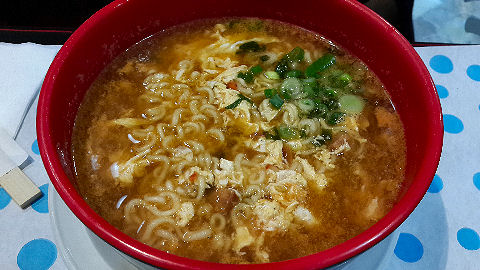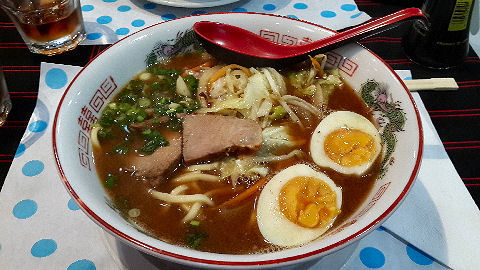 Murasaki ("purple") has two locations downtown, one in the Galeria Larreta at Florida 971, just off Santa Fé (also enter-able from the San Martín side at #950, and the other at Viamonte 500, corner of San Martín, so just a few blocks apart. They're both very casual, lunchtime quick in and out feeling kind of places. What I don't like is that their sushi is all premade and sitting out on a countertop where you help yourself and get rung up by the piece – and to be upfront, I haven't bothered to try the sushi given that. But, a reasonably extensive menu offers up selections from a variety of Japanese traditions and styles of cooking, mostly soups and stir fries, but a few other things as well. Decent gyoza, albeit needing a trifle more seasoning. I've tried two of the ramens – the spicy and the miso (they also have salt and soy broths) – both very good. Nice depth of flavor on the broths, well packed with noodles (I'm not sure why the spicy comes with skinny little twisted noodles reminiscent of instant while the miso comes with thicker, straight, chewy noodles, nor why the spicy is about 2/3 the size of the others), and the latter with all sorts of good things like tender cooked pork, a perfectly cooked egg, and vegetables. The spicy is more just about the noodles and broth, which has a nice kick to it – there's a bit of egg scrambled into it, and not much else (then again, it's 85 pesos versus 110 for the other three). I've only eaten at the Florida location as I found the service at the Viamonte one so rude that I got up and walked out, at Florida, it's friendly and efficient.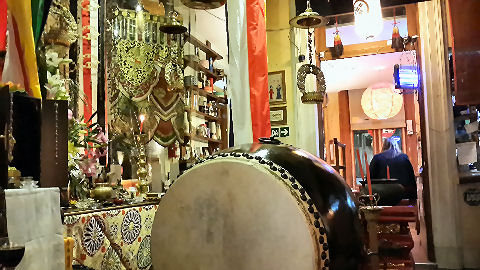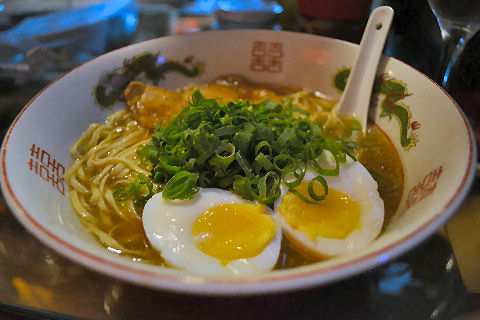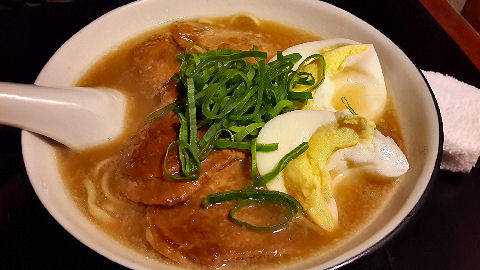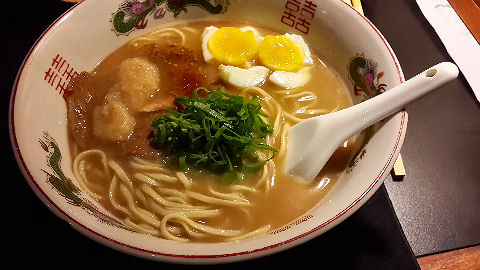 According to their website, the name FuraiBo refers to the Lord of the Winds, protector of wisdom and the buddhas. It sounds all quite impressive, and on entering the place (up a twisting flight of stairs with clanging wind chimes announcing your arrival) it's certainly setup to create an impression. Eschewing the usual minimalist approach of most Japanese restaurants, this spot at Alsina 429 in Monserrat, looks like they bought at least one of every possible ornament and appurtenance associated with one or another or all Japanese spiritual traditions – in fact, it turns out that the restaurant doubles as a spiritual center for theravada buddhism. Their specialties are ramen and katsu (more or less, Japanese milanesas of various meats or seafoods, with about 20 varieties). They offer limited sushi (excellent quality) – salmon, omelette, cured meat (menu says venison, but they had wild boar), and only in nigiri pieces, no rolls, and only the salmon as sashimi. Although the menu offers up nine varieties of ramen, I realized after a second visit, talking to the waiter, and reading their website, that they're all the same broth – just different "toppings". The broth is a miso style, lighter and more delicate, and quite tasty. Good quality noodles, cooked perfectly – and all nine ramen are available in three sizes, based on pre-cooked weight of the noodles, 60, 100, or 200 gms – given the pricing (ranging from about 100-150 pesos depending on which ramen and which size), the value is in the large, but it's a lot of food. The "standart" [sic] contains 2 slices of chashu pork, a just short of hard boiled egg, green onions, and spicy bamboo shoots (though so few as to not be noticeable). From there, it's basically additions of more pork, more bamboo shoots, kimchi, garlic (the third photo, I don't recommend unless you're feeling a cold coming on, it's like 2+ tablespoons of raw grated garlic), seaweed or bean sprouts in various combinations. One note, cash only.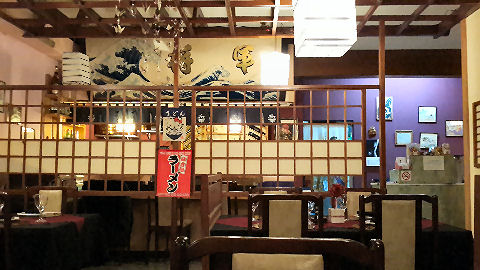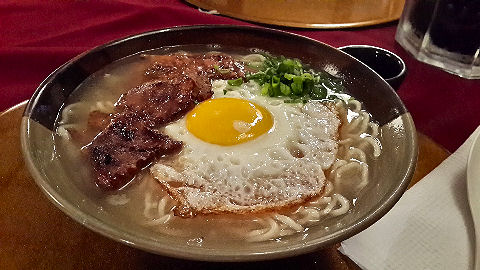 Given that it's a relatively short walk along my own steet of a mere 13 blocks, you'd think I'd have dropped in at Shogun, Uriburu 280 in Once (apparently wanting a slightly classier barrio, they claim to be in Monserrat, but, they're not), long ago. It's a cute, more or less traditional looking sushi bar, up two, yes, two, flights of stairs. On my recent visit I was the only person there for dinner for a short while, then two visiting Japanese businessmen came in – one plus for those whose Spanish is limited, turns out the waitress speaks fluent English. They advertise themselves as a sushi and ramen bar, so it was interesting that there's no ramen on the menu, though several other noodle and rice dishes. Sushi, while listing a variety of fish and shellfish, the night I was there was limited to salmon – a fact which took almost 15 minutes after ordering for the waitress and sole chef (both sushi bar and back in the kitchen) to figure out. I'd ordered a combo, a moriawase of the selection, and they asked if I still wanted it if it was only salmon – I did, though a smaller plate of only 6 instead of 15 pieces. They sent out 11 pieces (not even on the menu), and then tried to charge me for the large (15 piece) salmon sashimi platter, which was almost 100 pesos more than the one I ordered in the first place – but relented when I pointed out that a) it wasn't my fault they didn't have the four different kinds of white fish, nor prawns, nor octopus, b) that I'd changed to the smaller sashimi plate because it was only salmon, and c) that they hadn't mentioned the salmon was more expensive. I asked about the ramen, given that it's emblazoned on their sign and in their advertising. They have one ramen, it's not on the menu, you have to "know" to ask for it (how could anyone not know, it says "sushi y ramen" in a dozen places?) and of course, you don't know what price they're going to charge you unless you ask (I paid 150 pesos for it). All they would say is it's a "pork broth", I couldn't get an answer of whether it leaned towards salt, soy, miso, or something else, just "it's pork". It's very, very light, I'd say made with non-roasted pork bones and vegetables. For me, it was a little lacking in both flavor and seasoning – I ended up adding soy sauce from the little container on the table for sushi just to give it some of each. On the other hand, the noodles are first rate, the chashu pork is some of the best I've had, and I kind of like the fried egg versus the usual hard boiled ones.

The last of this quartet of ramen samplings, at the well regarded Irifune, Paraguay 412, in Microcentro. The last time I visited was eight years ago, and I quite liked it, though for the time thought it was a bit pricey (it's the 'hood). This time I sat downstairs at the sushi bar, where, once again I found that they only had salmon, no tuna, available, but the sushiman very nicely put together a little combo plate of salmon sashimi prepared four different ways – fresh, tataki, and two different kinds of marinated preparations. They offer three types of ramen – a straightforward miso broth with pork, or a miso broth with seafood (actually, just prawns), and, the only place to date I've seen champon ramen, an unusual style from Nagasaki that brings in elements of Chinese cooking, with a blended pork and chicken bone broth, a mix of pork, prawns, and vegetables that have been first fried in lard (traditionally anyway) and then the noodles are cooked in the soup rather than separately. Absolutely delicious! I'll probably go back and try one of the two miso ramens at some point, but it would be really hard to pass up another bowl of the champon. It's still expensive – the champon ramen was 220 pesos, the others were, I think, 180 and 200, respectively. Apologies for the photo, there was some sort of spot on the phone's camera lens that warped everything and I didn't realize it at the time (next time I have a bowl of it, I'll replace the photo).
More to come.