As I said in my write-up of last week's dinners, logistically I'm not overly fond of being open for the holidays – historically, too many problems with getting ingredients, things disappear from the shelves so quickly, there's nowhere to go to for something that suddenly occurs at last minute, transportation is always an issue for guests, etc., etc. I really don't plan to do it again next year, though already have decided that "if" we do, it won't be another "seven fishes" dinner – I'm going back to my roots, which means, Chinese food and a movie for Christmas – so I'll have to figure out how to combine that, "if". As it turned out this year, all went off without a hitch. I managed to find every ingredient I needed, I didn't forget anything that I needed to try and track down, the guests all arrived with no problems, and, we found taxis for everyone who needed them at the end of the evening, without any significant waiting time. Fingers crossed that New Year's comes off as well!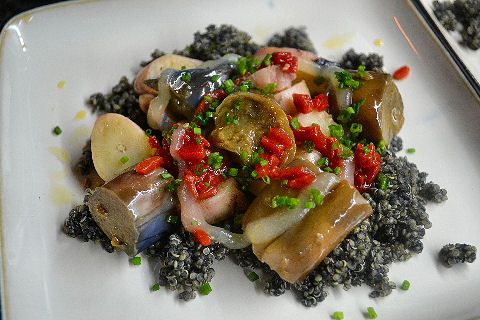 A completely new dish, and something I've been playing with. I loved it, as did the majority of the guests. There were a few who weren't so sure. A warm salad of jibia, or Humboldt squid, sliced tentacles confited in olive oil with a mix of spices and garlic. Japanese eggplants piri kara (without the ground pork, and with about triple the cayenne). Andean "caviar" – quinua cooked in squid ink. Brunoise of piquillo peppers and chives. Lemon puree drizzled over the whole thing. (Fish #1) Casa Boher Extra Brut sparkling.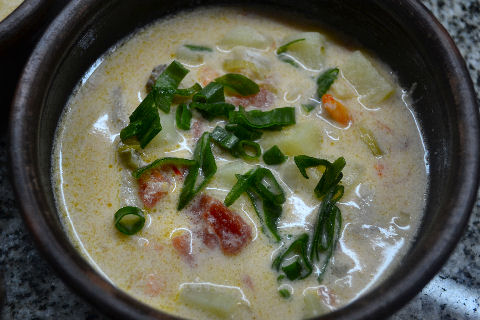 Our ever popular caldillo de congrio, packed with potato, conger, shrimp, jalapeños, garlic, tomato, green onion, all cooked in mix of cream and fish stock. (Fish #2 & 3) Zuccardi "Serie A" Chardonnay-Viognier 2012.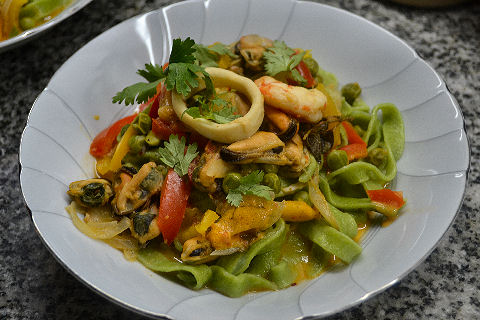 Cilantro peppercorn fettucine "a lo macho" – prawns, calamari rings, mussels, peas, onions, ají amarillo and rocoto chilies, oregano, thyme, tomato, shrimp stock, slightly thickened with a roux. (Fish #4, 5 & 6) Garcia Riccardi "Ambar" 2005.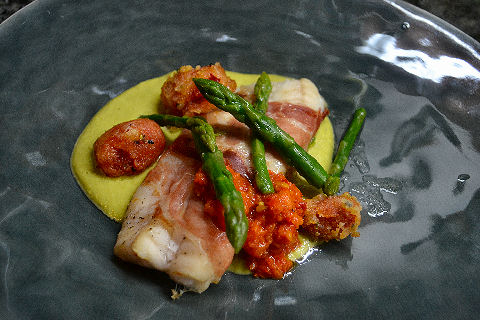 Serrano ham wrapped sea bass, oven roasted, served over a spicy asparagus puree, accompanied by sauteed asparagus tips, deep fried cherry tomatoes coated in cornstarch and togaroshi chili mixture, matbucha (roasted bell pepper, tomato, garlic and chili paste). (Fish #7) Montesco "Punta Negra" Pinot Noir 2013.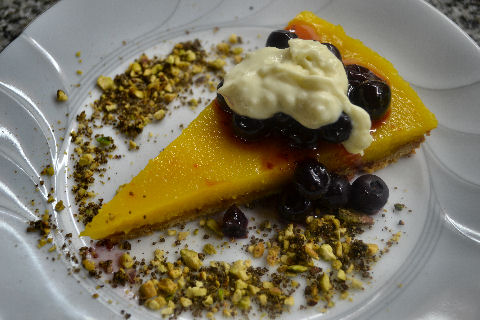 Lemon and saffron curd tart topped with honey roasted blueberries, white chocolate fluid gel, spiced pistachio crumble. (No fish) Terrazas de los Andes "El Yaima" Petit Manseng 2012.