One of the worst social situations that you can find yourself in is having to take sides in a divorce. Now, luckily, no one has asked me to take sides, but at the same time, after a split-up between friends, there's at least a twinge of awkwardness here and there. I don't know what led to Hernan Gipponi and his HG restaurant departing from the Fierro Hotel, Soler 5862 in Palermo, which is owned by a couple of friends, and I haven't asked either party to the split what happened, nor do I really want to know. Hernan has a project in the works that I'm looking forward to, while the Rosberg clan behind the hotel have brought in a new chef, Edward Holloway, a young Irishman who comes to town via Bariloche, where he's run the wildly popular Butterfly for years.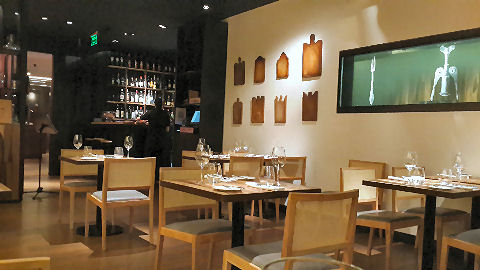 The room at the new Uco (presumably named after the wine region in Mendoza) has been redone, once again – it's back to feeling a bit spare, as it was when HG first opened – though a bit prettier. The booths are gone, it's all tables now, which gives it a bit more open feel. I'm sorry to see that the window into the kitchen has been frosted over – I, for one, enjoy watching chefs prepping food, and I know many diners who do. There was little business the evening I was there, a Wednesday, just a table for four out on the patio, and down the line a table for two of hotel guests who wandered in. Not at all the hotel's or restaurant's fault, but the four-top moved inside a bit later, a group of four from Sweden, who probably couldn't have talked at a higher volume without standing up, taking a deep breath, and screaming at each other. Though, I suppose, someone on staff could have asked them to take it down a notch in deference to the few others of us in the room.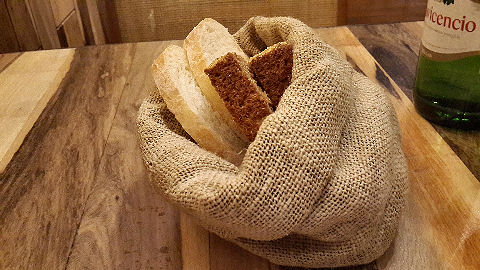 Great breads, particularly the brown bread, served right off the bat. Always a good sign. I decided to order the seven course tasting menu (430 pesos), with paired wines (240 pesos), to give me a little insight into the chef's style. I knew the pairings would be spot on with Andres Rosberg (president of the Argentine sommelier society) behind the list. I was a bit disappointed by the lack of any sort of cocktail offering – they have a full bar, but no house cocktails, and my waitress' response was "we could mix you something basic if you want". Never mind, we'll go straight to the wine.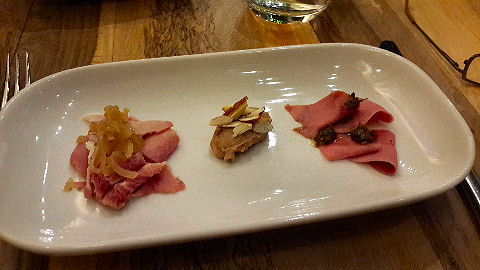 Within 2-3 minutes the first course hit the table, a bit fast I thought, especially as I didn't have wine yet, but surely that was right behind. I waited. The plate, a trio of chilled fiambres – cured bondiola (pork shoulder) with caramelized onions, rabbit liver pate with almonds, veal tongue with a little herb vinaigrette.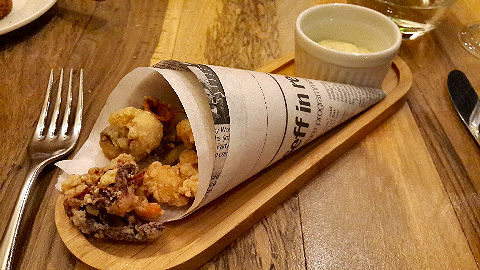 And, no wine, and I hadn't touched the cold plate yet, when the second course came out about five minutes later, a mix of fried seafood (prawns, calamari, smelt), with a sweet aioli. I pointed out to the waitress that I hadn't yet touched the first course, as I was awaiting the wine, and didn't really want a hot course on the table at the same time as a cold. Her response was that the chef sends things out at his pace, and that's the way it is. I told her to take it back, and I would await the wine, and I wasn't in a hurry. She told me they had no idea where the sommelier was and were waiting for her to show up to serve the wine. How about you serve me the wine? No, can't do that. Fine, I'll wait. Another five minutes or so went by and then a young woman, dressed like she'd been probably doing inventory in the cellar or something, came in, and came over and poured me my first wine (not a word said, just showed the wine and poured it and walked away)…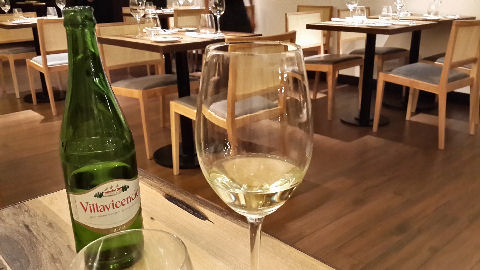 … now, I understand the concept of wine pairings and tasting portions of wine, but for a wine that was supposed to last me for two courses, this is skimpy. And all the pours were like this – with five wines paired into seven courses, I doubt that this amounts to much over one full glass of wine during the evening. To her credit, when I finished off this mouthful before the second course came back to the table, she did return and pour me the same amount again. First wine – Mendel Semillon, a favorite, and an excellent choice.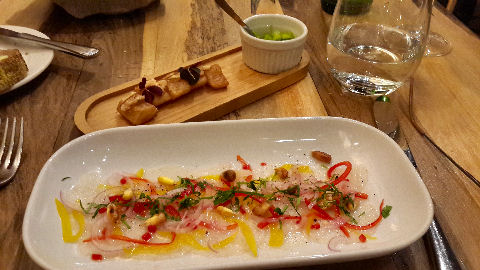 A bit disjointed of a dish, and slightly odd to return to a cold course after a hot one – a carpaccio of salmon blanco (sandperch) "acevichado" – with onions and peppers (the waiter who brought it to the table called it a ceviche, which it isn't, given no citrus curing or chili, but the menu had it correct. On its own, delicious. I didn't quite get the pair-up on the second plate of cubes of fried yuca and an apple and cucumber dice in a bowl. Was I supposed to put the mix of hot and cold things together on one plate, eat them separately, in sequence…? Individually all good, they just didn't go together – this course would be better leaving off the yuca and maybe adding some of the apple and cucumber to the main plate. No wine on the table by this point, and no sign of the sommelier again. I gave up and started in on the course, about halfway through it, my waitress came and poured the next wine, a Terrazas de los Andes Chardonnay – wait, I thought you couldn't pour the wines? Whatever….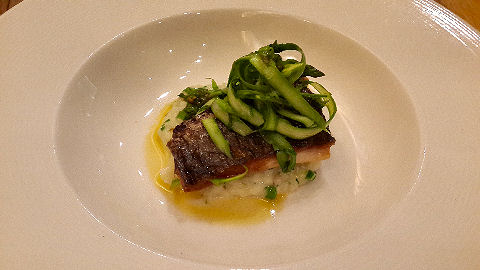 Favorite plate of the evening – perfectly cooked lisa (mullet) with a crispy skin, over gremolata risotto, with shaved asparagus. I'd figured on stretching that mouthful of wine into this course, but it turned out not to be necessary – sommelier showed back up and about midway through this course served up a Ramanegra Pinot Noir.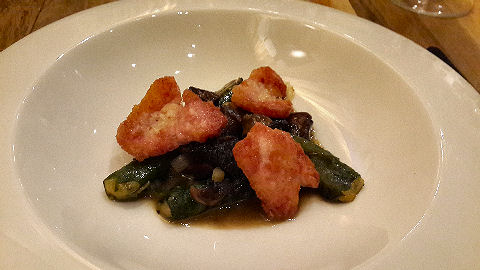 Except, damnit, that turned out to be for this course – just served early while I still had the previous course, because she disappeared again – I guess she just has her own timing, unrelated to the kitchen or guest. By the way, the waitress and waiter, were delightful, friendly, and welcoming – I don't know what was going on with the sommelier, but, my friends, she needs some guidance. The course, crispy sweetbread nuggets, mushrooms, and swiss chard filled with leeks, pancetta, prosciutto, and "a secret masa" that they couldn't tell me what it was. Had the texture of a those Korean rice thingies – a little chewy but still soft. Good dish.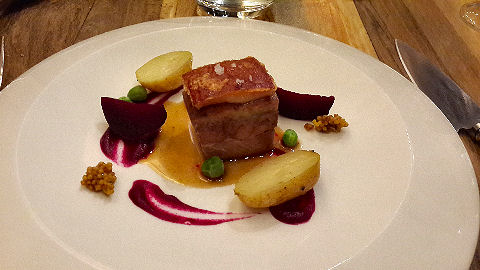 The first and only course where the wine was served just before the dish arrived on the table, i.e., the correct timing – a Benegas Cabernet Sauvignon – and, the only time the sommelier actually spoke to me, asking if I was enjoying the meal. The dish, slow cooked suckling pig with mustard sauce, beets and beet puree, potato and peas. Great flavors, though maybe just a touch dry.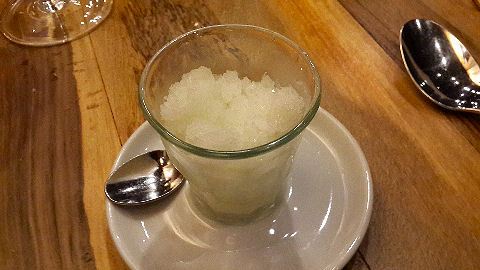 Not on the menu, a palate cleanser, pre-dessert. Organic yogurt in the bottom – the yogurt hung to make a bit of a yogurt "cheese" – and the whey that drips out was turned into a granité. No wine.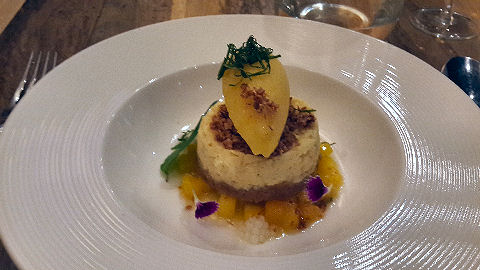 What the waiter termed a white chocolate flan, though I'd say it's a white chocolate cheesecake, with a mango salad and lime sorbet. Wine arrived midway through – Navarro Correas' Alegoria Tardio, a late harvest blend of Semillon and Sauvignon blanc. Around this time the chef came out of the kitchen, dressed in a t-shirt and jeans – I don't get that, if you're going to go around to tables, leave your chef coat on – a little professionalism here – maybe both chef and sommelier feel they don't need to show that level of respect to their guests? (A pet peeve here, by the way – especially given that the waitstaff are dressed nicely.) He went to the table of the Swedish folk and engaged them in conversation – I'm guessing caught up in their loud volume, he followed suit, which meant the room (that is, the three of us in it), were treated to his resume listed off (they asked) and a whole discussion of how he'd ended up at the Fierro Hotel. Then he went back to the kitchen, without looking at or acknowledging either me or the other table.
So, what do I think after a run through on the tasting menu and laying out a bit over 700 pesos with tip? The food – quite good, with some missteps, but nothing major, and while small portions individually, it added up nicely, I was comfortably full and satisfied. My guess, like the first time I went to HG, is that the chef may need a little time to get into the rhythm of the place and perhaps tweak some of the dishes. The regular waitstaff, great service, though they need to know a little more about the food they're serving. The sommelier needs some serious attitude adjustment, and those wine pours are pretty meager, especially for the price, even if they are premium wines – not one of them lasted me through a full course. The chef could use a little more social professionalism when in the front of house. Worth it overall? Yes. Not an amazing meal, but a quite good one. Hopefully, the divorce works out for everyone in the long run.