I don't know if shawarma is just proliferating throughout the city or if I just wasn't paying attention, but it seems like there are more and more places that are offering it. Here we are up to our ninth installment in the series already! Luckily, it's not the sort of thing I get tired of eating.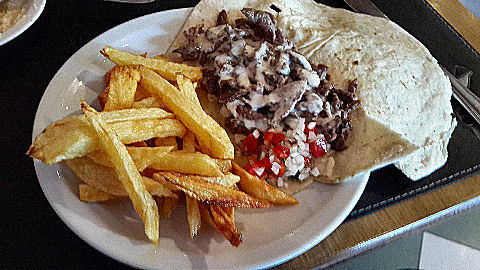 I wasn't sure I wanted to try the shawarma at
El Armenio
, Scalabrini Ortiz 3190 in Palermo Chico. I had, to my mind, already tried it once, quite awhile back – having ordered a dinner of various plates through BA Delivery. What arrived at home was a torn off piece of stale flatbread that was so dried out it cracked when I tried to roll it, a filling that was nothing more than burnt scraps of beef, over-salted, and a little container of salsa criolla (onions, tomato, bell pepper in vinegar). It was inedible. But, the other food that came with the order was, while not great, at least decent. And, we all know that sometimes delivery food just isn't the same as on-site, for varied and sundry reasons. So I took a chance and stopped in. Now, I'm not going to say I was wowed by this particular shawarma, but it was palatable. Choice of lamb, beef or chicken, I went with the lamb. Pretty mild flavored for lamb and again, the seasoning seemed to be little more than salt, though at least at a balanced level. Maybe a squirt of lemon in there as well. Yogurt sauce bathed the meat, and the meat wasn't dried out or burnt. The
lavash
bread was good. Salsa criolla again was the accompaniment, but, they at least had tabasco sauce available to add some flavor. Edible, but nothing to get excited over, especially at 55 pesos plus cubierto charge, far more than any other place I think I've tried (though, to the credit of my waiter, he pointed out that I could get a lunch special of shawarma, bottle of water, and flan for dessert, and no cubierto charge for the same price, even though it was supposed to only be the beef or chicken version, he let it slip through).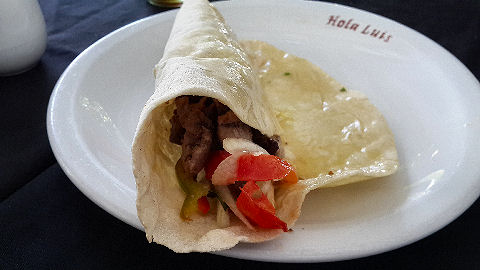 Another that isn't going to shake up the shawarma world – from
Hola Luis
, Conde 802 in Colegiales – an interesting spot with a two sided menu – one side all local parrilla staples, the other all Middle Eastern specialties. Beef only. Great
lavash
bread, actually one of the better that I've had (as were the breads on the table, which were pretty good as well), fresh ingredients in the filling – the beef, a little yogurt sauce, and a mix of onions, tomato and green peppers. The seasoning, however, and combined with the green pepper, had this tasting more like a stir-fry pepper steak – nothing called out as Middle Eastern in flavor, and the chipotle tabasco sauce that was on offer just pushed it further afield. A perfectly serviceable steak wrap, just not much of a shawarma.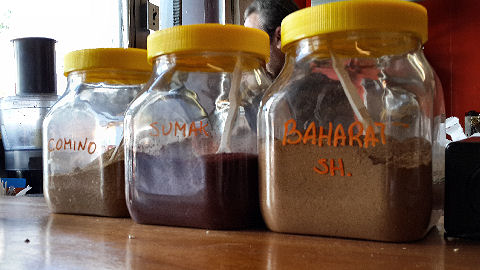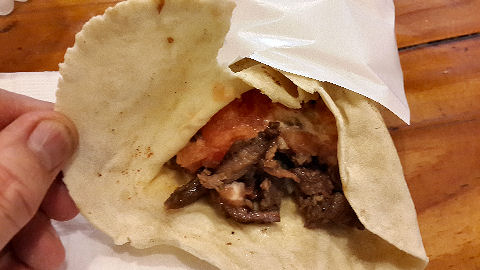 One of the few, hmmm… make that only, Israeli owned Middle Eastern spots I've stumbled across,
Teamim
, Diaz Velez 4431 just off Parque Centenario is a real find in the shawarma world. For a place that does primarily just takeout they're a little slow on the preparation – then again, there were a good number of people ordering. Still, it was a solid 20 minutes after placing my order before I got it and in that time the gentleman attending the grill made a total of three falafael sandwiches and five shawarma sandwiches – not exactly speedy, though he does move with great deliberation. And, thankfully, it was worth not only the wait, but putting up with the stifling heat inside the place. Perfectly seasoned, tender meat, on offer (and I went for the whole mix), a tomato, onion and cucumber salad, hummus, tahini, yogurt sauce, garlic sauce, and a good sprinkling of chili powder (okay, I'd have preferred that be a sauce too, but it had a kick). Great bread, if a bit too big of one even given the ample amount of filling, so it ended up doubled over and wrapped twice around the meat – just a bit too much bread to filling ratio. As of right now this spot moves into second place
on the list
. Wow, how quickly the former #1 spot, Medio Oriente, is being supplanted by some of the new offerings after having held the lead for over three years now. 
[Closed]