"What matters most are the simple pleasures so abundant that we can all enjoy them…Happiness doesn't lie in the objects we gather around us. To find it, all we need to do is open our eyes."

– Antoine de Saint-Exupéry, The Little Prince
If a new Peruvian restaurant opens in Buenos Aires and Henry and I haven't rushed to it, did it really open? Sometimes it seems like whenever we go out, Peruvian food is what we head for. I have to start balancing that, I mean, Henry shouldn't always get his way, right? But, we heard about a new spot (4 months old) over near the Abasto, and we headed out for El Principe, Lavalle 3502, 4866-6761. Now, we'd looked at their Facebook page and it had a bit of an elegant look to it – white tablecloths and wine glasses showing in the photos. Turns out that that's a bit staged – there are white tablecloths with red sashes across them, but they're kind of cheap and they're underneath plastic, which they aren't in the photos. And they do have wine glasses, just not on the tables. It looks pretty much like a typical Peruvian dive for the neighborhood, with music blaring from one side and a television mounted on the wall and blaring out a movie (one of the Terminator films) at the same time. [Closed. Replaced by new restaurant Petro.]
Despite the fact that the place opens at 8, and we'd arrived at 8:30, they hadn't yet turned on the lights, nor the heat. The woman who greeted us spent most of her time attending to her two kids who were busy being kids. She did manage to get everything turned on, bring us menus, and kinda sorta take an order from us, as it turned out, the waiter hadn't arrived yet. Neither had the cook. But she dutifully put our order on the counter, and then when the waiter came in the door, pointed it out to him and walked out with the kids. So he came over to us and confirmed the order, told us the cook was just about to arrive, so it would be a little while. Hmmm… we settled in with a couple of pisco sours that he whipped up – pretty good ones too.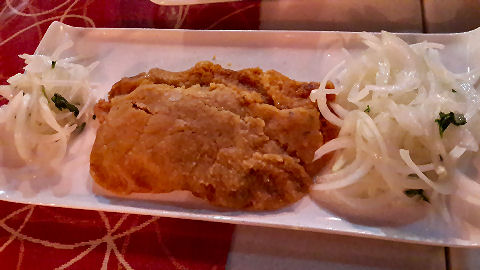 About half an hour on our appetizers arrived – I got a chicken tamal (the woman had said that she was quite sure they only had pork ones, but the waiter corrected that). A quite good tamal as it turned out – the masa ground a little finer than I'm used to, but Henry says that's typical of the better places in Peru, the coarse ground is more homestlye fare.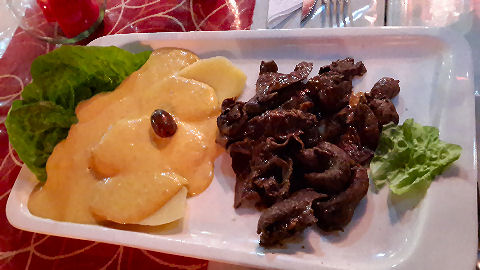 Henry had anticuchos – nicely spicy, though we felt the meat was a little too salty. However, when combined with the papas a la huancaina, which was one of the better ones we've had here, it worked really well. Based on flavor, I'd say their huancaina sauce is made with toasted peanuts rather than walnuts.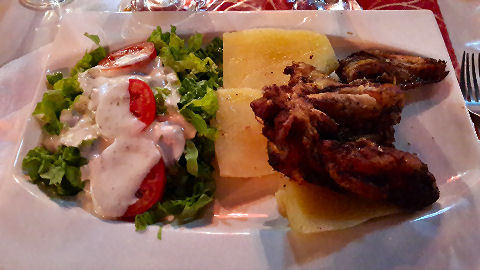 I went with a pollada for my main course. This is an interesting dish that's primarily as I understand it from the north. The dish itself is kind of basic – a marinated and spiced chicken quarter that's then deep fried without a batter, served with potatoes and salad. The story behind it is it's a simple dish that is served to raise money for someone who is very ill. When the family can't afford to pay for their treatment, they put on a big pollada dinner and everyone in the neighborhood comes and contributes. The theory is, I guess, that since they're getting food, it's not just a handout or charity – so everyone "saves face" – an interesting influence I think from the Chinese and Japanese cultures in Peru. It's a good dish, though I would have liked a little more spice, and we were both surprised that the boiled potatoes were ice cold.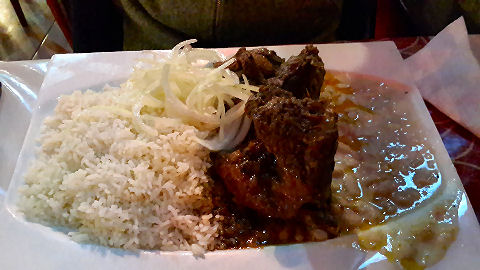 Most of the menu consisted of the usual suspects, but there were a couple of dishes that we don't usually see – actually, the pollada above is one that I've rarely seen on a menu here. Henry ordered the pato con ají, or duck with chili. Really nice changeup from the usual green sauced pato con arroz, although it still has rice and beans, just a different spicing. Great dish, though we both thought the beans needed a little more seasoning.
Overall, the room is pretty basic, as many in the 'hood are. Service, once the waiter arrived, was friendly and efficient – and it turns out that their official opening hour is 8:30, and just who knows why when we called the woman told us they'd be open between 7:45/8? It does seem a bit weird that the cook wouldn't arrive until last minute – which implies that a lot of the stuff is probably premade and sitting around – of course, it's also possible he'd been in earlier, prepped things, and had just stepped out until the official opening time. The food was all good, a step up from most of the places along, say, Corrientes, though probably not quite as good as Mamani, which used to be our go-to spot for Peruvian home cooking until it got really pricey, though we still go at times. El Principe has nicer ambiance and is definitely cheaper, though not as cheap as the holes in the wall along the avenue – all told, with four dishes, two bottles of water, and three pisco sours, dinner ran 300 pesos, with 100 of that being the three cocktails (which, let's face it, with the tarifa azul means it's only about a $35 dinner for two). Recommended.