It's been 6-1/2 years since I reviewed Sudestada, Guatemala 5602, in Palermo Viejo. And, in the interim, I've only been back once. If you look back at that review, I wasn't overly impressed – it was fine, it wasn't bad, it just wasn't anything to get excited about. And, upfront, it still isn't. If anything, it's toned down a bit. The decor, or lack thereof, is pretty much all white and heavy on plastic. The waitstaff are, at best, vaguely interested in taking care of tables. I met up with a couple of friends for lunch the other day.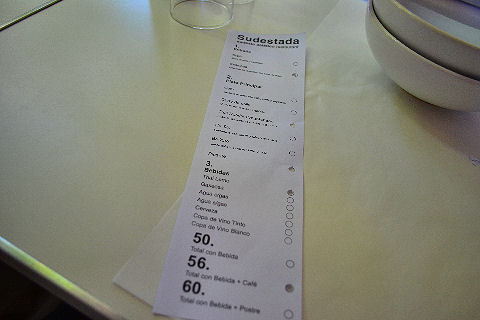 There's still an a la carte menu, though like everything else these days, it's gotten a bit pricey, with lunch main courses running over a 100 pesos apiece and appetizers breaking into the 60 and 70 peso range. If you're in the 'hood, you might just get a little excited for the menú ejecutivo – they still have the same setup, a strip of paper with your choices and a hole-punch to create your own Florida-style hanging chad lunch ballot – and it's relatively inexpensive – depending on whether you want want two courses with a beverage, add in a coffee, add in a dessert. There's even a hole to punch for "picante", all three of us chose that, eliciting the question from the waitress as to whether we wanted it a little spicy, medium spicy, or very spicy, which she then had to note – why not just give those three choices on the menu?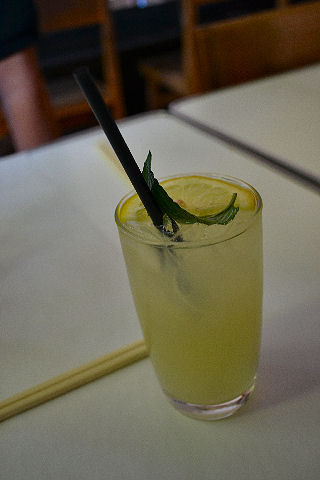 A too sweet "thai lemon" – ginger mint lemonade – not bad otherwise. Not particularly thai.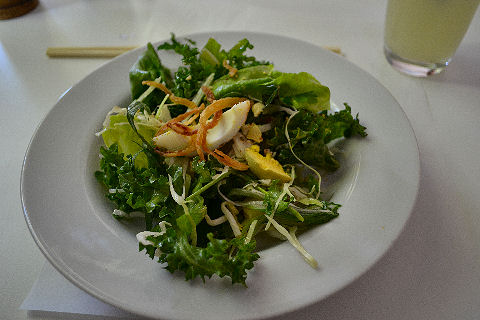 For appetizers there are two choices – chicken and vegetable soup or salad with peanut dressing – and all three of us opted for the salad as the more interesting option on a hot day. Lots of greens, not a lot else, the peanut dressing a little sweet for my tastes, and kind of skimpy. But, we got our greens for the meal.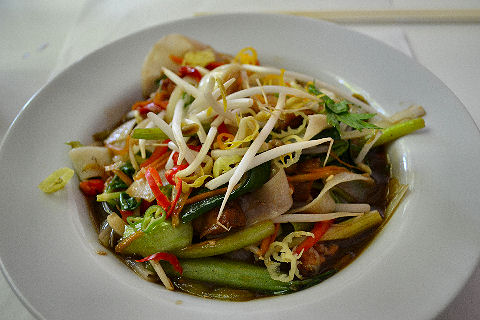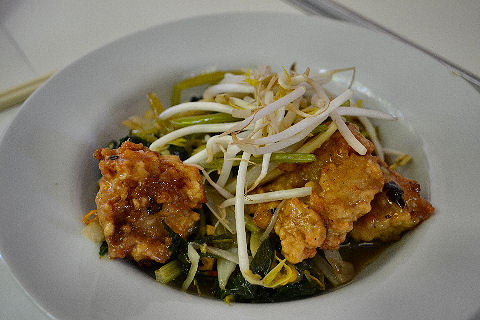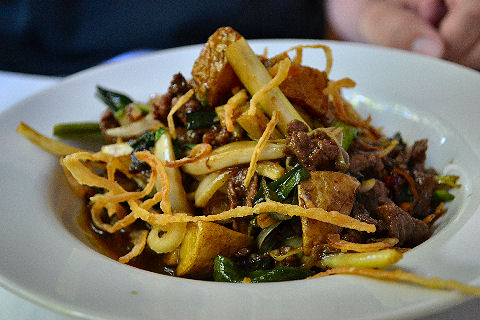 I went for the vegetable noodle stir-fry, extra spicy – the only vegetarian option on the menu. Not spicy. Mostly white and green onions stir fried together with a few noodles tossed in – they were supposed to be rice noodles, but sure looked like plain wheat egg noodles to me. GF folk beware. My companions went for the fish and beef choices, the former wok-fried with vegetables and basil, served with a teeny side of white rice, not sticky; the latter a stir-fry of beef, potatoes and vegetables, same rice. All good, none outstanding. I'd venture to say they missed the mark on the spiciness – two of us asked for extra spicy, one for medium – I don't think any of the dishes were much more than mildly linked to heat.
So, if you're looking for great Southeast Asian food in BA, this isn't it. On the other hand, it's a cheap, reasonably tasty option in Palermo for something different from the norm. While I have no reason I'd rush back, I wouldn't avoid it either. And, perhaps, one evening we'll venture back to try the more elaborate dishes on the main menu. They did have a rabbit dish that sounded promising….