A bit ago, like many other expats here, I started taking advantage of Buenos Aires Delivery, the online multiple restaurant delivery service that's become everyone's favorite. For the most part, a great service – actually my only criticism is that too many restaurants that are listed are out of my (or anyone else's) delivery area, but still offer to deliver, only to find when you read it carefully that there are massive minimum orders and often ridiculous delivery charges – imposed by the restaurant, not BA Delivery. Sushi pretty much tops the list of the various options to order, and there are a whole lot of them to pick from. Over the last few months I've been sampling through those I wasn't familiar with. Only one has consistently been a positive experience – Zanshin.
Now, when it first appeared on BAD's pages, it had a non-existent address listed on a nearby side street, and, in fact, one of their competitors, Kyodo, called them out for it, along with various other negative comments about them (none of which related to the sushi or the delivery, just questioning the legality of the operation with what was listed as a fake address and phone number, and claiming that their menu had been copied). However, I noted immediately that along about, well, on the second time I got a delivery from them, it included a menu and a refrigerator magnet with a different phone number and address (Niceto Vega 4780, 5778-1038), both of which exist. The question is, I suppose, whether there was something off happening at the beginning or whether it was simply a mistake on the delivery website. Either way, they're up and running and regularly deliver sushi to our address when I'm in the mood. The one thing that isn't in question for me is that I don't care how good it is, Kyodo has lost any shot at me becoming a customer – bad form to trash a direct competitor on public websites and Facebook, regardless of what your opinion is.
So why has Zanshin become an easy favorite? First, a really good selection of different types of sushi rolls, including, thankfully, a good number that don't include cream cheese. Moderately priced in terms of quantity and quality. If there's anything lacking it's a selection of nigiri sushi – they've focused on rolls and the only options for just plain sushi pieces are salmon and shrimp; and, the quantity of ginger and wasabi sent with the sushi, usually no more than one or two thin slivers of the former and a pea-sized amount of the latter. Given that they have other fish and shellfish that they use in the rolls, offering those as nigiri options would be nice. I like being able to order online, adding and subtracting items until I have the order the way I want. They generally deliver within the hour, which coming from Palermo is pretty good – and they don't charge for the extra distance. They also offer discounts early in the week, which is when I tend to order anyway. So, on to the food: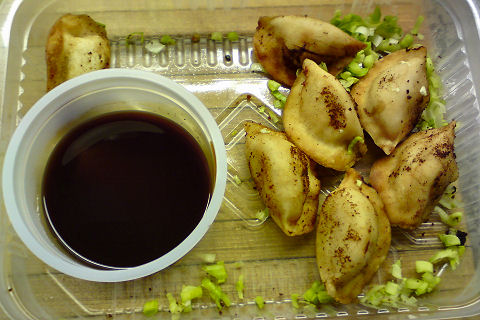 Tasty little gyoza, nicely browned rather than steamed, and a decent tonkatsu dipping sauce.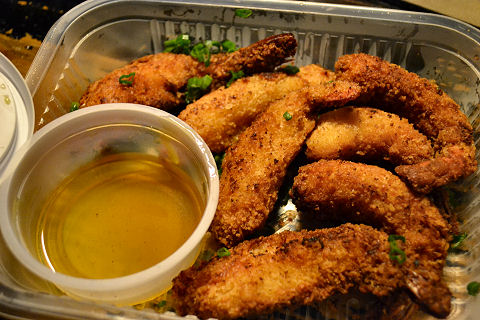 Great fried prawns, and a good quantity of them too, with a little bit of honey to dip them in – I usually mix in some soy sauce.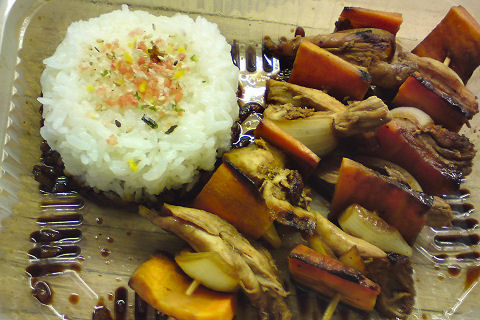 Delicious chicken yakitori skewers with seasoned rice.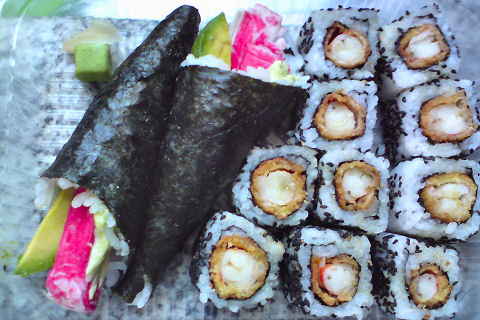 Tekamaki of surimi and avocado with a wasabi dressing; and fried prawn sushi – those fried prawns really are good.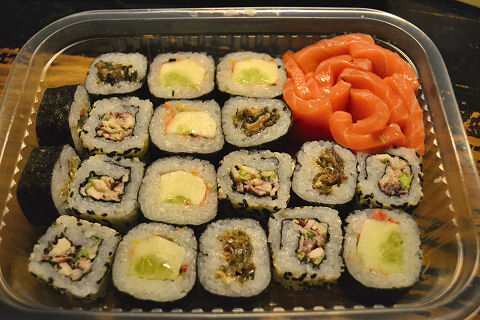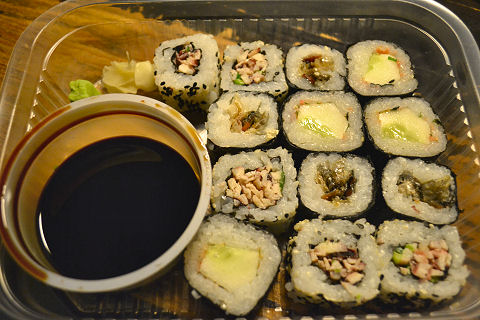 Salmon sashimi – pristinely fresh; salmon skin roll, cucumber roll, and one of my favorites, slivered octopus and green onion rolls.
Overall, recommended.
[Edit: In the month since this was written, Zanshin has gone from free delivery to charging 5 pesos to charging 15 pesos, and delivery times have gone up to as much as 1½ hours. Not that that's a huge amount in pesos or dollars, but, given what I tend to order means that it adds somewhere between 10-15% to the order price. They also often "forget" to apply the 10% sushi discount on the days they post that it's offered. I've stopped ordering from them every week, I've got Maki and Koi here in the 'hood that still deliver for free, within half an hour, and are just as good, even if their selections are more limited. Oh, and the delivery guy from Zanshin told me they've read this review and were very happy. Good! Now deliver for free again….]