"Centuries ago, the Mongols, under the Mighty Khan, ruled the Eastern Plains. After days of fighting and hunting, they would gather in large community groups to celebrate their adventures and their successes. Communing in banquet-style pavilions, the Mongols would create a "feast" for all to enjoy by combining slivers of meat & vegetables, sliced with their razor-sharp swords, then cooked on their overturned shields over a blazing fire.

– from the website for BD's Mongolian Grill

Mongolian barbecue is a stir fried dish that was developed in Taiwanese restaurants in the 1970s. Meat and vegetables are cooked in large, round, solid iron griddles at temperatures of up to 300°C (572°F). Despite its name, the cuisine is not Mongolian, and is only very loosely related to barbecue…. Although Mongolian barbecue first appeared in Taiwan in the middle to late 20th century, the stir-frying of meats on a large, open surface is supposed to evoke Mongolian foods and Mongolian traditions. The preparation can also derive from Japanese-style teppanyaki, which was popular in Taiwan at the time. The very first Mongolian Barbecue restaurant (Gengis Khan Mongolian BBQ) was opened in 1976, and was located in downtown Taipei, Taiwan.

– from Wikipedia
I was alerted to the existence of a "new Mongolian restaurant in Recoleta" by a tweet from a local foodie, that led me to a meandering post on a local expats forum from someone who hadn't tried the place, but had seen it, and, convinced of his own superior knowledge of Mongolian food, had offered to come in and train the owner and chef in some particular dish that he missed from past Mongolian dining experiences. Chutzpah and all that. And that sets aside that, as pretty much noted in the quotes above, Mongolian Barbecue, as this place offers, has little, if anything, to do with Mongolian food. And all that aside, meeting up with one of my favorite lunch companions, we had a rollicking good time and a delicious and inexpensive lunch at Gengi's House, Riobamba 1179, 4815-2333. [Closed in late 2012. Note on their Facebook page says they're taking a break and then planning to open in a new location.]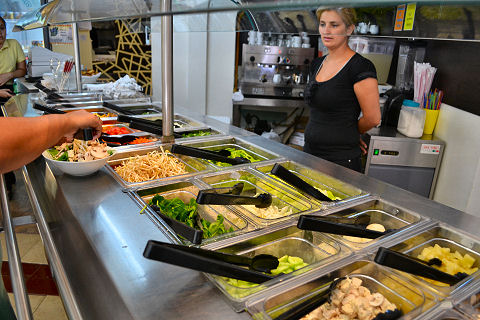 First off, you get a bowl on a tray, with some slices of garlic herb toast, napkins and silverware on the side. You then take the bowl and select from a trio of meats – chicken, pork, or beef, or, for an upcharge of 15 pesos (the regular price is 39 pesos), venison or shrimp. You then choose from an array of fresh vegetables and tofu, my companion asserts in her post it was 17, that looks about right from the photo. And then you hand it over to the chef, one of the two owners, who left Argentina to cut his chops stir-fry-ing somewhere in the U.S. before moving back here recently.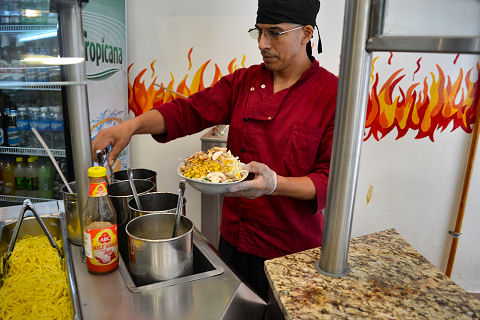 To your selection of vegetables, he adds generous scoops of various sauces – soy, chili, sesame, and oil, plus a generous tong-ful of egg noodles.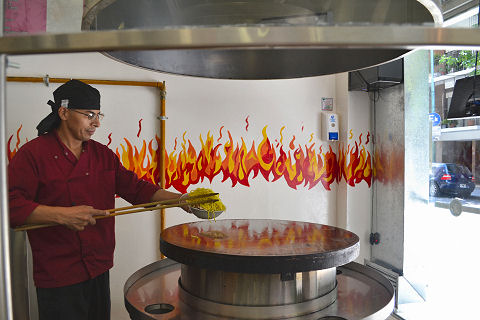 All of that heads to the gleaming, meter-wide and blazing hot grill to be quickly stir-fried.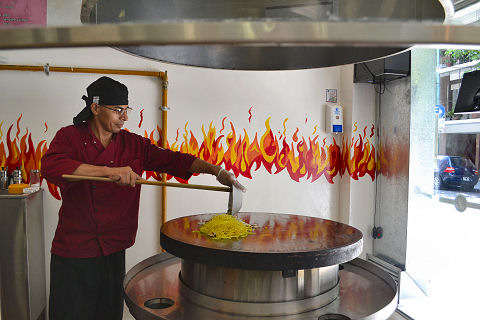 It begins to sizzle as it hits the grill….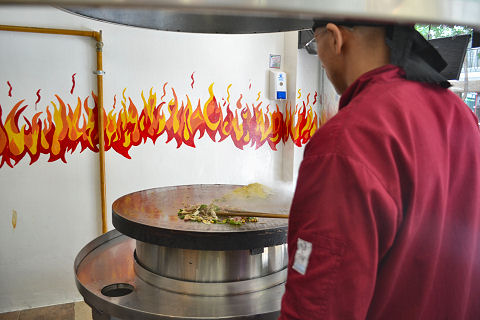 He deftly mixes and stirs, and tosses, making sure everything cooks through, and is well coated with the different sauces and spices.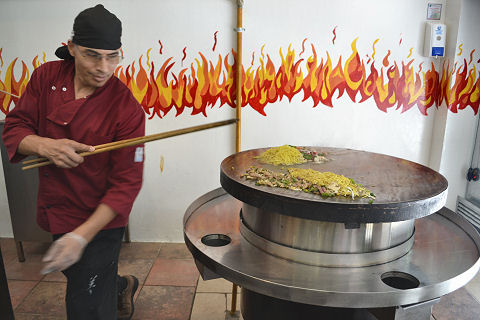 It's all really rather impressive as he dances around the griddle – especially when cooking more than one stir-fry at a time, keeping each one at just the right point.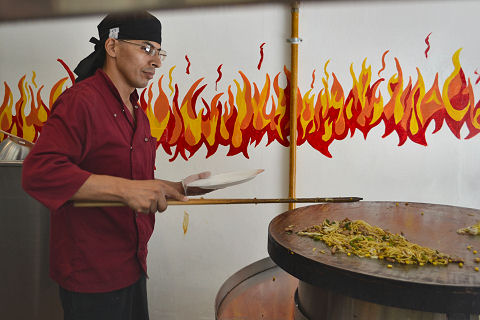 And then, it's done.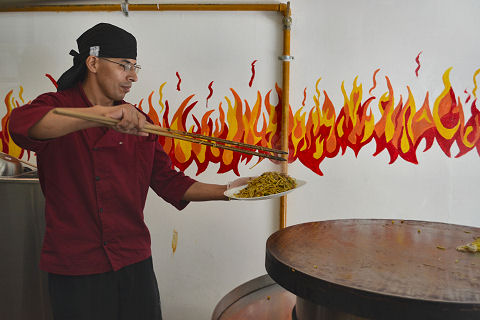 He swiftly flips everything onto a dinner plate and hands it to you across the counter. Or, I suppose you could sit down and stop bugging him and taking photos and let the waitress bring it to you.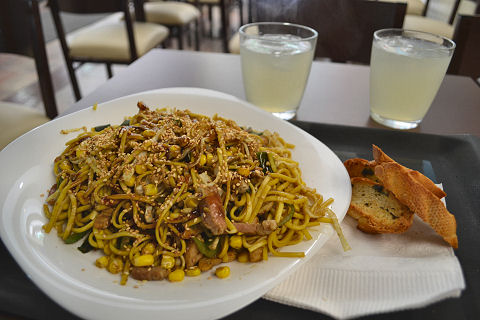 Adding a generous sprinkling of toasted sesame seeds and his highly recommended and exceedingly tasty ginger sauce completes the dish. Oh, and for a single peso extra, a glass of house lemonade with a free refill. Or, you can order from a selection of other soft drinks all running around 9 pesos. While they don't currently deliver, they do offer takeout, and being located only a few blocks from home, this promises to be a regular basis lunch.