"Whoever starts out toward the unknown must consent to venture alone."

– Andre Gide, author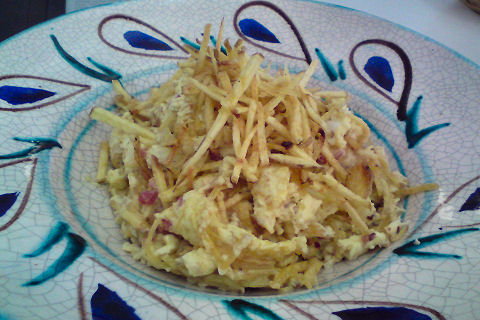 Just a short block away from the well-known and hyped (not totally undeserved) Oui Oui, sits a small cafe that I discovered about six weeks ago in my quest for the elusive "best" revuelto gramajo, Lo de Coki, Amenábar 93 in Palermo, 4776-2348. I was thoroughly charmed with the look and staff, and, the quite good version of the dish, and I vowed to return. This last week I did, for lunch, meeting up with a visiting writer from Perth, and a chance to sample through a few more dishes.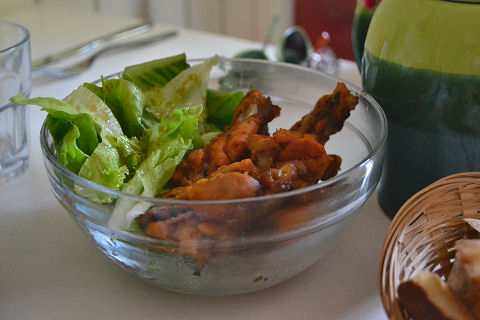 At the same time I tried the scramble, I'd gone for an appetizer of wings. Now, not buffalo wings, these are not particularly "spicy", but they are well-spiced, with a sort of middle eastern blend of lemon, cumin, coriander and some other things thrown in for good measure. They're really quite tasty, and served up with a side salad. The one qualm I have is that the dish is sold as "wings and a beer", and comes with a bottle or can of beer of the restaurant's choice, and not only do they not offer an option at a lower price if you eschew the beer, but they won't substitute something in its place, like a bottled water, soda, or the really excellent house lemonade – so if you're not into having a beer with your appetizer, which I wasn't on either visit, it makes for a slightly pricey bowl of wings.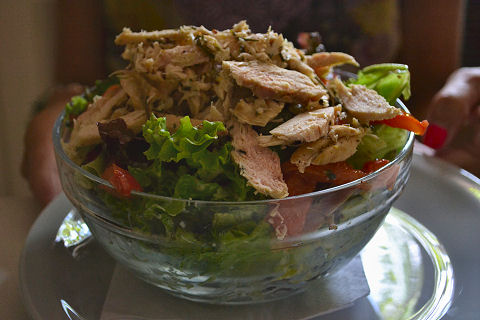 I'm not sure why this lunch salad that my companion ordered is called the ensalada pato, which would imply it's a duck salad, as it's actually a chicken salad, supposed to be accompanied with fried plantain chips, greens, and a light vinaigrette. They were also out of plantains, which she particularly wanted, and offered as substitutes either croutons or some confited tomato, she opted for the latter. Good salad, the meat nice and juicy, the plantains would have made it better, as would duck in place of chicken.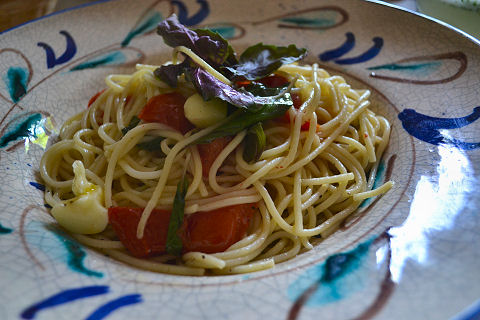 Again, with naming (the same, by the way, true of the revuelto, which instead of being called, traditionally, a gramajo, is called robert – yet is the identical dish), a plate of the Pasta Jamie Oliver. Now, the "classic" Jamie Oliver pasta dish with tomatoes, basil and mozzarella, is a baked dish of orecchiette tossed with those ingredients, smothered in parmesan, and baked until crisp and golden atop. Nothing wrong with taking the same, or at least some of the same, ingredients and tossing them with spaghetti, it's just not as interesting, nor as delicious. But, it was still good and I'd be happy to have it again.
Overall, really nice ambiance, friendly, easy-going staff, good, honest food, and, a fair price (mid-20s to mid-30s for appetizers, mid-30s to mid-40s for main courses) – certainly fairer, especially when portion size is taken into account, than it's better known neighbor just a block away. Wander on down! Recommended.