A couple of mini-reviews today, one place that's on my list to go back to and check out more thoroughly, the other, not so much. We start in Barrio Chino at the relatively new China Rose, Mendoza 1689, 4780-4728, a spot that I've passed by numerous times that always just looked a trifle expensive for the 'hood. But, eventually it was in the tea leaves that I would enter, and recently, meeting up with Sam from Good Morning Buenos Aires for a casual lunch, we decided to give it a try. It's definitely cleaner and nicer in terms of decor than most of the chinatown restaurants, though there's a certain lack of interest on the part of the staff in their customers – something odd for the spots around here that usually bustle to get you in, fed, and out. Perhaps it's because it's a bigger space and seating isn't so limited – you may recall I found a similar problem at Fujisan, which is across the street from this spot, also a bigger and ostensibly nicer restaurant.
The menu is pretty much the usual fare, there are times that it seems that other than layout and typeface, every menu in Barrio Chino was simply copied from a master list. Oh, each place always has a couple of dishes that are its specialties, but even those, often, aren't all that different. The question, I suppose, is whether that's a supply side or demand side function – is it that all the Chinese (mostly Taiwanese) chefs are simply showing off their versions of the same dishes and trying to win you over with their particular take, or is it that those who dine have an expectation that they'll see the same dishes no matter where they go? Likely, a combination of both.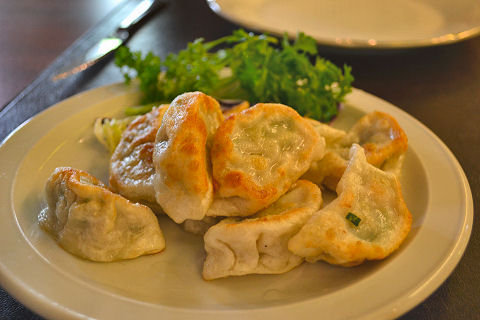 On the demand side, I suppose I'm as guilty as the next person, I virtually always order the empanaditas chinas a la plancha at any new Chinese restaurant I checkout. Potstickers are sort of my litmus test for a basic level of quality. And strangely, it's not really the filling nor the dough that is what I really examine, but the way they cook them. Of course I want them to taste good, but the technique of cooking potstickers correctly, browning them on one side and then steaming them to cook the dumpling through, is one that takes some modicum of skill. And, these were nicely cooked, which was a plus. On the other hand, they were pretty tasteless – the filling could have literally been anything it had so little flavor – and there was a sense that they may have just been commercially produced frozen ones. That didn't set the bar very high.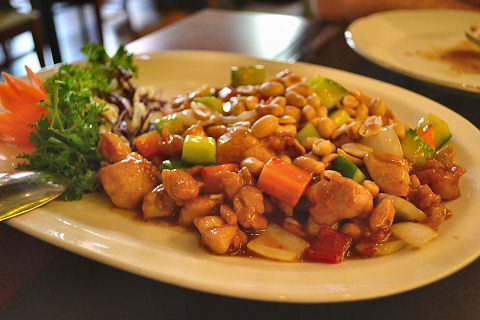 On the other hand, the kung pao chicken (not a Taiwanese dish, but seemingly on every local Chinese menu in one form or another), was prettily presented on a platter, and was actually pretty decent. Not the best version I've ever had, and completely lacking in chili spice, but well cooked, not at all greasy, and a good sized portion. The spice was taken care of by a dish of fresh chopped chilies in oil that were brought to the table on request – not quite the way I'd prefer since the heat comes as little bursts instead of infusing the whole dish, but at least satisfying.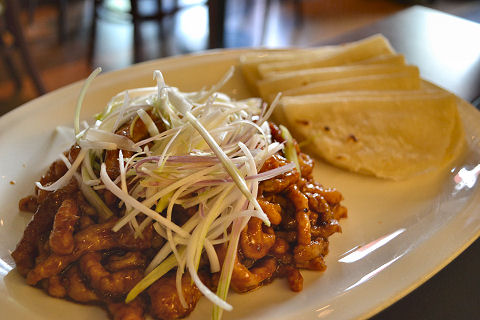 We decided to give one of the house specialty dishes a try, the pork in "Peking sauce", which turned out to be a sort of mu shu pork dish, complete with delicate little pancakes. This was definitely the winning dish of the lunch, great flavor, balance, nicely cooked, and completely delicious. I'd order it again. So I'm left with a place that I recommend, mostly on the strength of presentation and ambiance, and one particular dish, with a shrug of the shoulders to the other two dishes, they're not that different from any of the other places in the neighborhood, and feeling a certain lack in the service, both attentiveness and friendliness. Pricing wasn't as bad as I'd expected, with the main course dishes running around 50 pesos each – higher than most of their competition in the area, but not by a lot these days.
———
This week took me to the opposite end of the D-line, and a meetup in San Telmo with friends Sandra of the Lonely Planet guides and Meghan of Jueves a la Mesa (who just joined us to chat and then took off to eat elsewhere, though recommended the place strongly as a regular spot for her since she lives a block away). Henry came and joined us, and we waited for… oh, Frances, where were you? The place, Chifa Man San, Perú 832, 4307-0638, was not one I've heard of. In fact, when we got to talking about it, none of us really knew of any Peruvian restaurants in San Telmo, though a quick look at our local online restaurant guide, GuiaOleo, lists one small place nearby and another that's a Japanese-Peruvian fusion fancy place as well. Both to be checked out.
Chifa is the Peruvian slang for chi fan, the Chinese phrase for a casual restaurant, and generally refers to places in Peru that serve up a mix of Peruvian and Chinese food, usually on the cheap. (Just as the Peruvian arróz chaufa, a bilingual redundancy, means "rice fried rice", chau fan being the latter part.) So expectations were low before we got there, chifas aren't exactly known for haute cuisine, but the idea was too see if it was a decent budget place for inclusion in the next LP guide. The room is casual and worn, the only real nice touches to the decor were some hanging Chinese lanterns. It was about half full, mostly Argentines though a few Peruvians as well. One waitress was handling the whole place, and wasn't exactly speedy about doing so – it took a solid twenty minutes to get her to come to the table and take an order.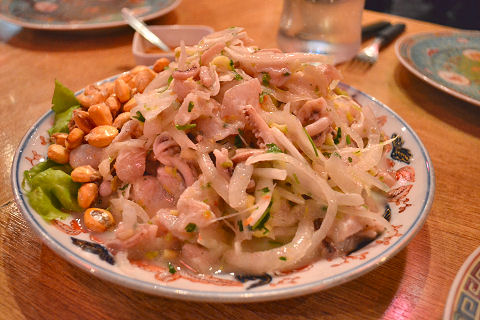 Like many of these places, the menu is extensive and lists a multitude of dishes from both Peruvian and Chinese cooking. Although the restaurant's website asserts that their food is a Peruvian-Oriental fusion, there's nothing fusion about it, it's just separate dishes from each tradition. Right off the bat a couple of our dish choices were shot down when it turned out they had no duck available – there went the entire duck section of the menu (which had 7-8 dishes listed). We wanted to start with a ceviche, and I'd like to say that in short order we had this heaping plate in front of us, but in reality, it took a good 45 minutes from the time we ordered it until it arrived on the table – and they just weren't that busy, a good half the people in the restaurant had already more or less finished eating. Watching the room, about the only thing that seemed to arrive quickly were the plates of fried rice of one sort or another, which came out of the kitchen within moments of being ordered – probably pre-made and just dishes up – they're also the cheapest things on the menu. The ceviche itself, once it arrived, turned out to be pretty much just a mound of onions, there was very little fish (though what there was was nice and fresh), and the only shellfish were a couple of small shrimp and a handful of calamari tentacles chopped into bits. No spice whatsoever, just lemon and salt, though a nice yellow chili sauce was available on the table to add to it.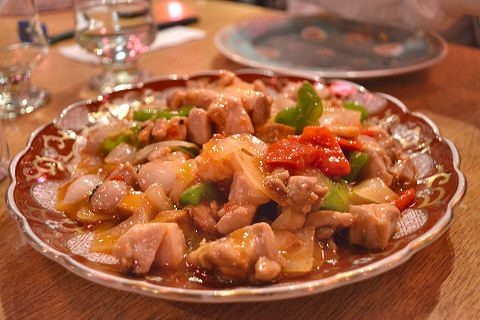 The pollo salteado picante (translated, strangely, as "chicken hot deleted" – while on the next page the cerdo salteado picante was translated as "jumped hot pork" – at least if you're going to mistranslate, do it consistently…) was described by the waitress as a traditional Peruvian dish. Turned out not to be, but pretty much a kung pao chicken minus the peanuts – it was just chicken sauteed with peppers and onions. No spice again, despite her having asked how picante we wanted it and Henry telling her to go full tilt, Mexican level spicy. More of the yellow pepper sauce, and he convinced her to bring a small bowl of chopped green chilies, which added at least a mild kick to the plate. White rice served with it (well, extra charge) was bland and overcooked, probably having sat on a steam table all evening.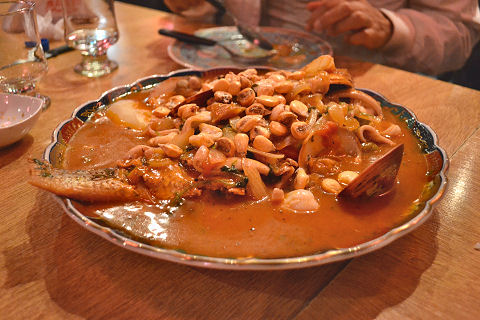 And, finally, a sudado, a traditional Peruvian dish that's one of our favorites. Unfortunately, not here – pretty insipid, uninteresting, and filled with a rather bony pescadilla, a type of cheap hake. Overcooked, the dish was mostly just broth, and not remotely what we tend to think of as a decent sudado.
Overall, slow, though friendly service. Casual ambiance. Mediocre food. It might have been okay had it been cheap, but it wasn't – the ceviche was 55 pesos, the chicken dish 40 something, and the sudado a whopping 80 (for a fish that probably costs them 5 wholesale) – the three dishes, a couple of bottles of water, two bowls of rice and a green salad to share came in at 213 pesos, before tip. I'm borderline on giving it a not recommended, but I'll put it in as just okay, and perhaps there are other dishes on the menu that would have been better choices that we may go back and try – people did seem to be enjoying their fried rice – and, as noted, there's not a whole lot of Peruvian (nor Chinese) food in San Telmo.