It's strange. When I lived in NYC, up until almost six years ago, for a large part of the time I was there I lived at 14th Street and 1st Avenue, putting me a mere one stop on the L train from the start of Williamsburg. Yet, it must be a good eight years since I crossed the river that direction, and I think I only did it once, and that was to go to one of the old-line Polish restaurants that used to flourish there, and it was a bit on the seedy side. Now, it's unrecognizable. At least at that first stop, Bedford Avenue, the neighborhood teems with trendy nightspots, cafes, gourmet food shops, Thai restaurants (they've really just taken over this city), and more similar sorts of food related locales.
I swore to myself that this trip I'd finally make it to one of the closed-door spots in town. And, why not start with the oldest of them that's still operating? Chef Matteo has been operating 4 Course Vegan for eight years now out of his Williamsburg apartment. What started out as a few people coming by each Saturday has turned into a pretty impressive collection of 30-40 who stream in each week for some pretty interesting vegan fare. We chatted a little, I gather he doesn't really say "no" to anyone, so it just builds up and he figures out where to squeeze people in once he knows how many are coming. And squeeze we did, with, for example, ten folk surrounding our particular table which was designed for six. It's a trifle uncomfortable, but no one seems to really mind, and many of the folk who were there come regularly – the couple next to us have been there 30 some times over the last three years since they discovered it, a woman across from us apparently has pretty much not missed a dinner in years. [Closed]
And what makes it really impressive is that until last year Matteo did the whole thing by himself – shopping, prepping, cooking, serving, clearing and cleaning. Only late last year was he joined by a woman whom I'm guessing is his live-in girlfriend, though I could be wrong about that. She takes care of the serving and clearing part – he's still handling most of the rest – which for a forty person, four (actually five including a little amuse bouche) course dinner sounds, to me, like a nightmare. But then – his dishes are designed clearly to be prepared and ready in advance with more of the time spent on heating and plating at the last minute. And top that off with not only has he been doing this in Williamsburg since before the restaurant boom, but he's a good 14 block walk from the closest subway station, and the last few blocks don't exactly look inviting, though they turned out to be just fine.
It is a different experience than I've encountered at the BA closed-door spots, which, the majority are not communal table style, or ours, where we try to make an evening out of it and get people to know each other. There's no introduction, there's no cocktail hour. It's simply arrive, sit, and when everyone's there, they start serving, pretty much without comment, when you've finished eating, leave your money on the table and head for the door. (Funny, the biggest criticism we get at Casa S is that we don't hangout for the evening with the guests or even sit down and eat with them – yet here's a wildly successful place with repeat clients and the chef is pretty much not seen unless you poke into the kitchen, and his partner has little interaction with the guests other than some chatting with regulars.) We didn't even find that some of the other eight people at the table were interested in having a conversation with us – two of the couples simply talked within their pairs and really didn't interact at all with the rest of us. We did have a nice conversation with the two couples to our other side – the thirty-timers and a couple who had actually won dinner for two on a vegan wedding planning site… actually, it was part of a several day package trip to NYC focusing on vegan eats that they won, and were in from Chicago. Okay, enough blathering on, on to the food.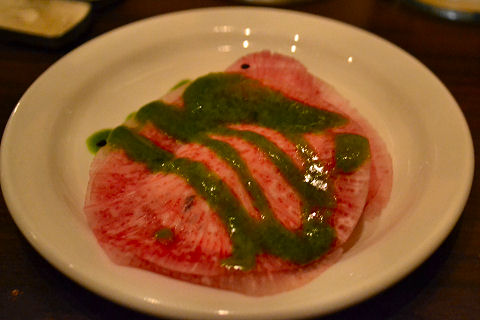 A little raw vegan starter, not on the menu – "ravioli" made of paper thin rounds of watermelon radish, filled with a cashew "cheese" and drizzled with a basil puree. Actually quite tasty and a nice start to the evening. Since Matteo and Carly only provide filtered water for drinks, it's a BYOB setup. We started off with a half bottle of Elcano Fino Sherry, which paired up really nicely with the dish.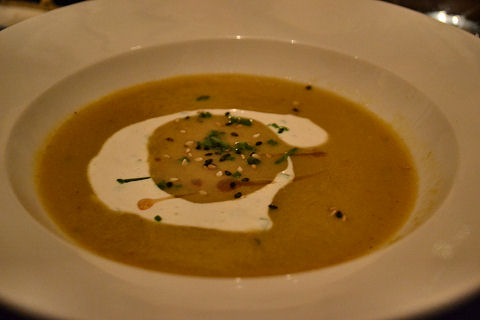 On to the first official starter, a yellow split pea soup drizzled with toasted sesame oil, chive sour "cream" (soy cream?), and some spices including a little red chili which gave it nice hint of a kick. Very good, and me being a soup fiend, I'd have liked more of it.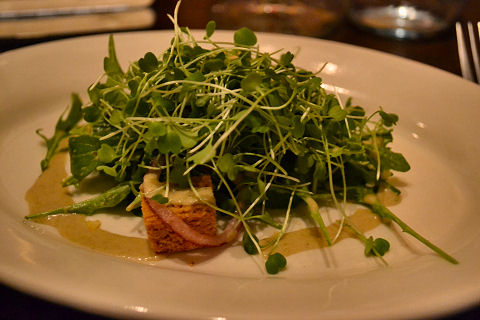 Given that the dominating flavors of a Caesar salad are garlic, anchovy and parmesan cheese, and the mouthfeel is provided by raw egg yolk, I'd quibble that this is a Caesar salad. I wouldn't, however, object in the slightest to a claim that it was absolutely delicious, because it was. Arugula sprouts filling in for the romaine lettuce gave it a peppery bite, and dressing, whatever it consisted of in lieu of the holy trinity listed above was spot on (miso and celery dressing according to the menu), and the cornbread croutons were great! In fact, I think I'm going to start making croutons out of cornbread…. We moved on to our red wine, an amazing value wine recommended by John at Chambers Street Wines from Salvatore Molettieri, the Irpinia Cinque Querce 2006, 100% Aglianico – rustic, earthy, peppery, delicious, and a mere $19.95!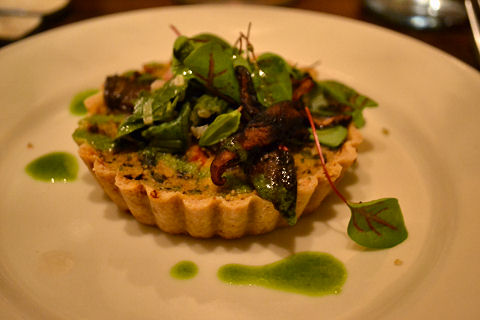 When is a quiche not a quiche? When it's a tartlet without any eggs in it. But that aside, the spring vegetable "quiche" was a winning dish of fresh vegetables in what I'd guess to be either a chickpea or bean puree base, topped with a little baby greens salad, some amazingly good crispy smoky mushrooms (Matteo, you could put those in little bags with some salt and spices and sell them as a secondary profession!) and wild ramps.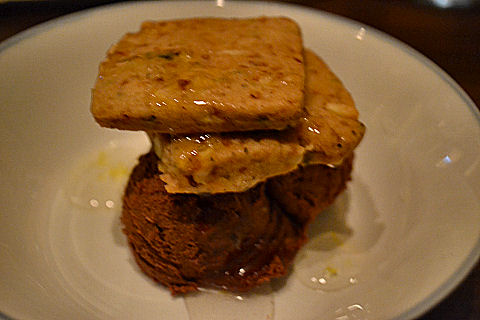 The dessert, a dense chocolate "mousse", almost fudgy in texture (too much?), delicious with a Meyer lemon syrup and topped with pine nut and fennel cookies. The woman next to us, having asked for gluten free, got little squares of a sesame brittle that was even better with the mousse. But either way it was a nice finish to a very creative evening. We chatted with Matteo and Carly for a few minutes on the way out and headed back to the subway and Manhattan. My first NYC closed door experience and I'd give it thumb's up – though I find myself, like many of my own guests, wishing that the hosts would have spent a bit of time with the group either at the beginning or end – I totally get that they were too busy during the actual dinner to do so.