"…sprinkled with sugar and eaten hot, they form an exquisite dish. They have a golden hue and are tempting to eat. Thin and transparent like muslin, their edges are trimmed to resemble fine lace. They are so light that after a good dinner, a man from Agen is still willing to sample three or four dozen of them! Crêpes form an integral part of every family celebration. Served with white wine, they take pride of place on all joyful occasions."

Jacques Anatole Francois Thibault, French novelist
Now and then I note certain local food topics that I've just fallen down on the job of discussing. One of those is the stuffed crêpe, or, as they're called here, panqueques – don't order them thinking you're getting a stack of flapjacks! They're extraordinarily popular, and there's usually at least one or two to be found on even the most casual of eatery's menus. They're not quite the delicate sort referred to above, they're a bit more substantial, and though there are certainly dessert versions available (usually filled with dulce de leche or apples), the popular sort are savory – filled with meats, cheeses, vegetables and sauces. I reviewed one spot, Lo de Carlitos, more than four years ago, and I seem to have not reviewed my favorite spot, out in Villa del Parque (I'll have to remedy that, and it'll be a good excuse to go visit my cheese/sausage making professor again), though I was quite sure I had. And, truly surprisingly, I've not reviewed the spot I go to fairly regularly here in my own 'hood.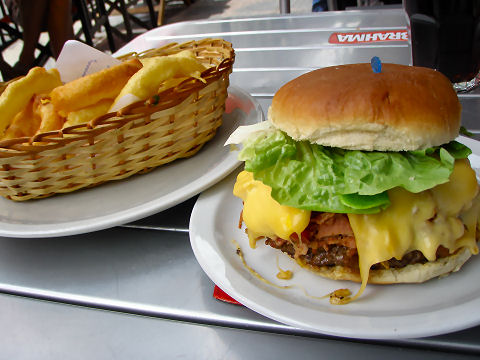 I've reviewed the burger at
Carlitos LNG
, Guido 1962 here in Recoleta, relatively favorably. I had some qualms with the onion rings which were doughy and soft with little onion in them. But how could I have not gotten back to the panqueques? I was turned on to them by Humberto, the chef from the now long closed
Amaranta
, our former home away from home norteamericano bistro a block away from the house. It was his favorite late night after work hangout, and though I never went late at night, he assured me that there were often quite a few industry folk hanging out there after they'd finished their shifts. One of my regular readers also highly recommended it in a comment on the burger post. So, I'd been, and enjoyed, and not written. 
[Closed]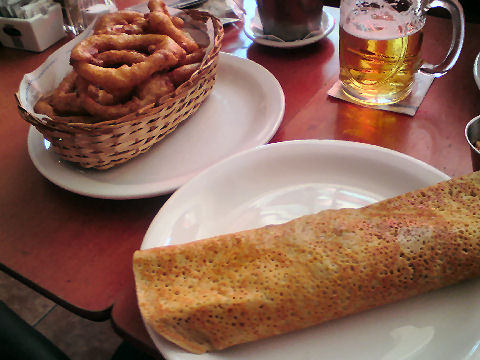 So, here is what you get when you order a panqueque, of which CLNG offers around 60 different combinations, plus the option to come up with your own. On our most recent visit, mine was filled with artichoke hearts, broccoli, walnuts and bechamel sauce…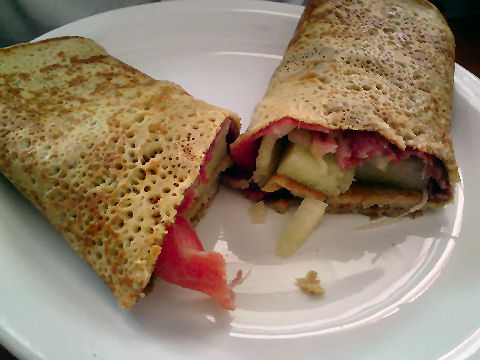 …while my lunch companion's was packed with prosciutto and melon. We also ordered a side of onion rings, which you can see are thinner, darker, and, it turns out, far crispier than that first batch I tried – they've corrected the doughy problem, though this time we found them a bit oily. It's a balancing act, usually they've been nice and crisp without being oily, so chalk that one up to one day with the frying oil not being hot enough.
When you just want something simple for lunch, it's pretty hard to beat something like this – they're hot and delicious, and the combinations are fun. And, as I mentioned in the burger post, there are more than one location – now four that I know of – Guido 1962 in Recoleta, Uriarte 1890 in Palermo, San Isidro 4590 in Nuñez, and Libertador 1831 in Vicente Lopez. And for other hot spots for crêpes, you can search Guia Oleo on the name Carlitos and come up with a dozen or more that include various ones run by different branches of the family.