A few folk have contacted me recently and noted that I seem to have stopped posting any kind of tasting notes about wines or beers. Trust me, I haven't given up on drinking, though I probably taste far fewer of either than I used to. Part of it, I suppose, is that Henry borderline doesn't drink, at least very rarely, so I don't tend to pop open a bottle all that often. I do, however, try wines for our dinners in order to come up with pairings – often with wine salesfolk or at tastings – I just haven't been good about posting notes. And, of course, if there's wine or beer left over after the weekend… I know tasting notes can get boring for many, so a) I'll keep them short, and b) they won't replace other content I'm writing about, you can just skip them if they're not of interest, the restaurant, food and menu stuff will keep coming.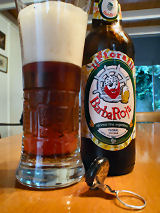 You might recall my postings on the microbrewery Barbaroja and a half dozen of their varieties – now up to a dozen available. I spotted a bottle of their relatively new Floral and thought I'd give it a shot. It's a strange brew for a beer, to be honest, had it not come out of a bottle labeled as such and poured with a thick, creamy head, I would have been hard-pressed to have claimed it as one. Rather, it tasted like a just barely sweetened peach iced tea. And, in fact, it has very little alcohol for a beer, only 3%, and, it turns out, is one of the company's lightest of wheat beers despite the fairly rich, ruddy brown color. The peach flavor is intense, bordered by hints of flowers and herbs. Oh, as a side, logistical note, Barbaroja is now using these cool new pull-tab crown caps to top all their beers – very easy to open.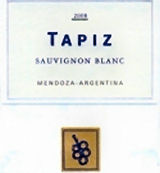 While I'm writing this I'm sipping on the last of a bottle of 2009 Tapiz Sauvignon Blanc from Mendoza. It's a beautiful pale gold color with hints of green in it. On the nose it has an immediate hit of coconut and grilled pineapple. I'd normally associate that coconut smell with American oak of some sort, but it doesn't seem intense enough, and based on technical notes I searched out, the wine hasn't spent any time in oak. On the palate, upfront grapefruit pith, that bitter tone striking the tongue hard, but it immediately gives way to an intense fresh pink grapefruit juice with bits of pineapple and coconut in it. Basically, we're talking classic Midwestern ambrosia salad, with pink grapefruit standing in for the mandarin oranges. There's a faint hint of mentholated tobacco, especially towards the end. The bitterness comes back on the finish, though more subtly. Overall, the wine is quite pleasant and easy drinking – I paired it this last weekend with a fresh green pea soup and it worked beautifully.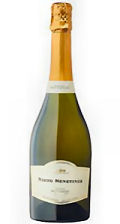 Nieto Senetiner Brut Nature is a delightful champagne style sparkling. The base of the wine is predominately Pinot Noir, the winery cops to an assemblage of grapes, but doesn't specify what else goes into the blend. The red grape shows through in the color of the sparkler, a faintly salmon pink laid over amber yellow, and in the mix of red berry fruit that shows beneath a core of tart green apple. There's a notable amount of yeast on the nose, and toasted bread on the palate. The label claims an abundance of white flowers, but I don't note any. The bubbles are fine and abundant and give a lovely mouthfeel. It paired up wonderfully with homemade gravlax cured with citrus and dill, and, in fact, I'm nibbling away at the last of that as I sip the bubbly.