"For the first time ever, overweight people outnumber average people in America. Doesn't that make overweight the average then? Last month you were fat, now you're average – hey, let's get a pizza!"

– Jay Leno, comedian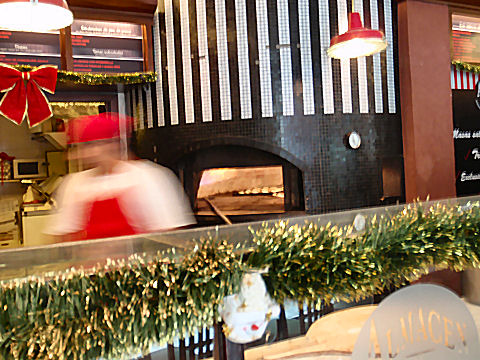 Much as I like pizza, I don't think I could undertake the task that Adam Kuban has undertaken on the Slice blog – pretty much out to try every pizza in New York City. And that's in between being out to try every burger in town. And I have the feeling that if not in total number, certainly in density or per capita, there are as many pizza spots in Buenos Aires as he's out to deal with. So many of them haven't been, and perhaps never will be, visited by me – it's just the way it is. I try to start with those recommended before others, and interestingly, no one has ever recommended any of the half dozen branches of Almacen de Pizzas to me. I've walked past a couple of them but not gone in.
The other day, in Palermo, I just had a sudden urge for pizza, and there was their branch at Julián Alvarez 2491, just off Santa Fé. It's basically a take-out and delivery spot only (some of the branches are bigger and have seating areas), but they do have a couple of stools at a counter in the window. Not the most comfortable spot to eat a pizza, either in terms of space, or that the other seats, at least while I was there, were pretty much continually filled with customers waiting for pizzas for take-out, and staring at me as I ate.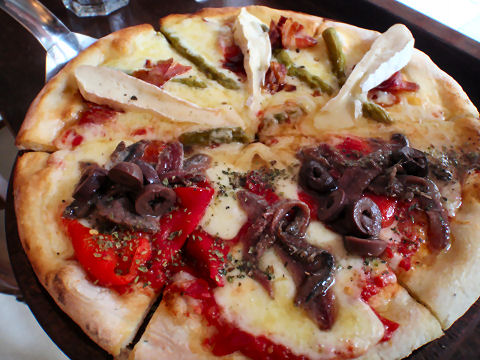 To make this simple, this was one of the best pizzas I've eaten in Buenos Aires. The crust, golden brown, lightly flavored with olive oil. Crispy and smoky on the underside, just slightly chewy on the top. The sauce, a decent amount, and zesty with garlic and herbs. The mozzarella, perhaps still a touch to much, but not way too much, and more importantly, really good quality. The toppings, plentiful… really plentiful, and, two important points – interestingly different combinations in addition to the usual porteño suspects, and, the option to create your own. Friendly staff. Decent price.
Were there any negatives? Yes, three of them. 1) They don't have an individual sized pizza, nor by the slice, so there's only a "small" which is a six portion, roughly 10″ pie; and a large, which is ten slices and about 18″ across. I managed the small, but just barely. 2) For some reason, one ingredient, asparagus (not a normal pizza topping, but they had a panceta, asparagus and brie combo that I just had to try on one half of mine; the other half, anchovy and roasted pepper) isn't fresh, it's a commercial brand in a jar, and tastes of the brine that it's soaked in, plus being mushy. Their other stuff was either fresh, or if jarred, appeared to be their own. And asparagus is in season right now… 3) All of their branches are in the Palermo or Belgrano area or close by – nothing near me and they don't deliver to Recoleta. Probably good for my waistline.