"There must be courage; there must be no awe. There must be criticism, for humor, to my mind, is encapsulated in criticism. There must be a disciplined eye and a wild mind."

– Dorothy Parker, author (born in 1893)
Buenos Aires – It's not that 1893 wasn't an interesting year, plenty of stuff did happen. The Cherry Sisters performed for the first time, in Marion, Iowa. The U.S. Navy created the rank of Chief Petty Officer, apparently having one too many Petty Officers and needing to do something with him. Edward Munch painted the first of his series of The Scream paintings. The World Parliament of Religions was held in Chicago and Americans first heard about the Baha'i faith. And sports clubs popped up everywhere – Italy's famed Genoa Cricket & Athletic Club was founded, the Futebol Clube do Porto came on the scene in Portugal, and here in Argentina, the very first officially recognized soccer league tournament was held under the auspices of the Asociación del Fútbol Argentino. None of these things seem a particularly good reason to name a restaurant by the same number, yet, 1893 Pizza & Pasta holds the moniker. It's not the address, which is Scalabrini Ortíz 701, in Villa Crespo, though perhaps at one time it was at a different locale.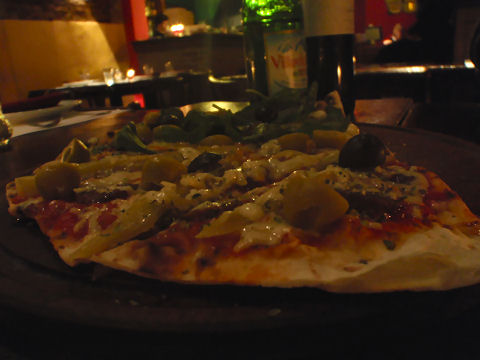 All, of course, that interests me… no that's not true, I actually am curious as to what prompted the name… is the pizza a la parrilla (a la piedra, more standard thin crust, is also available), which is delivered with little aplomb and less interest by a world weary waiter. Then again, that seemed the general tenor of the place. Two guys behind the counter spent most of the evening text messaging on their phones, looking up only briefly when someone walked in the door. Two women off in the corner who seemed to be the cashiers of sorts (already an awful lot of staff when you add in two waiters, for a relatively small restaurant with a whopping six customers in it), came as close to sitting around knitting afghans as they could without the needles and yarn. The cook, apparently, since we got the pizza in reasonably short order, did manage to produce it. And, it wasn't bad. The crust, nice and thin and with a bit of a smoky crunch to it. The sauce, a bit of herbal and garlic zip. Decent mozzarella and likewise the goat's cheese on the other half. In fact, the only thing I'd fault the pizza on, and it wasn't the pizza's fault at all, was its size. As I've pointed out before, the usual litany of sizes here – individual, chica, grande – almost always is touted as 4, 6 and 8 pieces – but those pieces are subject to interpretation, and here, they were a bit skimpy. Make that a lot skimpy – I could easily have eaten the 6 piece one myself. We left hungry, and, walked the 9 blocks down to Haysam where we sat and had a shawarma and some kebbe – the former being raised up a notch or so this time around – the two men who were running the place that eve were friendly and helpful, no one was screaming at anyone else, and, they had locoto en polvo – ground, dried rocoto peppers (Bolivians call them locotos) available to sprinkle into the shawarma and give it a nice kick. So, back to 1893, at least for the review, since I'm unlikely to go back to it in person, I give it an "okay" bordering on "recommended" – it was good enough, but the oh-so disinterested service and the small size of the pizza leave plenty of other spots out there far more interesting.