"You're Hispanic. You speak Spanish. You're doing ethnic jokes. Taco Bell is one of your first targets."

– Carlos Mencía, comedian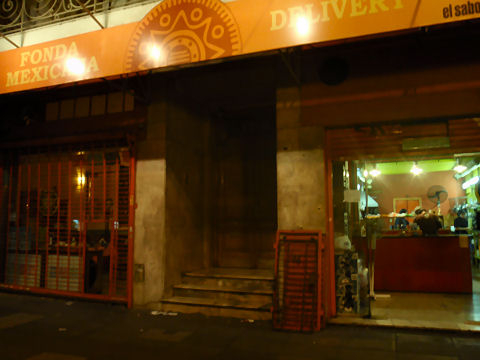 Buenos Aires –
Let me just start by saying that I'm disappointed that none of you showed up. I mean, isn't that what twittering is all about? Gave it a shot with a "Taco Crawl tonight, starting at 7:30 at Mole Tacos on Cabildo, come join us" and not one of you jumped to the challenge. So, it was just one friend and I who met up in front of this long running spot at the clearly too early hour. In our defense,
Mole Tacos Fonda Mexicana
,
Cabildo 1372
Av. Álvarez Thomas 2128 on the border of Belgrano, Palermo, and Colegiales, lists their open hours as 12.45 – 23.45… what they didn't mention is that that's just for the takeout counter there on the right. The sit-down restaurant part opens at 20.00 (8 p.m. for those of you not on a 24-hour clock)… well not really, because while the staff, by the time we returned at about 20.15, had finished setting the tables and all, the gate was still down, and the three of them were standing inside, eating and drinking, then they took a cigarette break out on the sidewalk. At 20.19 I asked the manager who was standing inside the takeout side when they were opening, he looked at one of the guys from the restaurant side and said, "you're not open yet?" The guy said, "No" as he sipped at his soda. The manager said, "You were supposed to open twenty minutes ago." The guys said, "I'll open when I'm ready to, maybe ten or fifteen minutes" and went back to his soda. Back on the sidewalk, we considered leaving, but decided to wait it out, and it turned out to be only about five more minutes until he sauntered back and raised the metal grate, then sat down behind his little cash register to read the newspaper. One of the two waiters, amazingly, snapped into action and brought us our menus – we ordered, and clearly with the takeout side in full swing, the food came out fast – one interesting note, since the two halves of the restaurant are opposite sides of the same building, separated by the entryway to the upstairs, the waiters carry stuff back and forth via the sidewalk when they serve and clear.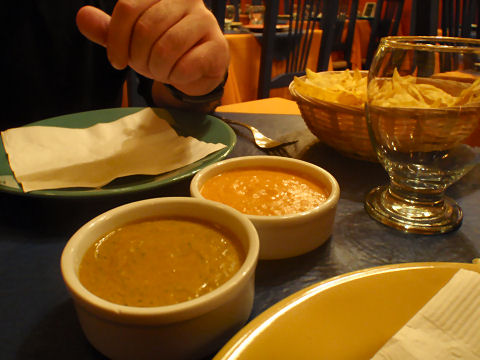 First, chips, and a whole big basket of them. Not bad, fairly commercial, lightly salted, the two sauces, stated as
suave
and
picante
, were, respectively, creamed tomato and tomato that might have had a near brush with a jalapeño. We asked if there was something spicier, he said yes, and returned about the same time as he brought our tacos, with a bowl of pureed chiles – more or less the canned jalapeños en escabeche, still, a better kick.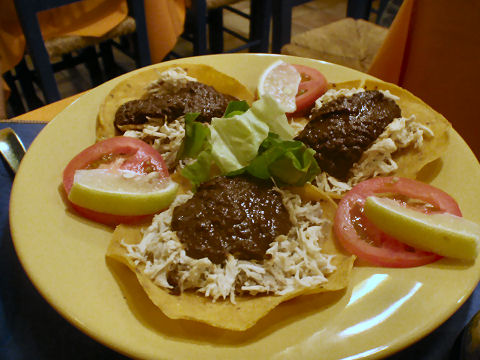 The menu is short, basically listing four options – meat, chicken, mole, and vegetarian – under each of enchiladas, burritos, tacos, and quesadillas. The tacos come in plates of three, and they won't do a combination plate (for takeout it appears you can order tacos individually, but not for the restaurant side). So, though it was more food than we wanted for our first stop, we opted for one plate of the mole tacos and one of the
dorados
, which were the only ones listed as fried. The former were soft corn tacos, open-faced, topped with chicken and mole sauce. The tortillas, bland. The chicken, bland. The sauce, sweet and bitter, no spice – tasting pretty much of pureed raisins with some chocolate in it and not much else. This, by the way, is the option listed as the spiciest on the menu.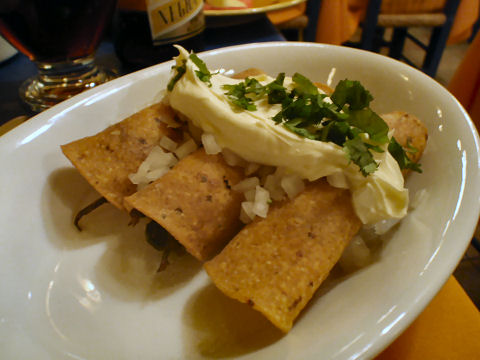 The
dorados
, the only crispy taco option, were better, but not by much. The same tortilla, still bland, but at least with a nice crunch instead of sitting soggily on the plate. The filling, chicken again, we should have ordered something beef, perhaps dusted with some salt, the topping, a slice of cheese and some sour cream. Again, pretty bland. With a couple of
Negro Modelo
beers and a modest tip, 60 pesos. I twittered our next stop, but we were not to be met (okay, I wasn't really expecting it, but thought I'd give it a shot just for fun – did get a response at this point from a local friend saying we were headed for the best spot).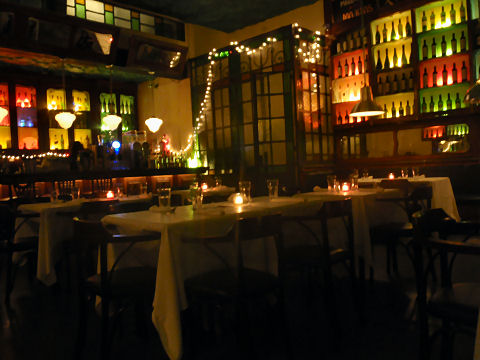 While it was pretty much empty on our arrival at
The Taco Box
, Soler 5581, in Palermo, which bills itself as a "Tex-Mex Bistro", it filled up pretty quickly. All the signage is in English, the crowd is mixed local and not, the menu is a couple of strips of paper about 2″ wide, one for food and one for beverage, a pencil provided, and you fill in quantities in little circles as to what you want. The waitress returns after a bit and simply picks up the slips and goes, coming back with your order – a bit at a time (one drink arrived a good ten minutes before the other from the bar).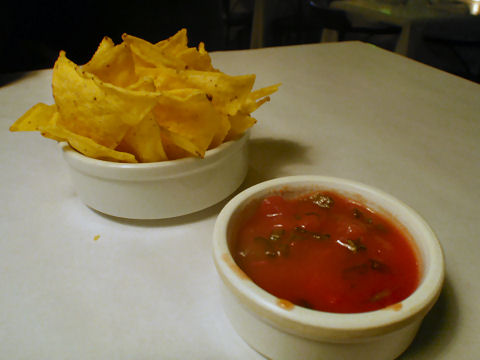 Not that we, given our mission, needed more chips and salsa, but this barbie doll sized basket with maybe fifteen chips in it, was dropped on the table. The salsa – tomato puree, right out of a can, with a couple of pieces of chopped green onion in it. We asked for hot sauce and got a half-sized dish with a nicely picante puree of orange chilies. We also each received a shotglass with a sample of their frozen margarita.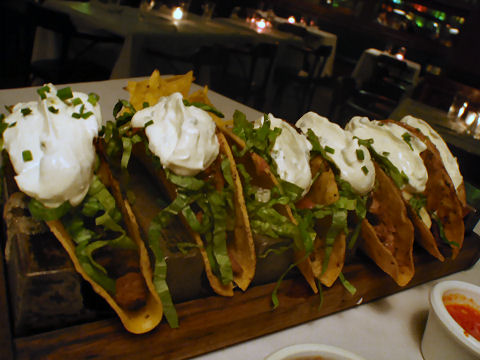 Again, no options to order individual tacos, though the basic plates come with just two of either beef or chicken. We considered one plate of each, but that was pricier than ordering the "taco set", which is a trio of each, served in this cute metal rack. Our waitress had no clue which were the beef and which were the chicken – apparently no one ever asked her before, they just dove in and ate (given the crowd, perhaps not a surprise, drinking seemed to be the
raison d'etre
for most, and the tacos probably just provide an alcohol sop). She did, however, go back to the kitchen and ask, returning to tell us they alternate…. We figured it out by taste if not by look. The tortillas, crisp, lightly salted, perhaps a trifle oily, but not at all bad, and with a nice grilled smokiness. The fillings, definitely on the "tex-mex" style, with a slightly barbecued flavor,
i.e.,
, in addition to a bit of mild chili seasoning, there was something sweet going on. Good toppings – lettuce and sour cream, and on the beef ones, cheese. All very fresh tasting and really pretty darned good. The taco set will set you back 58 pesos on its own, the drinks, a little pricey – beers running 10 pesos for a simple local Quilmes
chopp
, or mug, on up to 18 for the same bottled Corona or Negra Modelo that Mole was selling for 9 pesos apiece. Frozen drinks like margaritas and daquiris run about 17-20 apiece. Twittered our set-out for the next stop….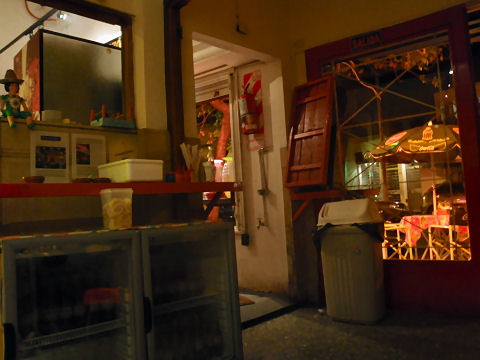 This is a spot I first heard about a couple of months ago when a local publicist sent me an e-mail asking me to come check it out. Not a "for free" invitation, she was just fishing for a SaltShaker review as it turned out. I put it on the list but didn't get there – at the time
La Fabrica del Taco
, Gorriti 5062 in Palermo, was only open for dinner, now they're open for lunch starting at 1 p.m. The glowing neon from a block away clued us in on the locale – the only thing missing was some sort of blinking, flashing light. Garishly lit, tackily decorated, picnic style tables and a high bar outside, with a service counter open to the sidewalk, this place reminds me of fried fish and beer places on the local lakes back home in Michigan. The crowd, mixed, but much heavier on the American European side than Argentine it seemed.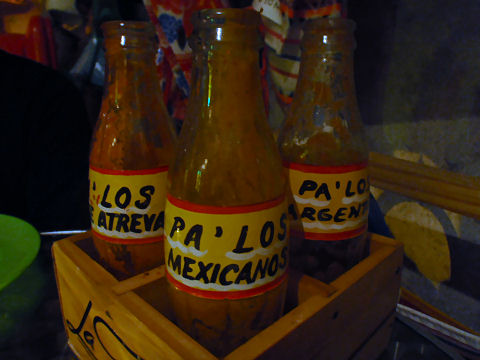 You've gotta love a place with a sense of humor, and given the look of it, they clearly have one (there's also a backyard with a glowing, blue, glass-block bar and tables in the grass. But the humor really shows up in their hot sauces, a trio which, at first glance were labeled,
poco picante, picante regular, muy picante
, served up in little bottles on the table. It wasn't until we turned them around that we noted that the opposite side of each is labeled (English translation),
For Argentines, For Mexicans, For the Daring
. The first at least still had a touch of heat, perhaps the level of tabasco sauce, without all the vinegar. The second, a nice smokiness, maybe something along the lines of a mix of ancho (smoked poblano) pepper with something else slightly hotter. The third, a nice kick to it – a real hot sauce. No chips served gratis, you have to order them.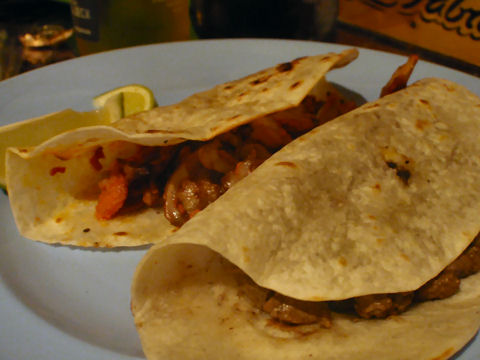 The tacos themselves, unfortunately, are just okay. One plus is that they're all ordered individually, so you can sample a variety if you want. The tortillas – wheat flour and soft – cooked to order on a griddle, a trifle greasy, but fine – I have to admit, I prefer corn tortillas for tacos though. The filling, for the
carne asada
, was beef carved off of a shawarma style rotisserie thingie that was sitting on the service counter – lightly seasoned, pretty much tasting of a bland shawarma. Nothing added, though a dish of chopped onions and cilantro was brought to the table to be used to taste. The
al pastor
, a marinated meat version, was quite a bit more flavorful, and definitely the better option, still, just okay. Individual tacos run from 7 to 10 pesos depending on what kind you want, and they do have a variety, beers are reasonable, all told, the same pricing as Mole Tacos, and certainly better. 
[Edit: Return visits over time and the tacos have gotten far better than they were when the place first opened and this place moved up first to my favorite, and then dropped to second after Che Taco opened.]
Winner of the three spots, no question in terms of the tacos themselves, The Taco Box. Winner for ambiance and service, hands down, La Fabrica del Taco.
We had originally planned on a fourth spot, the newly opened Palermo branch of CBC (California Burrito Company), but given that we'd had to go for the big plate combos at the first two spots, we opted out – we'll get there another day. I did, however, get this missive from another friend who'd hit both La Fabrica and CBC for a mid-afternoon lunch yesterday – I leave it unedited: