"Don't say you don't have enough time. You have exactly the same number of hours per day that were given to Helen Keller, Pasteur, Michaelangelo, Mother Teresa, Leonardo da Vinci, Thomas Jefferson, and Albert Einstein."

– H. Jackson Brown, Jr., author
Buenos Aires – Two weeks, that's what we gave it. Not what we intended at the start of the experiment – offering an additional night of Casa S dinners with a straightforward three-course menu, all inclusive with wine, water and coffee, for a flat hundred pesos. One dinner last week, one this. Finito la musica.
It just wasn't us, it felt like we were downgrading the experience that we've come to offer, which we think is something special. Likewise, several of the guests who came on both nights who'd been to our regular five course tastings felt the same way. Also, when it comes down to it, I still spend an entire day shopping and preparing whether it's a three course dinner or a five course tasting menu – for 1/3 less – not a good business move. So, it ended last night with a Peruvian inspired dinner.
To start, a ceviche of lenguado, or sole – the way Henry taught me his family makes it, with a touch of ginger and garlic. Not quite as spicy as his family would make it, which hovers in there at a fairly high level – but not lacking in chilies either.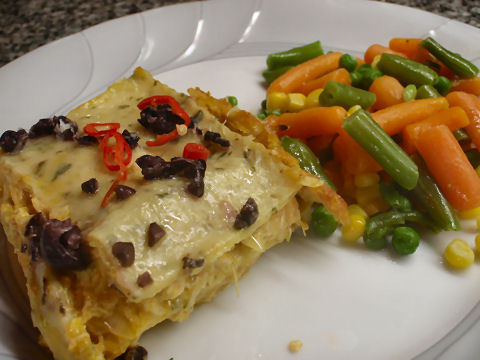 From there, you might recall I mentioned in my review of PozoSanto that I loved the idea of an ají de gallina lasagna, I just felt their execution fell a little short. But, as I noted then, it gave me ideas. So, first off, made a batch of this savory and mildly spicy stewed chicken dish just the way Henry's sister taught me.
I made a batch of simple semolina pasta (1 cup semolina flour, 1 cup pasta flour, 1 tablespoon olive oil, 4 eggs, 1 teaspoon salt and 1 of black pepper) and added in some dried herbs – 1 teaspoon each of basil, oregano, parsley – rolled it out into long sheets, cut it with a ruffled edge pastry cutter, gave it a quick boil just to slightly firm it up (two minutes tops), and layered it in a baking pan with the ají de gallina, sprinkling each layer with some grated reggianito cheese, and finishing the top with chopped black olives and more cheese. Served it up with a panaché, the local name for "mixed vegetables" – cooked separately and then tossed together with butter and salt at the end.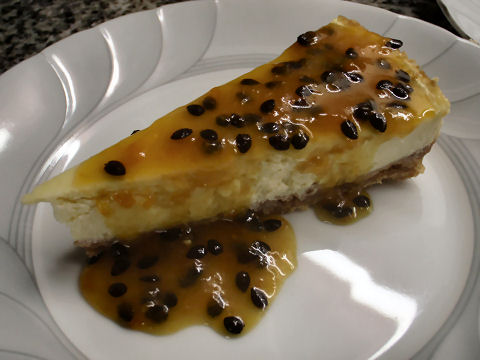 On to the dessert – a basic lemon and vanilla scented cheesecake, but topped with a passionfruit caramel – boiled up a bunch of passionfruit until soft, then opened them and took out the juice, pulp and seeds. Made a dark caramel, added a large dollop of butter to smooth it out, and then stirred in the passionfruit. Brought it up to a boil and whisked it to be smooth and then set it aside to spoon over the cheesecake.