"I am incapable of conceiving infinitiy and yet I do not accept finity."

– Simone de Beauvoir, author, feminist
Buenos Aires – Well before it was politically correct or even remotely in fashion, let alone acceptable, to talk and write about feminisim and female sexuality, Simone de Beauvoir was doing so. Last weekend she joined the ranks of our Casa SaltShaker centenarians with a dinner inspired by the flavors of her hometown, Paris. Most of these dishes were inspired by my one and only trip to Paris and the meals I ate while I was there, though one or two have their origins in the scribblings of Pierre Gagnaire, chef extraordinaire in his book Reinventing French Cuisine, which I've been spending a lot of time perusing.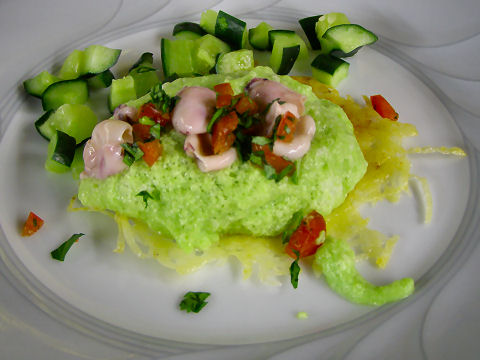 One of the things that caught my eye in Gagnaire's book was a multi-component dish that included as one of those, a fresh sweet pea mousseline. With peas in season, it just sounded like a perfect cold starter, the question was what to pair with it. I decided on some sort of fish or shellfish, and popped in to our local market to take a look – they'd just gotten in a kilo and a half of calamarete – little baby squid, smaller than my thumb. Now, the usual approach with those here is to simply coat them in batter and deep fry them, pretty much as is, guts and all. I wanted something fresher and brighter flavored to go with the pea mousseline – so I decided to clean them completely, leaving just the bodies, skinned – a whole lot of work I'll tell you right now – and blanch them for literally five seconds to puff them up and set them, and then right into ice water to stop the cooking. From there, into a mix of fresh lime juice and salt to cure as a ceviche. Add to the dish a little chopped rocoto pepper and cilantro, some diced salted and drained cucumber, and a parmesan tuile underneath, and this might just be my favorite dish of recent months! The mousseline: blanch 2 cups of peas for 2-3 minutes, then shock them to set the color. Puree them with one cup of hot milk in which a tablespoon of gelatin is dissolved, and strain this mix through a fine strainer. Then fold in 4 stiff whipped egg whites, salt and white pepper.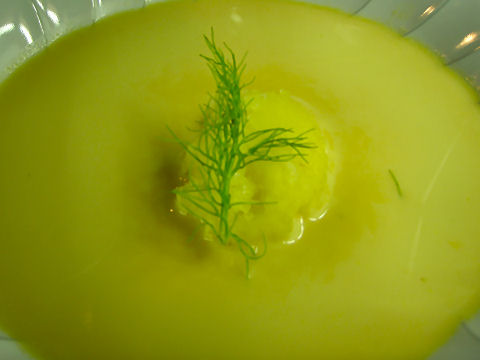 Next up, our weekly soup. Now, evening one I cooked a simple broth of vegetable stock, garlic, fennel and carrots, pureed it, and finished it with just a splash of cream. We served it chilled with an orange granité – fresh orange juice sweetened with a touch of agave syrup and seasoned with white miso, then frozen in the ice cream maker. I liked it, but it seemed too sweet – the cooked carrots and fennel really show off their sugars – and there I was, later that night, finishing up the book on raw food that I reviewed a couple of posts ago – and thought… why not? So the next day, other than the vegetable stock, everything was raw – the carrots, fennel, garlic (a little less than I'd used the first night when it was cooked) – into the cold stock, pureed, strained, and chilled. Far better! The flavors of the carrot and fennel really shone through and were a better match with the granité.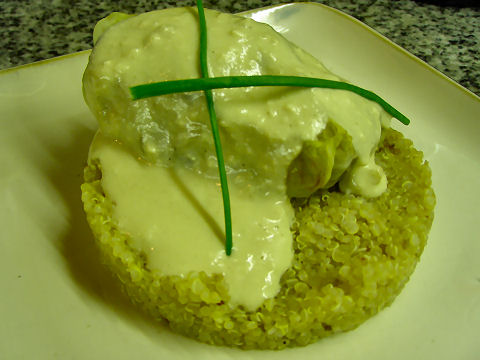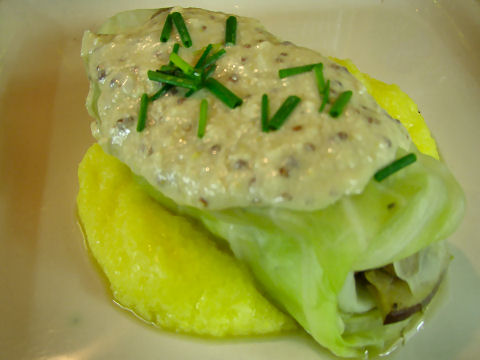 First night – not a disaster, just not a dish I wanted to repeat, at least not exactly. A simple stuffed cabbage – filled with a mix of portobello mushrooms flavored with coriander seed, juniper berries, black pepper, and sea salt – atop toasted quinua – and topped with a basic tahini, lemon, and garlic sauce. It was all just too… not there. Not that people didn't seem to enjoy it, especially the quinua which was new for many of them, but the combination overall wasn't quite there. Second and third nights, replaced the quinua with buttered polenta, and took the same sauce and thinned it down with Pommery mustard and a little water. It all came together much better, with nice zingy flavors. Live and learn.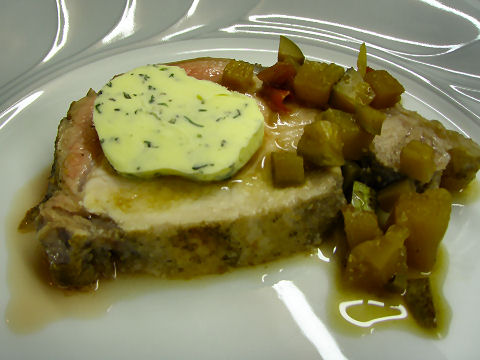 Pork loin, rubbed with a mix of salt, pepper, and mace (the spice, not the spray), pan roasted to medium, rested, and sliced into 3/4″ thick medallions. Served with a slice of tarragon butter on top and a scoop of a chutney made with pineapple, zucchini, tomato, lemon zest, maple syrup and tomato vinegar. Need one say more?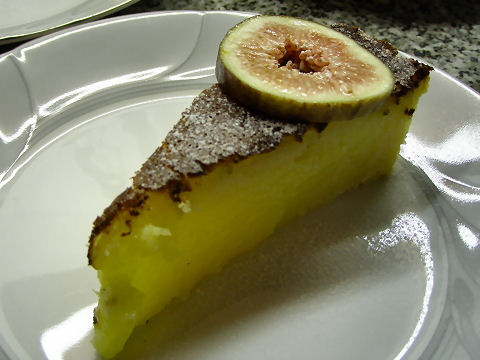 A minor twist on the Lemon Kiss Tart that I've made in various guises many times before – this time with half and half lemon and lime juices. Topped off with a slice of fresh fig and sprinkled with powdered sugar. Done.