"It's hard for people to understand why they should want to eat old-fashioned Tex-Mex. Let me put it this way: You eat at these old Tex-Mex places for the same reason that you listen to scratchy old recordings of the Delta blues. It's not about the quality; it's about getting in touch with the roots of American culture."

– Robb Walsh, Houston Press
Dallas – It's simply part of the experience. I'm in Dallas, and while there may be Mediterranean and Continental and Chinese and Sushi and pretty much any other ethnic style of dining available – after all Dallas arguably has the highest per capita number of restaurants of any city in the country – when it comes to food, I'm here for two things – texas barbecue and tex-mex. Now, if I'd have been smart about it, I'd have spent some time really researching it and figuring out how I could pack in the "real" spots – those that are legend on the Dallas dining scene. But I didn't, and other than the first day of being here, I haven't been on my own, and I've got a fair number of other people who, of course, have their own opinions, likes and dislikes, willingness to explore and travel, etc. We have limited time for lunch in the midst of the program, so other than day one, dinners are pretty much all there is. So be it. I'm still eating as much barbecue and tex-mex as I can talk them into…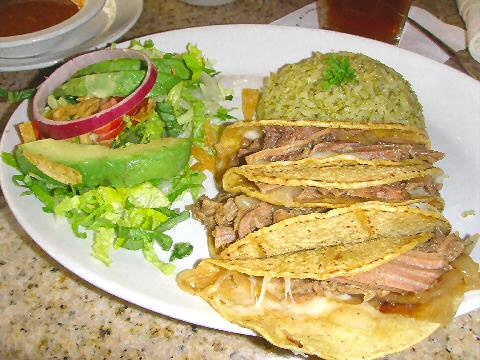 One of the classics of the Tex-Mex scene is the brisket taco. Tender, melt in your mouth strands of brisket that have been slow-cooked barbecue style (and I don't mean with sauce, just slow cooked over a smoker), melted cheese, caramelized onions. You could spend weeks if not months just going around trying different folks' versions of these – of course the same could probably be said of different barbecues and whatever else one might care to setup a study on. I didn't know as I headed into the West Village's
Mi Cocina
that it was just an outpost in a chain of more than a dozen scattered around the city. But I was intent on settling in for a leisurely lunch… not. For those who haven't been to the Big D, food service is, shall we say, rapid. I have no sense of what it might be like at a fine dining sort of spot, but at the average casual spot it seems that food is wanted when food is ordered. And all of it. By the time I had my coat off and was seated, not only the host, but two waiters had already asked me what I wanted to drink (lots of iced tea please… I miss that…), thirty seconds after getting my menu the waiter was back with the tea and ready for my order – I asked his recommendation – this isn't Buenos Aires, no one is afraid to offer up a suggestion – and he rapidly fired off two or three items that were the most popular, and proclaimed the brisket tacos as the best thing by a long shot. Within five minutes I had a platter of four of them, a bowl of tortilla soup (you mean appetizers and entrees are supposed to be separate courses?), and my ubiquitous basket of chips and salsa – all delivered simultaneously. Before I'd finished the soup he was back to see if there would be anything else and what was I thinking about dessert… I hadn't gotten that far. I gather lunch in Dallas is a rapid fire affair, and indeed I've seen more than one spot advertising "the fastest lunch in the neighborhood". The brisket tacos, indeed, quite good. The rest of it, pretty ordinary, maybe even insipid…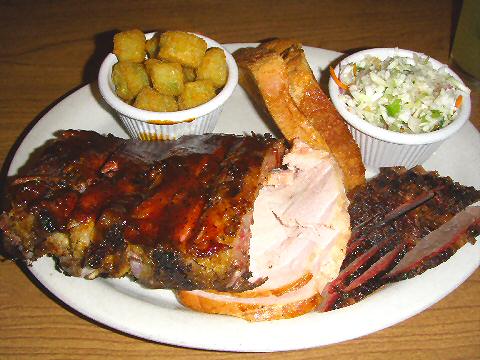 A friend of mine from days gone by – we knew each other in New York somewhere around 25 years ago when he briefly dated a good friend of mine – has now lived here for about 19 years. We haven't really kept in touch but I vaguely remembered he lived here and the internet is a wonderful thing when it comes to tracking people down. I'd gotten in touch with him, and he swung by the hotel and picked me up to go out to dinner on day one – I'd pimped for barbecue, and he has his favorite spot –
Peggy Sue's
– and we quickly found ourselves in a booth looking at the short list of choices – pretty much one or another meat slow smoked, or, it should go without saying, a combination platter – two meat or three meat… – we opted for the three meat – I went with brisket, turkey, and shortribs, which came with a couple of sides – fried okra and coleslaw were his recommendations, so why not? The ribs come pre-slathered with their own sauce, the other meats don't, and Peggy Sue's offers up two bbq sauces on the table – one mild, one spicy, officially – neither spicy as best I could tell… perhaps tangy and ketchupy would be better descriptions – though the tangy one was pretty darned good. This was more food than I was quite up for finishing, but I gamely did my best.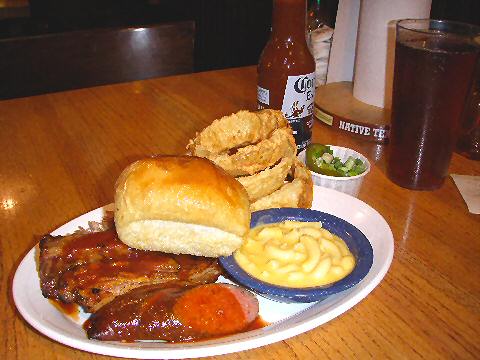 This is one of those moments where research may have come in handy, though given the logistics, perhaps not. I've heard, more than once, of the famed
Sonny Bryan's Smokehouse
, a nearly 100 year old spot offering up what some claim is the best "Q" in town. What I hadn't heard was that there are six of them – the original is apparently pretty much a shack in the middle of an industrial park somewhere (I gather the park sprang up more or less around the smokehouse) – I hit the touristy version located in the West End, where I found myself after my visit to the Old Red Museum on day two for my last meal on solo time. It's operated more or less cafeteria style, though you don't get to see the food upfront – just a chalkboard and cash register, you place your order, give your name, serve yourself your drink, go find a table, and wait… a minute or two at the most… for your name to be called, and then you trot up to the kitchen and pick up your tray from under the heat lamps. The cashier highly recommended the "Pig-Out" combination as the best… by the way, I should point out, that dining out in Dallas at these kind of places isn't expensive, in fact most of the time I'm probably spending less on lunch or dinner than I would in Buenos Aires – the Pig-Out, which consisted of sausage, ribs, and pulled pork, a large semi-sweet roll and the usual choice of sides – in this case I went with mac and cheese and onion rings – cost a whopping $8.99 (the tex-mex lunch above, $15, the bbq dinner about the same). Drink included. Self service so no tips. The meat was excellent, though the god awful sweet barbecue sauce, served up in old Coor's bottles, could easily be a simple mix of ketchup and molasses – 50:50.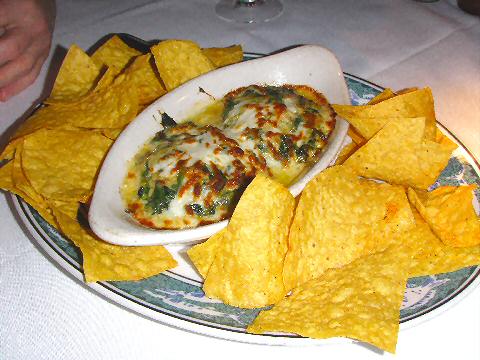 Easily our most expensive meal to date, a couple of us headed back to the West End on the first evening and decided on a bit of "local seafood", a misnomer obviously, though it seems to be a common term.
Landry's
looked like it would fit the bill admirably, and, it did. Our waiter, Quentiil (yes, that's the spelling), made sure that we understood we couldn't eat there and not try their famous Crab, Avocado, and Spinach Dip, and we weren't about to argue with him. He was also right – it may be some sort of throwback dish from 50s cocktail parties, but it's damned good. We decided to try two sampler platters – our downfall both in terms of quantity of food – easily enough for three or four people rather than two – and also the two most expensive items on the menu – a platter of a dozen oysters, four each of three different preparations – Rockefeller, something with cheese and bacon, and something sort of breadcrumby and spicy; and the crab platter which simply had more crab on it than is fitting – a crabcake the size of a large hamburger, some sort of crab gratin dish, two king crab legs, fried crab fingers, toast with crab dip on it, and a whole stuffed crab that had been deep fried as well. Still, with all that and wine we only spent $80. 
[Closed]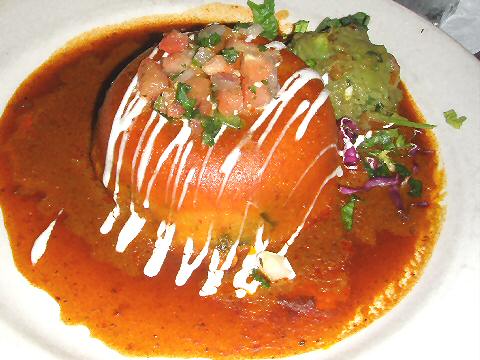 There are a couple of Tex-Mex restaurants that I found highly recommended in various spots. One of the folks we were headed out to dinner with on day three nixed all of them, insisting that she'd tried them, and none of them were worthwhile. While none of us knew whether to trust her tastes, she took command and organized our dinner out, and we soon found ourselves at
Blue Mesa
, a spot that does seem to get some decent writeups, but I'm always a trifle suspicious of restaurants in strip shopping malls. The place is huge. The portions are huge. The service is friendly and fun – with our waitress very clearly steering us to and from various dishes with a shake of her finger and a "uh uh, not that… you want this…" as she went around the table. My quick lookups on the spot beforehand suggested that the restaurant's signature Adobe Pie was one of the better ways to go, and she concurred, "especially if you like tamales". It turns out to be pretty much as bad as it looks in the photo – it's a chicken, corn, and bean filling around which someone has packed cornmeal dough, and then baked it all up and smothered it in "three chili" sauce (not at all spicy) and "chipotle cream" (the drizzled decoration). I couldn't even eat half of it. Various other dishes around the table fared better, though I can't say that anyone seemed completely thrilled. Still, for the $20 apiece we spent, drinks and tip included… and our waitress bought us a couple of desserts for the table as "an apology for how long it took me to serve you"… which apparently meant that food wasn't on the table in under ten minutes, because it was in not much over – when we protested, pointing out that in the various places we were from, ten minutes or more to have food on the table was normal, her response was "we don't do that here in Dallas."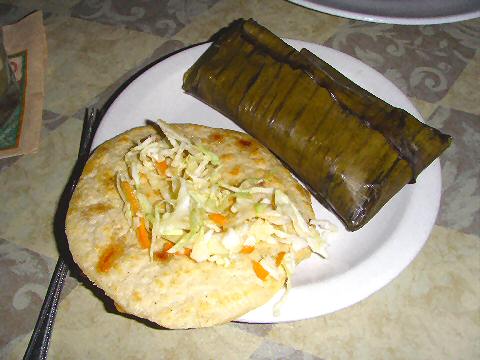 Finally, on to last eve, and a long time friend from Galveston who drove the five hours up here to have dinner with a trio of us. He strongly recommended a local favorite –
Gloria's
, noting that we weren't going to go to the "original" spot, which is a small corner place in another part of town, but their bigger sibling (wayyyyyyy bigger) in Oaklawn – for a dose of Tex-Mex – Salva-Tex – Gloria apparently being from El Salvador. We started with a round of tamales and pupusas – the former sort of strange, almost pudding-like versions of tamales inside their steaming leaves, quite odd in texture, though tasty; the latter an interesting dish of meat sandwiched between what I believe are white corn dough rounds – sort of the Salvadorean version of empanadas… topped with lightly spicy coleslaw – really good. For our main courses, a variety of different dishes, I have to admit I was tired and not feeling totally up to par and just sort of toyed with my chile relleno, filled with grilled steak and cheese, accompanied by its cheese enchilada, rice, beans, guacamole, and salsa. None of it spicy, which was probably a good thing last night, though normally I would have liked some more zip to it. And, with a couple of rounds of margaritas and sangria, we topped off at $25 apiece… tip included.