I am the emperor, and I want dumplings."

– Emperor Ferdinand I, 16th Century Austrian monarch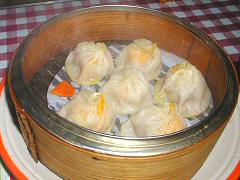 New York – Okay, everyone talks about Joe's Shanghai when it comes to soup dumplings in New York. No question they're good, but I find them just a bit too… soupy. For me, I like the restraint shown in the less liquidy, delicate, and concentrated flavors of the crab soup dumplings that come out of the kitchen at Shanghai Cuisine, 89 Bayard Street at the corner of Mulberry. In fact, it's probably my favorite Chinese restaurant in all of Chinatown. In particular I like that there are numerous unusual dishes – things like duck tongue, chicken feet, some fascinating vegetable plates (try the lightly sauteed black mushrooms and baby bok choy – you'll be ready to go vegetarian). It doesn't mean that I'm going to order all the offbeat stuff on a regular basis, but I like that they're there, just in case I'm feeling that adventurous. But truly, you can't not order a steaming basket of half a dozen lightly gooey balls filled with fresh crabmeat, a little pork, and just enough broth to burst in your mouth.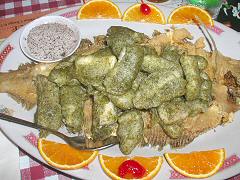 After that, you could move on to many different main courses – they have a double cooked pork that's truly amazing, but my all time favorite is this whole flounder that's been split into bite sized pieces and battered in a crispy, near tempura style batter flavored with a briny dry seaweed, and served up with a soy vinegar mixture and a dish of salt and ground pepper on the side. On top of that, the remaining fish bones and meat on them are deep fried in a plain batter and are just as delicious to pick at as you go. Of course, we all know that anything is delicious deep fried – but hey, this is simply a spectacular dish. Skip the maraschino cherries… please… though the orange slices are a nice end of meal touch. Shanghai Cuisine offers up a full bar, a nice selection of beers, and a very pleasant, if slightly fast paced environment.