"I like to see a man proud of the place in which he lives. I like to see a man live so that his place will be proud of him."

– Abraham Lincoln, 16th President of the United States
Buenos Aires – It wasn't long after arriving in Buenos Aires that I began to see Lo de José, Lo de Miguel, Lo de Daniel…it wasn't hard to figure out that the article lo was being used kind of like the French use chez, as in Chez Jacqueline, or, as we do in the states, place, as in Frank's Place. It's a peculiar construction in Spanish that while I don't know its geographical reach, according to my fancy Larousse dictionary, is particular to the rioplatense dialect, i.e., here, Uruguay, and maybe a bit into Paraguay. Every now and again the de gets left out, which is probably grammatically incorrect, but still conveys the same meaning (though it's kind of like leaving off the possessive 's in English).
I was out in the restaurant supply distict buying some more glassware for Casa S (hmmm… Lo de SaltShaker… nah), and then afterwards took a walk in towards Monserrat along Avenida San Juan. The avenue is home to a large number of used bookstores in this section of town, and I stumbled across one in particular (right off the corner of Pasco) that specializes in what we might call dime store or pulp novels; bins full of them. I've been looking for easy reading material to help improve my Spanish, and thought, hey, grab a couple, I remember reading these sorts of books as a teen – easy reading, fast paced stories – westerns, mysteries, romances. I did forget one little thing. In all those novels in English, people talk funny. No, really, think about it. It's all street or cowboy slang, an odd sort of idiom that nobody really talks in except in pulp novels and bad television movies. So, to my local friends, if I start chatting away in Spanish and sounding like Sam Spade, you know why…
I headed down Luis Saenz Peña, my eventual goal to connect into the electronics strip along Paraná – plug adaptors, tranformers, convertor boxes, all sorts of things one occasionally needs – and a few blocks along the walk, after glancing at one neighborhood parrilla after another that just didn't offer what I wanted to eat, lo and behold (that's how we use the word…) I stumbled across a bright looking corner spot that touted International Cuisine. It looked interesting, the menu posted outside looked like they offered a fair number of very creative dishes, with a specialization in fish, the place was busy with people, so I pushed my way in through the swinging doors and found myself in Lo Rafael, Mexico 1501, Monserrat, 4383-7943.
It was a steaming hot day, and at the same time as he delivered my menu, the waiter asked if I'd like some cold water. He brought it immediately, along with a small bucket of ice – a nice touch even if I'm not a big ice water fan, but since usually you have to ask more than once to get a few ice cubes delivered to your table, they were up on points here already. The friendly and somewhat chatty waiter confirmed that fish is the specialty of the house, along with pasta, and that while there are some interesting looking carne dishes on the menu (solomillo steak with a chestnut and plum sauce accompanied by sweet potato fries…), they simply aren't what the kitchen does best. There's a lot to choose from, but I settled in with my water and a half bottle of San Felipe Blanco from the good half bottle selection on the wine list (this one a blend of Chardonnay, Semillon, and Chenin blanc, dry, aromatic, quite good), and nibbled on some breadsticks with a bit of the blue cheese dip that he brought to the table (good, but lacking in salt).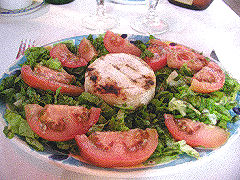 Grilled cheese has become such a staple of life here in the form of provoleta that I don't even bother to order it anymore. Something I'm sure my arteries appreciate. But every now and again a bit of cheese isn't a bad thing, especially when I see something different from the usual grilled disc of provolone. Smack dab in the middle of the appetizers was a Camembert Argentino Grillado – now, Argentine Camembert doesn't hold a candle to a true, ripe, French Camembert. At least none of the ones I've tried. But it's not bad. And they were going to grill it for me. It said so right there on the menu. And put it atop a salad, so it's gotta be good for me. It was actually quite good, and the salad was pre-dressed with a light vinaigrette that for a change didn't need salt.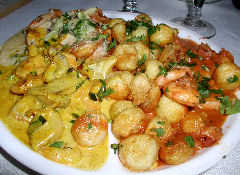 Okay, it's a mess on a plate (like much of my own plating at times). And the waiter went a little wide eyed when I ordered it, sizing me up and declaring that it was, perhaps, a bit much food for me. Especially after an entire Camembert. But it was a way of trying three different house specialties at the same time. The Delicias de Pescador, or sort of Fisherman's Delights as we might phrase it, comes with a portion of three of Lo Rafael's supposedly best fish dishes. The largest portion, half the plate, is given over to the Lenguado Lo Rafael – a filet of sole topped with cream, smoked bacon, and shrimp and accompanied by little round noisette potatoes – absolutely spectacular, and deserving of the half plate or more. The other half of the plate was split evenly (and, by the way, the plate itself is one of those three compartment tv dinner sort of plates) between a quite good, though suffering by comparison to the main fish, Lomo de Brótola, or cod filet, coated with a quite nice saffron cream and mushrooms, and the not so interesting or flavorful Salmón Sutíl, a salmon steak topped with blue cheese, parmesan, tarragon, and broccoli.
With no room for dessert, the trio of fish, as suggested, being more than adequate for one person to eat (even without finishing the salmon), I ordered a standard café solo, and received what is quite possibly the largest espresso I've ever seen in Argentina, and no it wasn't the doble, which appears to arrive in a mug worthy of my morning pot of java. I'd go back to Lo Rafael without reservation, the food is tasty, portions are big, prices aren't bad, and the service is delightful. There's also lots of interesting artwork on the wall to check out when you glance up from reading that mystery novel…