This dragonfly came up to me. He was hovering right in front of my face, and I was really examining him, thinking, How does he see me? I became enlightened."

– Ziggy Marley, Musician
Buenos Aires – I love watching dragonflies. There's just something about them, the way the flit around. They've always been a fascinating insect for me. I even, at one point years ago, put together a list of what they were called in various languages. You have to remember I was (am?) a bit of a nerd. In Albanian, for example, they're called pilivesë, in Russian, strekoza, in Swedish, slända, in Turkish, yusufçuk, Chinese chingting…
In Latin and Italian they're called libellula, in French, libellule, German, libelle, and, in Spanish, they're called libélula. Which leads us, in an oh so roundabout way, to an e-mail I received a couple of months ago. I don't know if the woman is a regular reader of my blog, or just happened across it, or something else… but she sent me a note after one of my Peruvian restaurant reviews telling me that she was the manager of a new Peruvian-Japanese restaurant that had just opened, Libélula, Lafinur 3268, Palermo Chico, 4803-6047 [Moved to Salguero 2983, Palermo Chico, 4802-7220 and then promptly closed a few months later], and she thought I'd enjoy it quite a bit. Let her know when I was coming, etc…. I put it on my list of places to check out, and one night about a month ago, we made reservations to go after a friend's birthday party, I sent an e-mail off letting her know we were coming (though didn't hear back). We got to chatting with people at the party, and ran a little late, but hey, it's Buenos Aires… right? We got there 25 minutes after our reservation time, and a young lady with a scowl at the door simply refused to allow us to enter (a bit rudely), informing us that after 15 minutes, she doesn't hold reservations, and ours was gone like the proverbial flitting dragonfly. (She didn't say the last part.) How, umm, New York of them…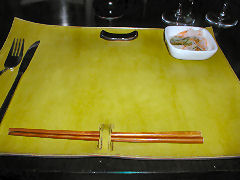 But, I accept that we were late, even though the response was not typical of restaurants here, we headed elsewhere and ate, and I backburnered Libélula for the time being. This week, a friend is in visiting from Texas, and Henry wants to show him some Peruvian food, so we thought we'd give it another shot. I made another reservation, sent off another e-mail (also never heard back), and made sure we arrived on-time. A different young lady greeted us at the door and led us down the long entrance hallway, past the kitchen (which is open visually, behind a large glass window where you can watch them cook for a moment in passing), and turned us over to the original woman (still wearing that scowl, and it appeared permanent throughout the evening), and she took us to our table. The room is quite beautiful, the colors are all done up in golds and bronzes, accented with black and dark brown, with touches of color scattered here and there. The three servers were clad in what I imagine someone imagined were very trendy Japanese inspired outfits. There are a couple of sushi chefs behind a bar and three cooks in the kitchen (all Japanese). There are 26 seats in the dining room, and another dozen in a garden outside. That ratio of staff to diners is worth remembering…
Our waiter was a charming young man, who greeted us immediately, offered menus, took drink orders, and returned with bottled water, and a little cucumber, carrot, and daikon salad, nearly immediately. The menus are divided into a section of a dozen and a half appetizers that are all available as either appetizer or entree portion, and another dozen entree only selections. On the Peruvian side of the equation there's not really a lot there – a couple of ceviches, a tiradito (which is similar to a ceviche, normally with olive oil added), and a shrimp and corn salad from the appetizers, and, well, really nothing on the entree side. Maybe some inspirations from some ingredients here and there. The menu is pretty straightforwardly Japanese in its selections.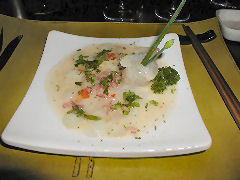 We ordered some wine and our dinner, and relaxed to enjoy the evening. The wine arrived nearly immediately, a nice bottle of Crios Malbec Rosado, we toasted, and waited. And waited. Now, keep in mind that we had a relatively early reservation. There was a party of six that was already eating when we arrived at 9:15, and there was a party of four that had just ordered. There were also 3 out of a party of 8 sitting at another table, who were just drinking (the rest of their party wandered in over the evening, the last one arriving shortly before we left, around 11:45, must have driven scowling girl nuts). But there you have it – only 10 other people having food at the time we ordered. It still took half an hour to get a bowl of quite good miso soup, a bowl of the arequipa salad with greens, cheese, shrimp, and corn, and a tiradito, which was really more of a plain ceviche, no oil or other difference in evidence, but still delicious. About the time we finished the last bite, our waiter was there at table side to clear the plates.
And we waited. And waited. And waited some more. By this time, maybe another two tables had come in. Remember, three cooks in the kitchen, two sushi chefs, and with the party of six now done eating, maybe a dozen of us in the dining room actually having food. It took forty-five minutes for our entrees to arrive after the appetizer plates were cleared. A brief apology from our waiter, just stating that the kitchen "is really slow tonight." They did seem to be pretty disorganized watching them. But here, finally, were our main courses. But, umm, main courses? These were smaller than our appetizers, just on bigger plates. A ceviche de lenguado that was no more than four or five bites of fish stuck in a big scallop shell, and deconstructed to look fancy with a couple of pieces of batata off to the side, a small bowl of cancha (toasted corn), and a shot of leche de tigre, which is more or less the juice used to make ceviche; an ají de gallina, normally stewed shreds of chicken and potato in an ají amarillo sauce, here a couple of bites of chicken breast each touched with a dab of some brown sauce; and a lomo grillado, here in the land of steak, a cylinder of rare cooked beef that might have fit in a bathroom sized dixie-cup (2½, maybe 3 ounces tops), served with a quarter of a potato diced up and some salad.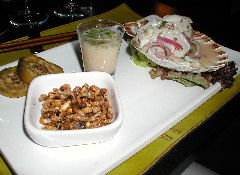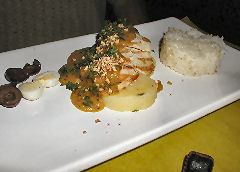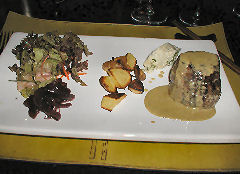 Now, the food was excellent. It really was delicious. I will give them that. The delays were long – not that I haven't experienced delays like that in local restaurants, but usually in busy places with lots of people to feed, not in places with three cooks working on turning out food for a dozen people (I can serve a dozen at Casa S by myself in the same time frame, and that's a five course meal). And bluntly, and especially given that the prices at Libélula are very expensive, the portions are ridiculously, unacceptably small. For three appetizers and three entrees, a bottle of relatively inexpensive wine, the cost was 200 pesos. And we had to stop off at a local cafe on our way home and have sandwiches, because we were still hungry. I can't remember the last time I had to do that after a meal at a restaurant.
So we went out last night to Contigo Perú and had ceviche, anticuchos, ocopa, arroz con pollo, seco de carne, and lomo saltado, along with a liter of beer, and spent a whole 60 pesos with tip, couldn't finish it all, and you know what? It wasn't fancy, it wasn't in a glowingly lit golden room, there was no dragonfly logo… it's freshly painted in gleaming white, our regular waiter Carlos greeted us cheerfully and with a one-handed quick squeeze around the shoulders, we ordered and ate in about an hour and a half, and it was simply delicious.