It was the greatest night of my life. I'd been invited to the Captain's Table. I'd only been with the company fourteen years. Six officers and me! They called me "Arnold." We had gazpacho soup for starters. I didn't know gazpacho soup was meant to be served cold. I called over the chef and I told him to take it away and bring it back hot. He did. The looks on their faces still haunt me today! I thought they were laughing at the chef, when all the time, they were laughing at me as I ate my piping hot gazpacho soup. I never ate at the Captain's Table again. That was the end of my career."

– Arnold Judas Rimmer, fictional character, Red Dwarf
Buenos Aires – It started out as a whim for a bowl of good gazpacho. A visit to and search of our favorite local foodie site, El Cuerpo de Cristo suggested that a delicious bowl of the stuff was to be had at restaurant Christophe, Fitz Roy 1994, Palermo, 4771-1155. A phone call on the part of my lunch companion confirmed that gazpacho was on the menu. We met up in this small, white-tableclothed Mediterranean bistro, where we were greeted by our cheerful waitress, and a chalkboard menu the size of a riot shield that was placed on our table. Gazpacho was not chalked onto the list of appetizers. Our waitress, still cheerful, explained that yes, she had confirmed when answering the phone that they have gazpacho on the menu. Just not today. Sometimes. And it's quite good.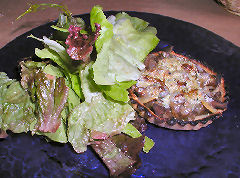 The menu leans towards the French part of the Mediterranean, and definitely in the bistro-ish style. The food comes out, relatively slowly given the few number of folk dining, from the nicely laid out open kitchen off to the side. We ordered a couple of glasses of the Lurton Pinot Gris, a nice crisp white that looked like it would work well with the cuisine. I spotted a dish of caracoles, snails – somehow neither in the name of the dish, nor in our waitress's description did it come across that this would be a quiche sort of thing with a salad on the side. However, it was good – really well seasoned, though the pastry was a trifle charred.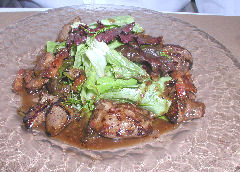 The chicken liver salad, stated on the menu as simply a liver salad, was more successful. Marinated and then lightly sauteed in butter, there were a good number of them scattered about the border of the greens. I liked them as is, Michael thought they could have been a bit crispier. Either way, both appetizers, while not perfect by any stretch, and certainly not gazpacho, pointed the way to a pretty darned good lunch in the offing.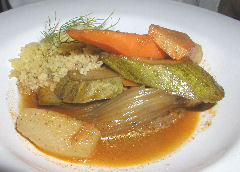 He decided on the "vegetable plate of the week" – which our still smiling server told us was a selection of fresh vegetables, steamed, with a light broth, and some cous-cous. Once upon a time, these vegetables were living things. There was no longer any evidence of that assumed fact. It was a nice selection, but honestly steamed until grey and lifeless – and that's hard to do to a carrot. The cous-cous, on the other hand, was not steamed, as it should have been, but clearly boiled without much stirring – leaving it a mass of clumps. The broth was good…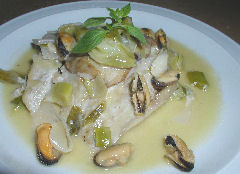 My fish dish was easily the most successful plate we had. Palometo, or pomfret, is a fish I don't see much of. It's a nice, meaty sort of fish, though more delicate in flavor than something like tuna or swordfish. This one was topped with small mussels and a broth of leeks – really delicious. One thing I would definitely say about all the dishes we tried is that seasoning was dead-on – from herbs to spices to a nice balance of salt.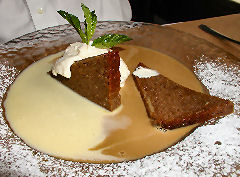 I know chestnuts are expensive here, but if you're going to offer a chestnut cake, put something more on the plate than two thin slivers. Again, this was delicious, and accompanied by a coffee sauce and a caramel sauce, but it was, to my mind, just too skimpy. There was definitely more sauce than there was cake. Still, Michael seemed to enjoy it thoroughly and didn't complain about the size, though I think he was trying to recover from his steamed vegetables.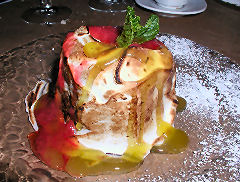 This abstract construction, on the other hand, was perhaps just a trifle too big – not that it stopped me. Passionfruit ice cream, and yes, ice cream, not gelato (which our server made a point of), covered with an uncooked meringue – which means it was just sort of coated in a somewhat slippery mess of whipped egg whites and sugar – and then doused in some sort of red berry and passionfruit sauces. The flavors were vibrant and went well together – the texture was off – the ice cream cristalized and almost mealy, the meringue-to-be borderline slimy. This is an idea that is good but needs a bit of polish. And a name change – "omelette surprise" doesn't quite do it…
Overall, a decent Mediterranean bistro – not a wow, but a nice change of pace.