"It is more fun to talk with someone who doesn't use long, difficult words but rather short, easy words like "What about lunch?"

– Winnie the Pooh
Buenos Aires – Some places are clearly setup for the business lunch crowd. Location, location, location to start. Simple, but interesting food, quick service, and a decent selection of wines by the glass to wash it all down. If we were in the culture of the three-martini lunch, they'd offer those too. Thankfully, we're not, so the lunch place we found ourselves at the other day offers up those wines by the glass, plus a nice selection by the bottle – available in the little shop at the front to take with you, and for an extra five pesos served at your table. Styling themselves as a boutique de vinos, and opening from early morning until just after work hours, Tribeca Restaurant, Tucumán 271, in the heart of Microcentro, is a delightful little stop for a mid-day meal that I never would have stumbled on had my dining companion not suggested it. The business lunch crowd, however, has stumbled on to it, and there were more suits and ties per square meter than the last time I set foot in the IBM building in Manhattan.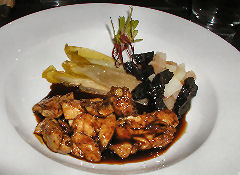 The place is comfortable and casual, despite the suits. The menu is short and to the point, with interesting sounding, creative offerings, and a few specials recited by our eager waitress (who first tried to recite them before our rear ends had touched down on the chairs). Once it was clear we weren't in the usual lunch break hurry, she relaxed and so did we. We started off sharing a delicious plate of mollejitas, small, tender nuggets of sweetbreads, not crispy the way they're generally made – my guess is they were poached, and then lacquered in a sweet and tangy caramel that I'd guess was made with fig syrup. The bite sized bits were accompanied by braised endive, and a little salad of poached black figs and pears. Overall a fairly sweet dish, but quite good.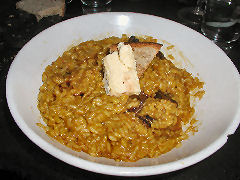 Next up a couple of main courses. I opted for the squash and brie risotto, which sounded delicious. I'm a sucker for a good risotto, and the menu sounded creative enough that it was likely this was going to be a good one. Bzzzz… Not so much. Literally – not so much – it was a huge portion, even for a main course, easily a quantity that would have fed two people, and, figuratively – not so much as in not so good. It was a nice attempt, the idea and flavors were almost there – squash, brie, sauteed mushrooms, but the execution was lacking – the risotto wasn't creamy and "light" (a relative term when one's looking at a bowl of rice) – it was leaden and all stuck together. My guess, especially given how quickly it came out, they pre-cook the risotto until it's almost done, and then finish it off to order. It's a standard restaurant trick for serving risotto that a high quality place would never do, because the results simply don't work.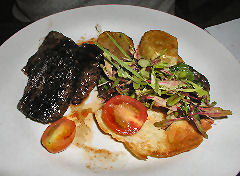 For his main course, my friend and editor Matt opted for a plate of the day's special, an entraña (hanger, or skirt steak). I don't offhand remember the description, but it was a quite good piece of meat, a little on the small size for Buenos Aires, where an entraña is a very inexpensive cut, but was actually fine for lunch, and accompanied by a nice mix or roasted tomatoes and some other vegetables on which I'm drawing a blank. Well seasoned, and it came out cooked rare, without even asking, which for us was delightful, my guess is for the average diner in town, they would have wanted it cooked more – I'm sure they could have asked.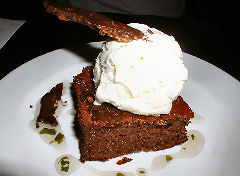 Desserts were mixed. No, that's not fair – they were both quite good. But, one was creative and one was not. This is the "not". It's a delicious chocolate torte topped with ice cream. I don't remember what flavor the ice cream was supposed to be, something mildly different from the usual suspects, but actually pretty subtle whatever it was, and an ice cream, or helado, of fairly commercial grade. It seemed like a bit of an afterthought, like they'd made this delicious brownie and then just thought they ought to put something on top of it. A shame, because a good quality, interesting ice cream flavor could have made this a knockout dish.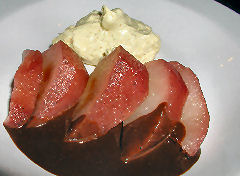 As Matt put it, this is a chef's dessert. The kind of thing most folks wouldn't order, just based on the description. Malbec-poached pears in a hot chocolate sauce spiked with curry. Right there you just know you don't want to try it. Right there is where every chef I know, including myself, orders it to see if they made it work. They did. The curry was a sweet curry, and was just lightly hovering in the backgroung of a rich, bitter chocolate sauce. The pears were poached perfectly, and nicely sliced into manageable pieces rather than presenting the thing whole as many folks do (including myself on occasion).
All in all, a nice place for a change of pace lunch. An initial feel of pressure to order and move along, but easy enough to make it clear that you're not in a hurry to get back to the office. I'm guessing they chose the name of the place because it gave some sort of trendy sense – but, of course, one needs to know that Tribeca is a trendy New York City neighborhood (these days, though that's a relatively recent phenomenon), and, of course, it's good cocktail party trivia to know that Tribeca is a Manhattan real estate agent's term for "Triangle Below Canal".