Newark – Folks who live in New York City tend to know, in the back of their minds, that if they want to have outstanding Portuguese and/or Spanish food, but especially the former, that they have to head out of state. Newark, New Jersey, in specific. The "Ironbound" section of the city, as it is known, is home to numerous Portuguese restaurants, many of which that have been there seemingly since Prince Henry the Navigator first sent ships out to explore new lands. These are restaurants that are at odds with Manhattan sensibilities of dining, places where ice water is served and bottled water is non-existent, where asking for any drink more complicated than a scotch on the rocks or a vodka straight-up elicits puzzled looks, where suits and ties mix comfortably with shorts and t-shirts, or maybe an open silk shirt with a few silver or gold chains hanging about the neck. Tony Soprano would feel right at home. In fact, about all most folk know about Newark comes from The Sopranos. Some of it's pretty darned accurate.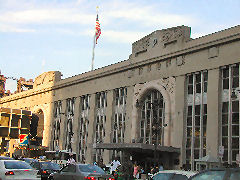 Despite all that back of mind knowledge, it's the rare Manhattanite who actually ventures via car or PATH train out to Penn Station Newark, and fewer still who do anything more than pass through it enroute elsewhere. For those intrepid souls or soles, who want to sample some uncomplicated, absolutely delicious fare, especially in the seafood world, there really are no other options. This is not fancified fare with elaborate sauces. It's classic, homestyle cooking – hearty and filling – packed with garlic, herbs, garlic, and probably some garlic. I headed out the other night to meet up with some friends who live out that way, and we found ourselves at Taste of Portugal, 148 Delancey Street.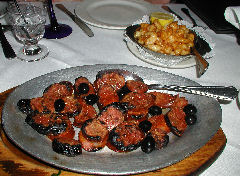 After navigating our way through obtaining cocktails – my friends smartly ordering straight vodkas, one up, one rocks, and my three attempts at obtaining a gin martini, finally giving up and going with the murky brown, vaguely herbal concoction that our waiter kept bringing me (he claimed it was the first time anyone had ever asked for a martini, and none of them were quite sure what it was – welcome to Newark, New Jersey) – we found ourselves tucking into round one of the appetizers. A large platter of sliced, charred chorizos, spicy and hot right off the grill were just as I remember them from past visits. Though we gamely made our way through them, they had competition from a bowl of garlicky shrimp, flecked with herbs – sort of like scampi on steroids.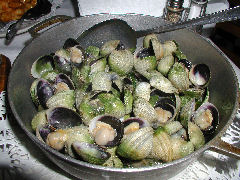 Neither of those dishes stood a chance though, good as they were, when the special appetizers of the evening arrived. A huge steaming pot of fresh cockles (small clams) stewed in a rich broth of garlic and cilantro hit the table and we scooped out dozens of them apiece, followed by much dunking of bread into the remaining liquid. While we did our best, I'm fairly certain we didn't make it through more than about 2/3 of the appetizers before giving up, knowing we needed to save room for our main courses. We ordered a delightful bottle of Callabriga Douro 2003, a medium weight, rustic and spicy red from the same region of Portugal as where Port is produced. Great match with both seafood and red meat.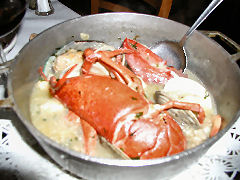 I so rarely get to one of these places that I always order the same thing. Mariscada in "green sauce". Sometimes referred to as the bouillabaise of Portugal, that's a misleading characterization. Mariscada is a fisherman's stew – packed with the catch of the day – at least within the shellfish world. It's generally offered with either green or red sauce, the former a garlicky, herbal stew, the latter a slightly spicy, tomato and pepper based stew. Hands down, the better of the two is invariably the green. Half a lobster, piles of shrimp, clams, scallops, mussels, and squid, fill a large cooking pot. A plate of rice accompanies, ready to soak up all the flavors. Good mariscada is heaven on earth. Taste of Portugal's version at least makes it up into the clouds.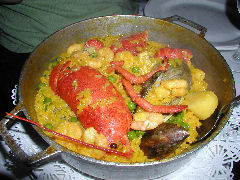 I'm not sure that there's any real difference between Portuguese and Spanish paella. In fact, given that the paella choices at Taste of Portugal are "marinera" and "valenciana", the latter being specifically Spanish, I'm guessing they've just adopted it. The selection of shellfish is the same as that in the mariscada, but it's sauteed, and then mixed into saffron rice, along with fresh peas. I'd never object to downing a good paella, and we made good progress through this one, despite it being enough to feed 2-3 people.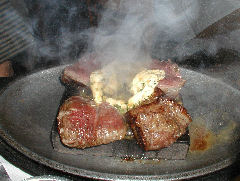 The Portuguese are famous for their tiles. I don't know that tiles are traditionally used for cooking in Portugal. I do know that they're traditional in Newark. "Steak on a tile" is commonly available at any of the Portuguese or Spanish restaurants here, and has been since time immemorial. Sometimes it's a thin roofing tile, other times, like here, it's a thick (1″) stone tile, heated until it's blazing hot. At the table, the waiter tops the tile with a thick cut steak, slicing it into manageable pieces, and then leaving it to cook atop the tile. It's generally left to you to flip it over here and there and finish it to your preferred doneness. It's invariably served with a huge slab of herb butter which is tossed in with the sliced steak to flavor it and brown it.
Desserts, despite our being stuffed to the gills, are mandatory. It'd be rude not to have them. Classic flan, a tartufo, and mango sorbet (whipped and placed into a scooped out mango half) were our choices. The options are pretty classic Spanish and Italian, more than Portuguese, but in Newark, it all sort of jumbles together. That's half the fun and well worth the trip.