New York – Jean-Georges Vongerichten is a household name in the foodie community. As he's opened restaurant after restaurant after restaurant, the oohs and ahhs reverberate throughout the hallowed grapevine. Over the years, I've eaten a goodly number of his venues, and while I'm generally always happy, I'm rarely excited. It's much like any chef who has extended himself in a variety of directions, styles, and venues – the more places that they have out there, the less interesting each one seems to be. As Mark Bittman said in a recent article in the New York Times:
No one can be in two places at once, and yet there is no acknowledgment of this. Worse, these satellite restaurants are not only imitations but also just as expensive as the originals. The rationale offered by multirestaurant chefs is that it's possible to train a staff to recreate their craft. For the most part, though, that's not the case: when a great chef puts his hands on the food, it's better than when one of his students does it. That's why we think they're geniuses, or at least artists. Yet now, we're being asked to accept imitations as being equal to the original.
I have to agree. I remember JoJo when it first opened. I ate there a couple of times. The food was simple, but thrilling. Now, it's ordinary. I loved Mercer Kitchen when it first opened, from the food to the communal tables. Now, I couldn't be bothered. When the eponymous Jean-Georges opened, I was once again thrilled, even if my wallet wasn't. Back in the day, Vong was good, but there was better Asian inspired cuisine out there. Same with 66. And, yesterday, for the first time, I tried Spice Market, 403 West 13th Street, West Village. The same – good, moderately interesting food, but truly not exciting. The place is called Spice Market, where's the spice? [Edit: After you read this, read the comments and the next day's post as well, as I ended up back at Spice Market a day later, unexpectedly.]
The room is pretty, as all of J-G's restaurant designs are. I don't know who does his designs, but they're always attractive. I could probably do without the waiters in zip-up day-glo orange nylon sweats. Very few people, if anyone, look good in orange. Service is friendly, though a trifle scattered, and the kitchen timing isn't great – we were halfway through appetizers when our waiter arrived to announce that our main course was ready, so he was going to remove our appetizers. Umm, no, we're going to actually finish eating them, and you can hold the main course in the kitchen. He brought it anyway. We sent it back. Then, when we were actually ready (and mind you, it's not like we were dawdling over them), the main plate was ready – but not the accompanying vegetable plate (presumeably it got used for another table). That was brought about fifteen minutes later after we'd finished the main dish. Thankfully, we were sharing everything so it wasn't really an issue, but for many tables it could have been.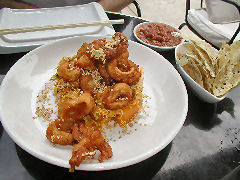 The food is presented in a quite pretty manner, and looks amazingly appetizing. It's unfortunate that the flavor doesn't live up to the visuals. The crispy calamari with cashews, papaya, ginger and sesame were lacking in crisp, with a greasy batter surrounding them. Hal Rubenstein in his New York Magazine review said: "Simple twists reawaken the most mundane choices. Crackling crisp squid is surrounded by the unexpected zip of ginger, cashews, and papaya." about this dish. I'm not sure why it was unexpected, the menu spells it out. It was a cloyingly sweet, mildly ginger flavored sauce, and the whole thing was atop a bed of wilted frisée. Tasty, but not exciting.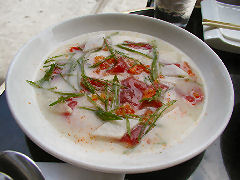 On the flip side, I'd totally agree with his assessment of: "But exoticism doesn't always add intrigue. Sometimes, it's just weird. I'm still cringing at what the cloying sweetness of tapioca pearls does to fresh shaved tuna." First, not really shaved tuna, which I'd expect in sort of paper thin slivers. This was simply slices of tuna, in a coconut milk broth, with bits of red pepper and what I think was jicama. Lots of small, transluscent, tapioca pearls. They added nothing other than sweetness to the already sweet coconut milk – I guess one could claim they add a certain interesting texture, but the crunch of the jicama was far more pleasing in contrast to the tuna. Again, tasty, but…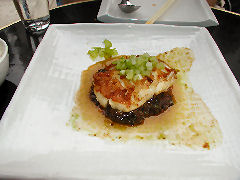 The steamed black cod was perfectly cooked. No question it was a great piece of fish. Flaky, delicate, and flavorful. It was served atop a large dollop of some sort of black bean, green onion, and maybe some mild chilies mashed up sauce. It seemed as if someone had read about making a classic Asian spicy black bean sauce and tried to duplicate it without a recipe and without ever having tried one. Good idea, mediocre execution. A side dish of sugar snap peas with shiitake and black mushrooms was simply sauteed and doused in a flavorless, cornstarchy sauce that most neighborhood Chinese takeout places would have been embarrased to serve.
In the end, the most interesting dish at Spice Market was the basket of complimentary, delicious, crispy sesame papadams and their mildly fiery salsa. A shame it was such a small basket of them, I could have just sat their eating them and having a cocktail. Would have saved a whole lot of money too – $53 for two appetizers, 1 main course, and one side of vegetables. Truthfully, other than if you simply must try yet another J-G restaurant, I don't really recommend this one. Maybe Jean-Georges needs a tracking device on him so we can find our way to a restaurant where he's actually cooking. One has to assume, or at least I do, that none of this is to his standards, but that his staff simply are either insufficiently trained, or are cutting corners when he's not around, and that's a key problem with multiple venues, especially in a setup that isn't a cookie-cutter formula.