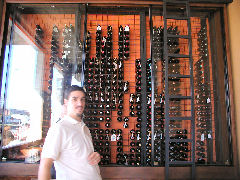 Buenos Aires – There's a new player in the local world of pizza a la parrilla. I recently reviewed a couple of places that have been around for awhile, Morelia and Mamina, both of which I liked a lot. The new kid on the block, Minna (is there something with M's and pizza a la parrilla?), is cross-corner from the Madero by Sofitel hotel, on Rosario Vera Peñaloza, in Puerto Madero Este. [This place has closed.] I didn't know what to expect as I headed there to join my friend Victor and one of the owners of Viña Alicia winery for lunch. On arrival, I found a large, L-shaped room, with lots of "African earthtones" as the owner, Fernando, put it – basically a range of oranges, golds, and browns, all on a sort of cream colored background. One of the most pleasant surprises was discovering this temperature controlled wine display at the end of the short part of the "L" – a shame for location, as most of the diners can't see it, but impressive for the simple fact that it's temperature controlled! That's a rarity here in Buenos Aires. On the other hand, the two outside walls of glass looking over the Puerto, make for a far more interesting view.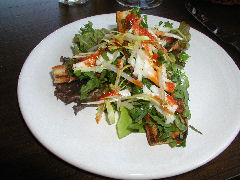 We'd had no idea in advance, or at least I hadn't, what the style of food was. Turning to the menu, it was quickly clear that pizza and wine was the theme. There are salads, and some pastas, and a few main course dishes, but at Minna it's all about the pizza. Right down to the daily after work happy hour with a different featured pizza of the day and matched wine for a promotional price. We started with a couple of appetizers that were good. A bowl of cream of leek soup was asserted by Victor as having good depth of flavor and great texture. The others two of us each ordered the foccacia tibia, described as a traditional warm foccacia with goat cheese and greens. It's not. I can't say I didn't like it, it was certainly tasty. But it wasn't at all what I'd expect from the description – which would have been something along the lines of what the Romans call a pizza bianca (different from what we call a white pizza, which is a pizza either without sauce, or with a cream type sauce instead of red sauce) – a rectangle of pizza dough, lightly browned in the oven, then split and stuffed with the filling – a favorite snack or light lunch in Rome. This isn't even a fancified version of it – it was two very narrow strips of toasted bread, perhaps foccacia, though completely crisp, so hard to tell, garnishing a salad of greens and slivers of cheese and I think pears. None of it was warm, it was essentially just a cold salad with two long thin croutons.

But, as I said, it's all about the pizza, and Minna does shine in that department. The dough is lightly seasoned and perfectly cooked. It's a definite next step up from the other two places I reviewed. There are roughly two dozen combinations offered, each with a fanciful name, but we're not talking about strictly traditional toppings. This is more Wolfgang Puck Los Angeles than it is old school – smoked salmon, various cheeses, meats, vegetables, fruits. From left to right above, the three we sampled – a roasted onion, black olive, and herb version; prosciutto and arugula; and caramelized pancetta with a cheese I don't remember. All quite good, and we consumed them in a matter of a few moments. And, that's the one criticism I'd have of the pizzas – it's not that they're so good you'll wolf them down, which they are and you will – it's that they're so small that you can. Truly, the "chica" size is an appetizer at best – if I was to compare it to the other two places I reviewed, it's maybe half the size of their individual pizzas or slightly less. And the "grande" isn't much better – probably the same as the individuals at the other places – I watched two guys at a neighboring table go through three grandes accompanied by a couple of glasses of wine, and still look hungry. And the prices aren't cheap – the individual pizzas all range in the mid-teens for what is essentially a snack. But darn they're good! And, of course, this is Puerto Madero Este….
I can see that after work special being the way to go – they might want to consider offering something like that throughout the afternoon, from lunch until early evening – I'd bet their lunch business would skyrocket. Especially given the selection of wines being offered (and the wine list is impressive as well – lots of "not the usual suspects" selections). We had a bottle of Amalaya by Colomé 2005, an absolutely delicious blend of Malbec, Bonarda, Cabernet Sauvignon and Tannat, from Salta. This is the 170-year old winery that Donald Hess of the Hess Collection bought a few years back from Raul Dávalos, who is still producing wines further up the mountain under the Bodega Tacuil label.

I'm not sure what to say about the desserts, other than disappointing. The owner admitted that desserts are not his specialty. Knowing that, he needs to get someone in the kitchen who is – because although it may be about the pizzas, the last thing you want to do is have people leave with the final thing they ate being a disappointment. First, all three desserts we tried were cloyingly sweet. The molten center chocolate cake, a cliché back in the States, isn't common here, was nice and chocolatey, but the cake part was dried out, and the molten center was truly molten – when the cake was cut into it just zoomed out onto the plate like soup. The creme brulee, very simply, wasn't – yes, it had a kinda sorta bruleed top, at least around the edges, but not a real crackly layer like it should, and what was beneath it was a sort of strangely tan colored grainy, runny mess – it may have been caramel flavored, but it wasn't intense enough to tell. The crosttata di limon was missing the crosttata – there was no pastry! There seemed to be a slight dusting of flour or something on the bottom, creating a paper thin coating, but certainly not enough to be called a crust, and the filling, while nice and lemony, was also overly sweet, grainy, and had the density of fudge.
So, back to the pizzas, which are worth the trip across the docks to try. Prepare to spend a little more than you might at other places, but if you don't mind that, order yourselves a couple of grandes, or a wide selection of chicas (so to speak), a good bottle of wine, and enjoy the view.