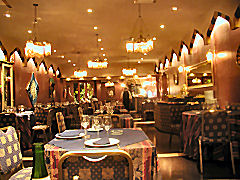 Buenos Aires – I'm feeling a bit mislead. Yet, at the same time, it's probably my own fault. No wait, it's theirs. I'm not sure. Here's the question. If a restaurant looks really fancy and expensive from the outside; gives every indication of that while you're entering – circular drive, porticoed entryway, a huge, marbled facade in a five story building, lots of dark panelled wood, marble floors, columns, carpeted elevator with brass and wood doors, a murmurred "please take the elevator to the second floor, someone will guide you to your table", doors held open for you by waiters, and a dining room that for a moment, just a moment, looks like a scene from The Arabian Nights – don't they owe you a bit of, well, oomph? Look a little closer and you see that the Arabian Nights theme is sort of thrown together – lamps dripping plastic beads, the brocade covered chairs are simple stackable auditorium chairs with a cutesy fabric, the artwork cheap reproductions. The trio at the next table are French tourists in t-shirts and jeans, backpacks tossed on the floor, chain smoking and expounding the evils of the day. Where exactly are we again?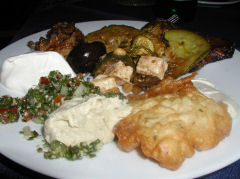 Welcome to Club Sirio Libanés, Ayacucho 1496, in Recoleta. I'd initially been attracted not only by the outward signs of glitz, and liking middle eastern food, but by a brochure offering a four-session hands-on course with Chef Abdala himself to learn how to make much of that food. I figured I ought to try it first and make sure that he knew what he was doing. Another attraction – billed outside, the chef's degustacion of middle eastern delicacies. Apparently, in some language, somewhere, degustacion translates as buffet. Now I am, by heritage, attracted to a buffet, much as a salmon is wont to spawn upstream. It was not, however, what I was expecting. That didn't stop us from picking up our cheap white stoneware and trudging to the cold appetizers table to sample a bit of hummus, babaganush, tabouli, myadara, or any of various fried dishes. A point… nothing, I repeat, nothing, deep-fried, is ever really good when cold, a point that was hammered home repeatedly by the sodden attractions of the cold buffet table. Luckily, there were enough non-fried items to make it interesting, the best, some quite good hummus, and the pollo al taratur – chicken in a sesame and almond sauce. Most of what was offered was bland, though there were dishes of hot pepper flakes, paprika, and dried mint offered that could be added to your selections. [Closed in mid-2016 and shortly reopened as Abdala, with a tasting menu only setup.]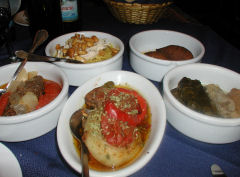 The hot plates are far better, and rather than buffet style, you are given two options – the kitchen can just send you out a sampling of, or all of, what they have in the hot line (which we ended up doing, just to taste a bit of everything), or you can pick and choose from the list of a dozen choices. Clearly far better at these dishes, most of which were well seasoned (though we still added a bit of paprika or mint or hot pepper here and there), the kitchen produces a series of ramekins each offering enough to try for the number of folk at the table. Particularly good was the persian rice – flavored with saffon and topped with shredded chicken and almonds, and the cazuela de cordero, lamb stewed in herbs and olive oil with tomato and onion.
Once you get past that the restaurant is a buffet in a catering hall (which is what the building basically is, a multi-story catering hall called Club Sirio-Libanes de Buenos Aires)… No, once you accept that you're eating at the buffet in a catering hall, the food, as long as you're a bit selective on the cold side of things, is pretty good. The service is amiable if a bit inattentive, especially given that there were three waiters for a grand total of four tables of people. The winelist is impressive given the setting, and whether by dint of intent or just what they happened to pull out of a bin, the bottle of Finca Morera Cabernet Franc we had was a 2001, which meant it had actually mellowed nicely and was not only quite good, but quite ready to drink. The ambiance, if they turned down the lights, and you squint a bit, could go back to being sort of Arabian Nights-ish. They supposedly have belly-dancers some nights, and coffee-mancers on others. The price is fair for an all you can eat buffet – 30 pesos on weeknights, 35 on weekends. Who knows? I might even take the class…
[Just an update – I've been back numerous times, and even did take the cooking class at one point – expensive and just a demo class, no hands-on, which was disappointing though I still picked up some nice tips and ideas. Pricing for dinner as of mid-2014, 190 pesos on weeknights, 235 on weekends.]