Buenos Aires – Not that I've ever stopped trying empanadas, since they are fast replacing pizza in my mind as Nature's Most Perfect Food, but this week has been a whirlwind of empanadas. Mostly we just needed snack food as we prepared for tonight's fiesta. Two in particular stood out over the various pockets of dough and meat we've managed to consume this week.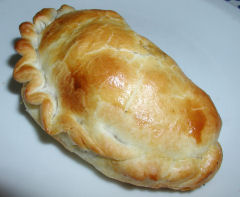 The first, Tamanaco, Sante Fé 2901, at the corner of Azuénaga in Barrio Norte, is more of a coffee shop than anything else. There's an interesting mix of locals, who are clearly regulars, and tourists, mostly I'd guess from the Art Hotel just down the block, a favored spot for the English speaking crowd to nest, both because the prices are great – roughly $65 a night for a rather nice room, and the staff speak fluent English. Service at the restaurant is friendly, if a little slow, and the ambiance is comfortable. I busied myself for the first few minutes there helping a family translate the menu – so much here is in local slang that dictionaries can often be useless when it comes to food items. The empanadas arrived, big, plump, packed with ground beef, egg, onions, and olives, the crust very tender and flaky, and brushed with egg to give it a nice golden glaze. A bit underseasoned, which meant a salt shaker in one hand and the empanada in the other, but with that, excellent.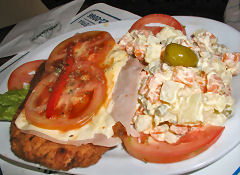 We also dug into a round of supremas a la napolitana, which should be a nice, pounded thing breast of chicken topped with a thin slice of ham, cheese, and a little tomato sauce. Instead we seem to have gotten milanesas, which are the same, but breaded – not a big deal, but something worth making sure your waiter here is clear on. The tomato sauce in particular was excellent – made me want to try their pizzas! The chicken was tender and juicy. For a coffee shop, I have to say we were impressed. Henry had his with an ensalada rusa, pictured here, a mayonnaise based potato salad with peas and carrots in the mix – not one of my favorites, I opted for a plain salad, which came pre-dressed in lemon juice and olive oil, somewhat unusual; and, lacking in salt, though more easily remedied.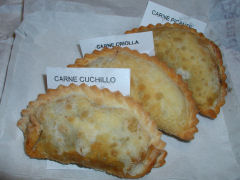 The other location we tried is more or less a takeout place that was recommended by our friends and regular readers Jerry and Czar. Empanadas Caseras Gourmet, Avenida Gral. de Las Heras 1958, in Barrio Norte, is part of a dozen store chain around the city. The empanadas are fried, but not greasy, and they have a far greater selection than most places, with 17 choices of savory and 3 sweet fillings, plus a selection of salads. They promise delivery within 15 minutes of placing an order, which is pretty spectacular for Buenos Aires. I like that the empanadas come wrapped and labelled with little slips of paper so that you know what each one is – normally you have to sit there with a shape chart and try to figure out which one is which, especially if you order a whole bunch for multiple people to eat. The fillings are good, though as usual their idea of picante is severely lacking in piquant. The diced steak empanada, the carne a chuchillo was outstanding, it was large chunks of good quality steak dressed in a little gravy. The carne criolla were also quite good – filled with ground beef, olives, and raisins.