Buenos Aires – Coming from a country like the U.S., where vacations are taken more or less at random, living in a place like Argentina can be a bit awkward when official vacation time rolls around. It's much like trying to visit Italy in August; other than businesses catering to tourists, everything else is closed, and a huge number of locals have left building, the streets, the cities, and even the country. It's in some ways worse in Buenos Aires, as January is a time that many estadounidenses seek to escape the cold weather of the northern U.S. and the post-holiday slowdown in many professions. It coincides with the more or less official time off that businesses have here – most schools are closed, many government offices, lots of shops, and seemingly, even more restaurants. The city is scattered with shuttered eateries with little signs promising to be back somewhere around the third or fourth week in January.
So it wasn't really that much of a surprise as we wandered Las Cañitas, hoping to cross off one of the recommendations on my list. After the third attempt in the same general vicinity, only to find each of them closed until sometime next week or the week after, we decided to just grab lunch at some place that looked interesting. Within moments, we came upon Bodensee, Ortega y Gasset 1876 (moved to Honduras 6000 in Palermo, I haven't been to the new location as of this edit), a narrow, dimly lit, hole in the wall, advertising German cuisine. I recall having a conversation with the owner back in July, on a night when my friend Michael and I were wandering the streets of Las Cañitas, looking for a decent sushi bar (and somehow ending up at some noisy Gen-X parrilla). The gentleman made concerted efforts to talk us into dining on heaps of roast pork instead of fish on rice. I remember noting that the menu (which is primarily local porteña cuisine) had a list of specials that seemed more in line with the cuisine of Austro-Hungary than Germany. The owner copped to his family being from that area, but felt that German was a better local marketing ploy.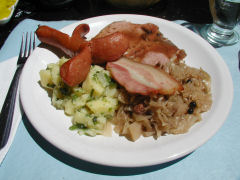 It was a beautiful day, so we decided to lunch outdoors. There was no question of ordering local cuisine, the whole point of eating at Bodensee (which is a lake, also known as Lake Constance, that borders on Germany, Austria, and Switzerland) was to try the specialties of the house. Two classics stood out amongst the varied selection, and we dug into half-orders (thankfully, as this food tends to be on the heavy side, almost all the specialties are available in full and half order sizes) of the Chacrut and the Goulash de Ternera. The former was a large plate mounded with juniper and caraway infused sauerkraut, vinegary herbed potato salad, an easily half pound slab of clove scented ham steak on the bone, thick cut bacon, and a large grilled weiner of some sort or another. All was served with a glowing yellow herb stocked mustard. Other than the bacon, which was really not much more than a slice of warmed fat (and not of the quality to be the equivalent of Italian lardo), this was classic all the way, and quite good. Washed down with a mug of ice cold draft Warsteiner beer, it was a can't miss treat for a summer afternoon. The latter plate was less impressive.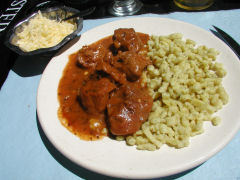 The goulash was made with large chunks of veal (ternera is the local equivalent of veal, though is from a more aged calf than what we are used to in the states, by decree of local law), which had been cooked until done, but not much more, in a somewhat sweet paprika and tomato sauce. The meat really should have been braised until it was fork tender – this was firm enough to require a steak knife to cut it. The sauce too, was just not right, and should really contain a blend of sweet and hot paprika, here it was just sweet. It was also served with a bowl of shredded parmesan, and that's just wrong. The spaetzle, on the other hand, were perfect – light, delicate, and with delicious bits of fennel seed chopped into the dough. Not a bad dish, but not a winner. Both dishes were heavy enough that we weren't up for anything more. Most of the desserts were local fare anyway, with the exception of an apple strudel that sounded interesting, but more than we could handle for the moment.
After lunch, a bit of a wander, happening across this slightly eerie looking mansion set back on a hill at Luis Maria Campos 1126, which on later research, though there was no sign out front, turns out to be the home of Urasenke, a Japanese organization that trains people in and promotes the art of the tea ceremony. Something worth exploring a bit further at some point!