New York City – So many pundits have weighed in on the "best lobster roll" controversy in this city that I feel a bit like a young lad slipping his late homework assignment under the teacher's door hoping that no one will notice its tardiness. I've eaten many a time at Pearl Oyster Bar, I've never eaten at the Mermaid Inn (though I've been turned away when hoping for a table quite a few times), and until yesterday, I'd never eaten at Mary's Fish Camp, 64 Charles Street at West 4th. It wasn't out of some loyalty to Rebecca over at Pearl – after she and Mary split up to go their separate (but remarkably similar) ways – I've met both of them casually back when they were together, but wouldn't know either on the street, and I'm sure the same is true in converse – I just hadn't gotten there. My friend Peter proposed lunch there yesterday, so off we went.
I don't know the intimate details of the whys and wherefores of their split, though friends who know them both assure me that "intimate" is an apt adjective. I've read numerous online accounts hinting at stories of proprietary rights to the famed lobster roll – how do you claim rights to a New England or Long Island staple mix of lobster, mayo, and celery… even if you were the chef to introduce the roll version to New York City?. I did note that Pearl's website makes no mention of Mary by name, referring to her as "a long-time friend and a former line cook who had worked for her and would now be a sous chef and junior partner", nor of the existence of Mary's Fish Camp; on the other hand, the Mary's website goes out of its way to claim its superiority over Pearl, using press snippets both in and out of context. Such is the nature of breakups.
We arrived at opening time, and decided to sit at the bar. Within less than half an hour the place had filled up, small though it maybe (it is larger than Pearl), it clearly has a following – more folk arrived and waited for tables. Service is amiable and efficient, though not particularly friendly. We started off with a couple of glasses of Sybille Kuntz Riesling trocken 2002 from the Mosel Valley in Germany. Ripe apricot flavors, clear mineral notes, and a crisp dry style make it a great pairing with shellfish.
We ordered a couple of appetizers – the Salt Crusted Shrimp were piping hot, crisp, deliciously seasoned, and perfect with their lightly spicy tartar sauce accompaniment. I particularly liked that they leave the shell on the shrimp – I know it sounds strange, but I learned to eat "shell-on" shrimp in Chinese restaurants years ago, and if done right, so that the shell becomes crackly, it adds both a texture and flavor that I enjoy. Our second appetizer was the Jonah Crab Au Gratin. My first inclination is to say it was disappointingly small, especially for $14. On the other hand, I didn't find it all that interesting, so perhaps that was a good thing. It was a soupy, milky mix of crabmeat and, as best I could tell, little or nothing else. There were chunks of bread lining the bottom and taking up room. There was a thin layer of cheese and scallion on top. It desperately needed seasoning – luckily salt and pepper were at hand.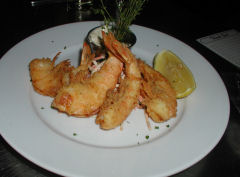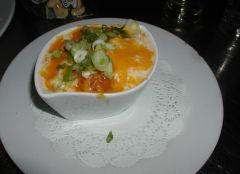 Moving on to the main course, Peter opted for a cod sandwich, an ample portion of flaky cod, greens, and dressing on country bread that he asserted was delicious. It looked it!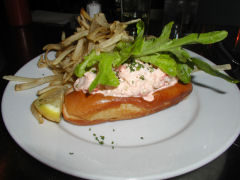 The lobster roll, which I've seen described as a teetering mound of lobster was good, but not particularly teetering. I know lobster is expensive, but for $23 it seemed a trifle skimpy to me. Still, the lobster was pristinely fresh, dressed simply with mayo and a touch of celery, and served in a Pepperidge Farm hotdog bun. It was, once again, lacking in seasoning – true, a lobster roll should be about the lobster, but a little salt and/or pepper in the mix would have been nice. Easily remedied once again. The shoestring potatoes were decent though slightly soggy, I'm guessing that being the first customers in the door that the oil in the fryer wasn't quite up to full heat.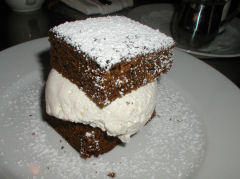 Desserts looked appropriately homey, and we decided to split the freshly made gingerbread cake. Two good sized blocks of rich, spicy cake were layered with a huge scoop of whipped cream in between. The cake stands on its own with just a touch of the whipped cream, which we scooped to the side. Excellent! I'm not a fanatic about my coffee, but I do like it relatively strong. Mary's, unfortunately, is watery and bitter, and after a few sips I left mine untouched. In the end, though a side by side comparison of the lobster rolls might be needed to decide on a favorite between Mary's, Pearl's, and Mermaid's, I leave with no question that I far prefer Pearl.