New York City – Back in one of my first posts on this blog I mentioned the restaurant Five Points as one of my favorites, and one of the places I was going to miss in leaving New York. Marc, Vicki, and Chris have gone on to open their second restaurant in the city. Personally, being an advocate of a modicum of sanity, I thought they were nuts. I know what they went through opening the first place and suriving to make it the first rate place that it has become. To voluntarily put themselves through all that again seemed simply insane. But then, for those of us who've worked in the restaurant world, insanity is a way of life.
In September, on my last visit, Cookshop, 156 10th Avenue at 20th Street, wasn't quite open, which perhaps is a good thing because I didn't have to watch them go through the tortured opening phase. They've had a couple of months to work out the kinks and maybe even start breathing again. The fact that on a busy Friday night, going into a holiday weekend, with people lining up out the door, that Vicki and Marc could take the evening off, says something about that level of comfort.
The space is fairly large and a bit noisy. It has that bustling energy that sells restaurants in Chelsea – think Cafeteria, Barbuto, Bed, Matsuri, Red Cat. It has a slinky, sexy feel to it. The waitstaff are good looking and full of boundless energy. The crowd young and trendy, with a heavy leaning towards the gay set. My friend Warner and I settled in at the bar, where our delightful bartendress offered up menus and a selection of house cocktails and wine. We started with the latter, and I picked an unusual wine from the Piedmont, the Cantine Cavallotti Freisa "Bricco Boschis" 2004 with soft berry fruit, black pepper and clove, and a touch of almonds on the finish. Truly one of the better Freisa's I've had. I'd heard rumors that the spicy fried hominy bar snack was a "must have," and so we did. This delicious rendition of corn nuts clearly comes from the flavors that you get at street fairs here during the summer – roasted corn slathered with chili and lime – here, individual large hominy deep-fried in a light dusting of flour and chili, served with wedges of fresh lime. The rumors are right. You must have.
We moved on to a couple of appetizers. I'm a sucker for things like chicken fried steak, and, well, chicken fried chicken. So an offering of chicken fried duck livers served atop homey mashed potatoes and accompanied by a homemade roasted pepper hot sauce was basically more than I could resist. I'm glad I didn't as they were spectacular. Our other selection, in pornographic repose, was the roasted quail with a bed of squash puree and a cider-bourbon sauce. Just writing that makes my mouth water, and it was, indeed, mouthwatering.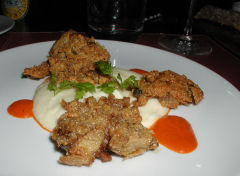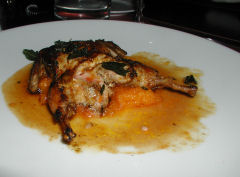 Life is good. We're happy as little clams. We refill glasses with a round of Luzon Verde Monastrell 2004 from the Jumilla region of Spain – big, dark, spicy, flavors of blueberry and dried plums, with hints of licorice and a touch of wildflowers. Perfect for a hearty meal, and, being main course time, we plump for one of the daily specials, the braised rabbit atop a bed of leek and mustard sauce. Flavors bright and perky, the sauce a wonderful pairing with the rabbit. The rabbit, flavorful, though, strangely, not seeming braised, which generally results in tender, falling off the bone meat, here firm and seeming more oven roasted. Perhaps it was just a mis-speaking of the special. An excellent dish! The other, the only disappointment of the evening. The wood-oven roasted wild mushroom lasagna. A few desultory pieces of lasagna layered with a smattering of cheese, and floating in an oily mess of relatively bland, unseasoned mushrooms. Not at all up to the quality of Marc's usual cooking.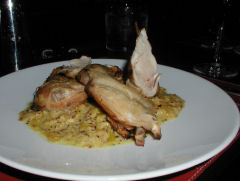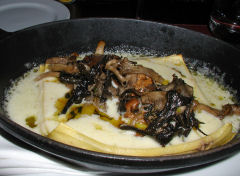 Knowing that the lasagna had to be a fluke, we moved on to dessert. A friend of Warner's passed by on his way out the door and whispered that the eggnog flan was "to die for." It was damned good. I may just have to introduce some Argentines to eggnog flan. Accompanied by a cute little cupcake of gingerbread it was a great dessert. We also sampled the winter spice cake, chockful of various spices and dried fruits and nuts, accompanied by whipped cream and a brandy sauce, some kumquats and pomegranate seeds. Another winner! Glasses of Alvear "Asuncion" Oloroso, a semi-sweet sherry style, and amazingly delicious wine from the Montilla-Moriles region of Spain, and the St. John Commanderie from Cyprus, which is quite good as well, though for me a trifle sweet.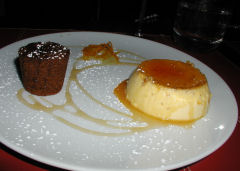 I still think the three of them are nuts, but they've got a runaway train in Cookshop, and while I may prefer to head back to Five Points for a bit lower key dining, I wouldn't hesitate to come back here either.