Buenos Aires – Chef Boyardee Overstuffed Ravioli are square, and that's a problem. They come in a round can. Imagine if you will, plump, delicious ravioli, fitting the diameter of said can with just enough room for sauce around and in-between, stacked one atop the other from bottom to top. Sheer brilliance.
I'm sure that if Hector Boiardi, the original Chef B himself, was still alive, he'd have come up with it. But he's not, having died in 1985, and he didn't. They're square, and they're just all wrong in the can. So some chef or home cook in Mar de la Plata, Argentina, solved the problem. I know he or she didn't set out to do that, but the deed is done. They invented the sorrentino.
Sorrentinos are Argentina's contribution to the world of Italian-derived cooking. They are big, plump, round, over-stuffed ravioli. You won't find them in Sorrento, Italy, a lovely resort town overlooking the Bay of Naples. You'll find them in Argentina; on virtually any pasta menu, nestled right there amongst the tallarines, espaguetis, and fideos (respectively, tagliatelle, spaghetti, and vermicelli).
Last night found me wandering over to my friend Juan's house in Palermo Viejo. He's one of the owners of the B&B where Henry and I met. We had a glass of bubbly and then continued meandering, ending up at La Pharmacie, Vidt 1893, corner of Charcas. It's a rather cool little place that at one time was a real, traditional style pharmacy. The interior maintains the old apothecary shelves, still lined with antique bottles. It was a beautiful night, so we chose to sit outdoors and watch the world walk by. A good percentage of it did.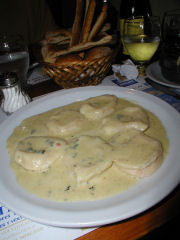 I loved that they brought a basket with a selection of breads to munch on while we perused the menu – I hate not getting bread or water until after ordering my meal, which is typical here. The breads included some great breadsticks, pretzel sticks, and foccacia, all excellent. We began with some wonderful empanadas, carne criollo dulce; coarsely chopped steak, onions and raisins, seasoned perfectly. Worth the trip! Juan decided to dig into the spinach "crepes," which were really more of large flat noodles wrapped around spinach and other veggies and topped off with a bolognese sauce. Me, the sorrentinos filled with prosciutto and cheese and topped with the "la pharmacie" house sauce of bechamel, cheese and herbs – big, plump, round, just like they're supposed to be. Both dishes absolutely delicious!
Opened a half-bottle of wine to go with dinner, Bodega Lopez Vasco Viejo 2004, a blend of Tempranillo, Malbec, Barbera, and Bonarda. A bit rustic in style, but lots of fruit, spicy, and really a quite good "house" wine.