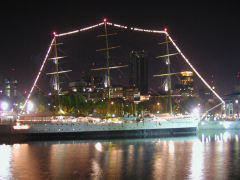 Buenos Aires – After the experience of Experiencia Malbec (the previous two postings) last night, I took a walk along Puerto Madero Este to clear my head. It's actually rather pretty from that side – you get the skyline view, and a different perspective on the city. The city's port museum (on a boat) is lit up, and their are interesting views of everyone's favorite footbridge, and interesting examples of "art."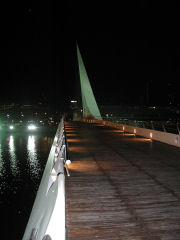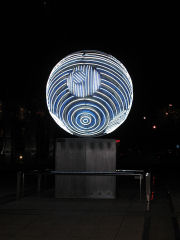 I had a goal in mind. My friend Michael has asserted more than once that the best Langoustine Bisque in Buenos Aires is the one at Asia de Cuba, Pierrina Dealessi 750, Puerto Madero Este. Unrelated to the other Asia de Cuba's throughout the world – I asked, they just liked the name – this is one of the major spots on the lounge scene in Buenos Aires. Unfortunately, since Michael last set foot in here, the menu changed, and the bisque is gone. I hid my disappointment and perused the rest of the menu. This is one of the first places I've seen a wider selection of sushi – nine different fish are offered. In another disappointment, they're only offered in the Gran Deluxe, a 300 peso extravaganza for probably a dozen people or more. The regular sushi selections? The usual suspects – salmon, white fish, shrimp. I asked and was told that maybe they could arrange a piece of each variety if I was willing to shell out 60 pesos – I considered it, it's no more than New York prices per piece, but decided against it. I'll come back with a group of friends sometime for the big tasting.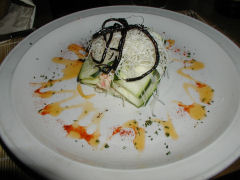 I opted instead for an appetizer from their Platos Feng Shui, a trio of dishes (appetizer, entree, dessert) that are specially selected for color, flavor balance, and freshness as a three-course menu. The individual plates are available separately, and I liked the look of the Dragón Verde – described as "Fresh crab salad and rice noodles with cucumber, coriander, sherry vinegar and olive oil." It was really quite good – a layering of thin slices of cucumber with the fresh, and lightly dressed crabmeat.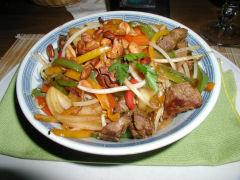 For my main course I was in for yet another disappointment. Visually attractive, the Irresistible Seducción was described somewhat ineptly, but sounding interesting, as "Lamb chop with toasted drestnuts, peppers, onions, soja sprouts, pineapple, mint, basil and a bit and a bit of ginger." Checking the Spanish, I determined that "drestnuts" were cashews. What arrived was in essence a gussied-up version of a classic Cantonese pepper steak, using multi-colored peppers and lamb, with the addition of pineapple. The disappointing part was that, obviously it wasn't a lamb chop, but small cubes of very chewy lamb, and the 7-8 pieces you can see perched atop the mix of peppers and onions was it. Not a single bite of lamb was to be found inside.
Service was friendly and relatively efficient. The room is cavernous and extraordinarily dark, even after taking time to let my eyes adjust. Pricing is widely variable – it's possible to eat there relatively inexpensively for a "nice" restaurant, it's also possible to zoom up quickly. Still, it would be worth returning to in order to sample some of the sushi. I might choose to sit outside, where there are quite a few tables, and enjoy the skyline view.