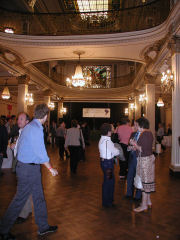 Buenos Aires – The new edition (2006) of Viñas, Bodegas & Vinos de América del Sur was officially released last night. I know you've been waiting to hear that. After I've had a chance to spend some time reading through it, I'll write-up a bit of a commentary. What made it important last night was that Austral Spectator, the group that arranges the tastings of the 2000+ wines that are in the book, and then arranges for the writing and publishing of the same, hosted a launch party, the Salon del Vino. Local friends in the biz got me an invitation to the early press and VIP tasting, so I popped in to Palacio de San Miguel (a really beautiful social hall) early in the evening.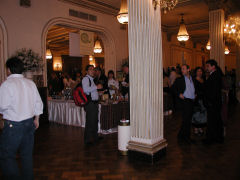 The ground floor, which was all that was open for the first hour or so, consisted of two "salons," each with a dozen or so tables featuring wines (some of those that are in new edition) and food from each South American country represented. (Those were, by the way, Argentina, Chile, Brazil, Paraguay, Venezuela, Uruguay, Peru, and Bolivia.) Various journalists, winos, and foodies milled about, sampling wares, and chatting. I managed to actually run into half a dozen people whom I know, and met a few new folk as well. For unexplained reasons, the tables seemed to "open" and "close" on a somewhat random basis, at various times certain ones not being willing to pour samples. Brazil seemed to ignore this convention and continued serving tastes throughout the hour. What was particularly fun for me was the opportunity to taste some of the wines from countries whose wines are basically unknown to us in the U.S.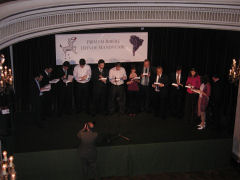 The necessary speech about the book's launch was delivered by, I assume, the publisher roughly an hour into the evening. The panel of judges who had tasted through the multitude of wine were introduced, and then they proceeded with a litany of the "Top 70" wines from the new edition, passing the microphone around and each reading the name of a wine aloud. Other than a bit of microphonic fumbling, this proceeded admirably quickly, and then the doors were thrown open, figuratively speaking. At this point, the event became open to the public, for a fee (30 pesos), who surged in to begin sampling, and more often guzzling, the wine being shown. Luckily, at this point also, the upstairs "VIP" room was opened and those of us with the proper red armbands made our own little surge above, where the Top 70 were on display and being offered. Still, it quickly became nightmarishly crowded, and after tasting through the range of a dozen or so that were actually represented by their wineries, I chose to ignore the "bar" of the remaining 50-some wines, and make my exit.
The following are my tasting notes and/or thoughts on the wines I managed to taste, only slightly reorganized.
Brazil
What surprised me here were the number of entries. I was completely unaware that Brazil has an entire industry devoted to the production of sparkling wine, and much of it quite good apparently. There's also a burgeoning selection of quality white and red wines.
Aurora Prosecco Brut – The name surprised me only because Prosecco is a grape grown in Italy that is used to make a lighter style sparkling wine. Here the wine is made from the Moscatel grape, and although the style is light and dry, it is unlike Prosecco. The flavor of nectarines is prevalent, with a touch of a floral note. Aurora is the parent corporation of Marcus James winery, one of the few Brazilian wineries that exports to the U.S. Recommended.

Salton Volpi Natural Brut 2004 – Listed as an "assemblage" of grapes, this was one of the top scoring sparkling wines in the new book. I didn't like it. It was light, yeasty, slightly bitter, and quite alcoholic, with little fruit to back it up. Not recommended.

Panizzon Refosco 2004 – Another surprise grape, I've never seen a Refosco outside of northern Italy. Despite not being a favorite grape to begin with, I had to try it. As is typical for this grape, the wine is highly acidic, floral, not much fruit, a bit of a chocolatey note, and not a whole lot of umph. Not recommended.

Don Giovanni Cabernet Franc 2002 – I love Cabernet Franc in general, so whenever I see them, I try them. This one is offered up in an odd little teardrop shaped bottle. It is fairly light, a bit acidic, a light note of weediness, and some good cherry fruit. It would probably be most refreshing chilled on a hot summer day. Okay.

Valmarino Cabernet Franc 2002 – The surprise of the evening, enough so that I remembered it throughout, even while tasting in the Top 70 room. Great body, dark fruit, spicy, cocoa, a touch of oak, and beautifully structured. An outstanding Cab Franc. Highly Recommended.
More to follow in the next post, just wanted to give you a taste, so to speak, of things to come.