New York City – Pair up a third generation chef from a Saigon family of restaurateurs and one of New York's better pastry chefs and you're in for some truly fascinating creations. Welcome to bôi, 246 East 44th Street. Situated roughly midway between Grand Central Station and the United Nations, this hot little Vietnamese fusion restaurant is drawing in the lunch and early dinner crowds. My friend Tom had suggested we drop in for lunch and check it out. [Closed]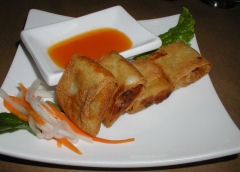 Don't expect your run of the mill pho (noodle soup) shop with a few standard appetizers. Bôi's take on classic dishes like cha gio takes all the same flavors but wraps them in an entirely new package. Instead of picking up a crispy fried springroll in a wrapper of lettuce, veggies and herbs, here all the ingredients are neatly packaged inside square envelopes brimming with flavors of shrimp, crab, and shiitake mushrooms. A rich carrot and lime dipping sauce lounges alongside.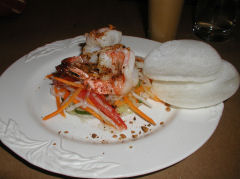 Goi sen is a delightful blending of fresh lotus stems, prawns, tomatoes, and peanuts served with gleaming white shrimp crackers. I've actually never had fresh lotus stems before, they're much brighter and tastier than lotus roots. The dish as a whole is a lightly spiced version of similar dishes that I've seen in other restaurants. The prawns are plump, juicy, and perfectly cooked. We actually considered just ordering more appetizers these were so good, and everything else on the menu looked equally fun.
But instead, we moved on to a couple of main courses. The first, ca chien was a simple, but intensely flavorful halibut dish. Not exactly your classic fish of Vietnamese cuisine, but here pan-seared and feathered out on a spicy sauce based on "bird peppers," a very fruity but hot type of chili. The heat is balanced brilliantly by a cool salad of shredded fresh mango. Halibut is a rich fish, and stands up beautifully to the depth of flavor in the sauce.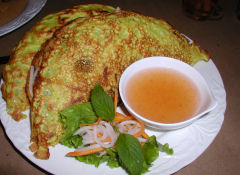 Our other main course, banh xeo, was a trifle overwhelming. It was simply on the menu as sizzling Saigon crepes stuffed with shrimp and meatballs, served with a chili lime sauce. It wasn't the flavor that was overwhelming, as, like everything else, it was perfectly balanced, but it was the size of the dish. Two huge crepes were stuffed full with fresh prawns, slices of meatballs, bean sprouts, mushrooms, lots of herbs, and lots of spice. The dipping sauce, not surprisingly, was in perfect harmony with the other flavors. It was more than two people could eat. I'm not sure where the "sizzling" was supposed to come in, they weren't, but they were hot and good.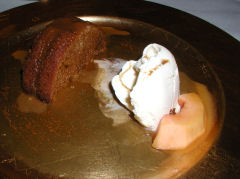 Turning to the dessert creations, we had our first disappointment. The tamarind cake could have really been a slice of any sort of spice cake, with just a touch of extra acidity. The accompanying red papaya was little more than a thin crescent of garnish, and the dulce de leche ice cream was actually vanilla with a thin swirl of caramel through it. It was, to be honest, of little interest, and certainly not up to the standards of the rest of the meal.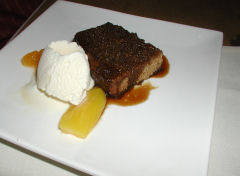 Our other dessert was far, far better, and a highlight of the meal. Described as jackfruit toffee pudding it was rich, gooey, and absolutely wonderful. The vanilla ice cream that was on the side was a nice foil to the flavor, but really, it was all about the toffee pudding. That's dessert!
I can unequivocally recommend this place for some great twists on Vietnamese cuisine. If you haven't been, go.