Buenos Aires – There is a Bi Won on Coptic Street in Bloomsbury, London. There is a Bi Won on Liang Ma Qiao Road in the Chaoyang District, Beijing. There is a Bi Won on Conte Verde in Rome. There is a Bi Won on Erie Boulevard East in Syracuse, New York. There is a Bi Won on Junín in Balvanera (Once) in Buenos Aires. I'm sure there are more "secret gardens" in other places. But the one that concerns last night is the last one.
After my previous experience with Korean food and coreatown here, and no one having mentioned anything better, I had just sort of figured it was a lost cause. When my friend Victor asked if I wanted to go out for dinner at a Korean restaurant I accepted with some trepidation. However, he's been in Buenos Aires for twelve years, so I figured he might know a thing or two about the restaurants here. Top that off with the restaurant he suggested was in easy walking distance of home and how could I say "no?" You pretty much have to know that Bi Won is there, at Junín 548, as there's only a small wooden sign hanging high above the sidewalk. I guess that's what makes the garden a secret.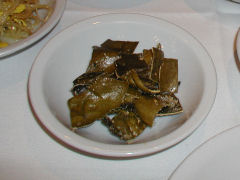 On entry, you walk your way down a long hallway that looks like it was decorated in the Belles Artes Epoch and hasn't been touched since. Through a small glass door and you find yourself in a large, almost banquet style, brightly lit restaurant. What is it with Korean restaurants and illumination? Perhaps if there was a bit more theater going on the klieg lights would make sense, but most are much more subdued and tranquil. Regardless, Bi Won is a quite comfortable restaurant that is set-up both for casual dining as well as open to large groups (in fact an entire part of the menu is devoted to multi-dish combinations for parties of 15 or more).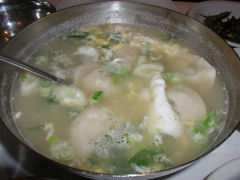 Shortly after sitting down we were brought the ubiquitous (and often one of my favorite parts of the meal) selection of kimchi. Most of it was the usual spicy cabbage, marinated mushrooms, sauteed tofu sorts of things. One standout, crispy strips of seaweed sprinkled with a combination of sugar and salt. It was also a quite thick, almost bark-like seaweed that I haven't seen before. It should be fun to try to duplicate as a pre-dinner nibble one day.
We decided on a selection of a couple of favorite dishes, just to try the food. The mandu gui was a lightly salted egg-drop sort of soup with dumplings floating about in it.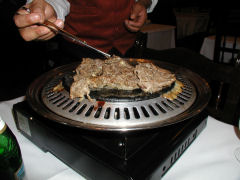 It was decent, but I think we both felt that next time a platter of potsticker style dumplings would be more interesting. The bulgogi came as a plate of seasoned, shredded raw beef accompanied by a tabletop burner with a griddle. Our waiter transferred the beef to the griddle as we started on the other items and returned regularly to stir it around, and then serve it when it was done. It was perfectly cooked and quite good.
A personal favorite Korean dish is bi bim bop, both because it's almost always really good, and because I just love saying the name. Bi Bim Bop. It's also usually a lot of fun to kind of play with – it's a sort of fried rice that fries at the table because all the ingredients are added to a blazing hot stone bowl at the table.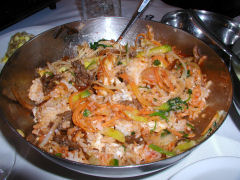 The rice crisps as it contacts the bowl and you stir it around every now and again to allow other bits of rice and ingredients (generally meat, eggs, and vegetables) to contact the stone. Bi Won's version is served in a simple metal bowl, already cooked. There aren't any crispy bits. The flavor is dead on perfect, but the texture is missing that bit of crunch. I'd order it again anyway.
The restaurant has a short winelist and does not allow wine to be brought in from outside, to Victor's chagrin, as he'd brought a bottle of Malbec he wanted to sample. Another time perhaps. We decided on beer – the only selection being Imperial, sort of a strange choice given that it's the national beer of Costa Rica. If you're going to serve an imported beer, why not go with a Korean one? Still, it went well with the food.
I'll be back to Bi Won often in the future – I love Korean food, and they do it well. It also saves on both the hour-long trip to coreatown and the attitude we encountered there.