Montevideo – We had a thoroughly uneventful bus ride from Colonia del Sacramento to Montevideo, the capitol of Uruguay.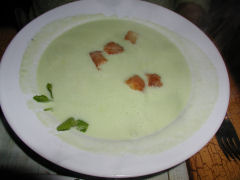 My friends at the Pisano winery that we were planning on visiting on Tuesday had set us up at the modern, boutique hotel, Cala di Volpe. A little pricey normally, but with our "corporate rate" that had been setup by the winery, quite affordable. It towers over the waterline. Besides, it was located on Mohattma Gandhi Boardwalk – we figured we were getting karma points just by staying there. The lobby staff recommended a local restaurant for good seafood, and we headed a few blocks away to El Viejo y El Mar, at #400, located on a dock that extends out over the beach and the water.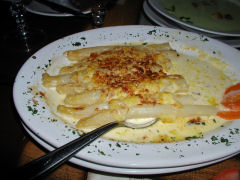 Our first reaction was a bit guarded – it's one of those beachfront restaurants that stresses driftwood fixtures and sundry nautical items tacked to the wall. But we weren't about to start wandering around in the fog looking for another place, so we took a window table overlooking their outside seating (it was a little chilly and wet to be outside). The menu is short and to the point – a selection of simple appetizers followed by a list of pastas with choice of sauces, and then a trio of fish with a half dozen preparations available for any of the three (sole, kinglet, salmon). I'm not sure where the translation of "abadejo" as "kinglet"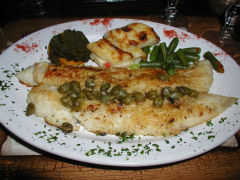 (which as far as I could find is the name of a bird) comes from, all references I could find to the name refer back to something cod-related – either pollack or haddock.
I wanted a bit lighter meal and opted for a simple salad. Our waiter highly recommended the abadejo and I opted for the one non-cream or cheese prep, the browned butter and caper sauce. Maureen ordered a delicious fresh pea soup followed by a milanesa napolitana – not bad, but meat was clearly not the specialty of the house. We also split an order of white asparagus parmesan, one of the specials of the day.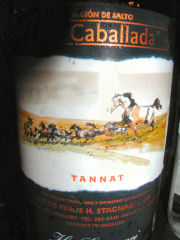 The food was, overall, quite good, and dispelled any concerns we had about the style of the place. It is clearly a bit of a tourist and/or family choice – there were two local families with children, the rest of the folks were all speaking English, Italian or German.
The winelist is quite short – consisting of a card with two wineries listed, one on each side. One was clearly the "house wine," the other, Stagnari, had some interesting choices, including two Tannat rosados (pink), the first either of us had ever seen. One was demi-sec, we picked the dry version. Stagnari's 2004 Tannat "La Caballada" Rosado was rich, full-bodied for a rosé, and full of typical black raspberry, cocoa, and allspice flavors.