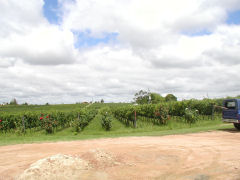 Progreso – On Tuesday, we'd planned a day around a visit to my friends' winery, Pisano. Since we figured on drinking a bit, it was a little on the drizzly side, and Uruguayan wineries, like those in many areas, tend to be down small roads, we decided to hire a driver to take us around for the day. Truly not an expensive proposition in Uruguay. Daniel met us first thing in the morning and took us out to Pisano, in the town of Progreso – one of those "don't blink or you'll miss it" sort of spots. The 75-acre winery is located about a half mile east of town and we arrived right on time. There are roughly 280 wineries in Uruguay, but only 26 that export, Pisano is the third largest in exporting volume (which they began in 1999)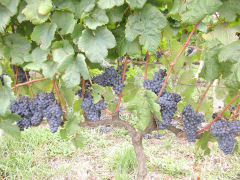 We were met by Fabiana Bracco, the export manager. Pisano itself is run by three brothers, Daniel, Eduardo, and Gustavo, and they are active in the day-to-day operations, respectively overseeing the marketing, the vineyards, and the winemaking. One of Daniel's sons, Gabriel, shares the winemaking responsibilities – this is definitely a family operation! Gabriel is also typical of what I've been learning about the Uruguayan winemaking tradition –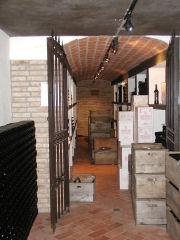 at the age of 21 he's already got several vintages under his belt, and he and the other winemakers have all taken turns travelling to learn winemaking in various other parts of the world – Gabriel recently spent a season with David Ramey at his eponymous California winery.
Fabiana and Daniel took us on a tour of the entire winery and vineyards, including the barrel room (450 barrels, mostly French oak).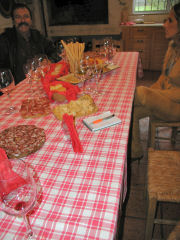 They had also setup a delightful tasting for us that included barrel samples in the cellar and a sit-down tasting in the family room. The pictures I've included here are from my last visit to the winery, in February, as the vineyards looked more interesting with leaves and grapes. The tasting room picture here was from Tuesday, with Daniel Pisano and Fabiana seated at the table (which was also covered in a selection of local artesanal cheeses, sausages, and breads. For the rest of this entry I'm just going to list tasting notes on the various wines we tried (the first section is barrel samples, with no real opinion, as their final destinations in terms of which bottling, has not been decided).
2005 Chardonnay – barrel sample – baked apple with ginger, bright acidity, great balance
2005 Pinot Noir – barrel sample – a relatively new addition to the Pisano line this wine shows great black raspberry fruit, a touch of bitter cocoa, and a hint of spices
2005 Syrah – barrel sample – a very rich, inky black syrah, not surprising for a barrel sample; tannic with lots of black plum and prune fruit flavors
2005 Petite Verdot – barrel sample – a few years ago the Pisanos planted Petite Verdot intending to use it as a blending grape, as is traditional in Bordeaux; the fermented wine from the first harvest, in 2004, was so good that they decided to bottle it solo; juicy black raspberry fruit, a whole spicebox of flavors, dark and rich
2004 Cabernet Sauvignon – barrel sample – after 18 months in oak this wine is still showing vibrant red currant jam flavors with soft tannins and plenty of white pepper and allspice
2004 Tannat – barrel sample – the classic red of Uruguay, this wine shows an interestingly strong note of clay, a mix of black fruits, and szechuan peppercorns
2005 Cabernet Franc – barrel sample – a small production item, Pisano only has two barrels of this wine, which shows typical green tobacco, red plum and spice notes
—
2005 Cisplatino Torrontés – Cisplatino is Pisano's "entry level" wine and is fairly inexpensive ($8-9 in the U.S.). Torrontés, an aromatic grape I've mentioned before, falls in the same family as Muscats. This one shows a beautiful floral note without being perfumey, ripe nectarine fruit with a slightly bitter finish. The wine is quite elegant, and I recommend it, especially for the price!
2004 Tannat Brut Nature – This wine was one of Gabriel and Gaston's (another winemaker here) pet projects. As Daniel puts it, the three brothers were sure that it wouldn't work, given Tannat's strong tannins, which are enhanced by both bubbles and chilling. They found out they were wrong when the first vintage of this dry sparkler popped out absolutely delicious. Bitter cherries, cocoa, are packaged in a soft, creamy style. I don't think this wine is exported, but it's quite good!
2004 RPF Syrah – RPF is the family reserve line. This one shows classic blackberry and black pepper flavors, hallmarks of the Syrah grape. It also has in interesting note of "plum skin" that I found quite intriguing, and a touch of earthiness. I'd put this in the "good" category.
2004 RPF Petite Verdot – When I was here in February this was my favorite wine that we tasted. It's a little subdued right now, something that often happens with wines six months or so after bottling. Still, it shows soft tannins, raspberry and bitter chocolate, and I'd still put it in the "highly recommended" column – just give it a little time to open up again.
2003 Viña Progreso Tannat – Viña Progreso is a joint venture with Boisset America that was formed after winemaker Pascal Marchand visited Uruguay a few years ago and fell in love with its possibilities. Boisset gives Pisano strong marketing capabilities, though the marketing is kept completely separate from Pisano's family wines. This wine shows bright red plum and cherry flavors, with fairly high acidity, and notes of black pepper and allspice. Recommended.
2002 RPF Tannat – this wine is much more classic in terms of Tannat's flavors – strong but soft tannins, black plums, black currants, and black pepper. It's a wine that still needs a little time, but then 2002 was an exceptionally good vintage and the wine has a lot of power. Recommended.
2001 Arretxea Grand Reserve – this is one of the few "blended" wines that Pisano makes, and is their foray into the "international style" of wine, which still retaining a bit of Uruguayan flair. 50% Tannat, 25% Cabernet Sauvignon, and 25% Merlot. Red cherry, black pepper, a touch of clove, soft tannins, and a creamy mouthfeel. Well made, and recommended for this style of wine, though personally I prefer something more "varietally correct" and with a more unique style.
2003 Viña Progreso Cabernet Sauvignon – this was the one wine I wasn't fond of, and my recollection, without reference to my February notes, was that I felt the same way then. There's a touch of what is called "volatile acidity," a sharpness at the back of the throat, and a bit of sulfur on the nose. It's also somewhat one dimensional with red berry fruit and not much else, and finishes a little short.
2004 Etxe Oneko "Beltza Likore" – the other pet project of Gabriel and Gaston, this started from their desire to produce a sweet wine for the winery, something else they felt was lacking. For those into the technical stuff – they started with Tannat and let most of it stay on the vine an extra month for "late harvesting;" they fermented it down to 80 grams per liter of residual sugar and topped it off with grape alcohol to stop the fermentation; then they took more grapes that they'd continued to leave on the vine for another few weeks and immersed them in the fermentation tank in whole clusters for about 6 weeks; then they finished it off by aging it in barrels for 6 months. In essence they combined processes from both port and amarone production. The resulting "Tinto Licoroso" is a semi-sweet, amazingly rich and complex dessert wine with flavors of milk chocolate, raspberry, black pepper, plum pudding, smoke, and roasted coffee. It's quite well balanced, and, simply, one of the more stunning dessert wines I've ever tasted. Just starting to be exported, this wine is off-the-charts recommended!